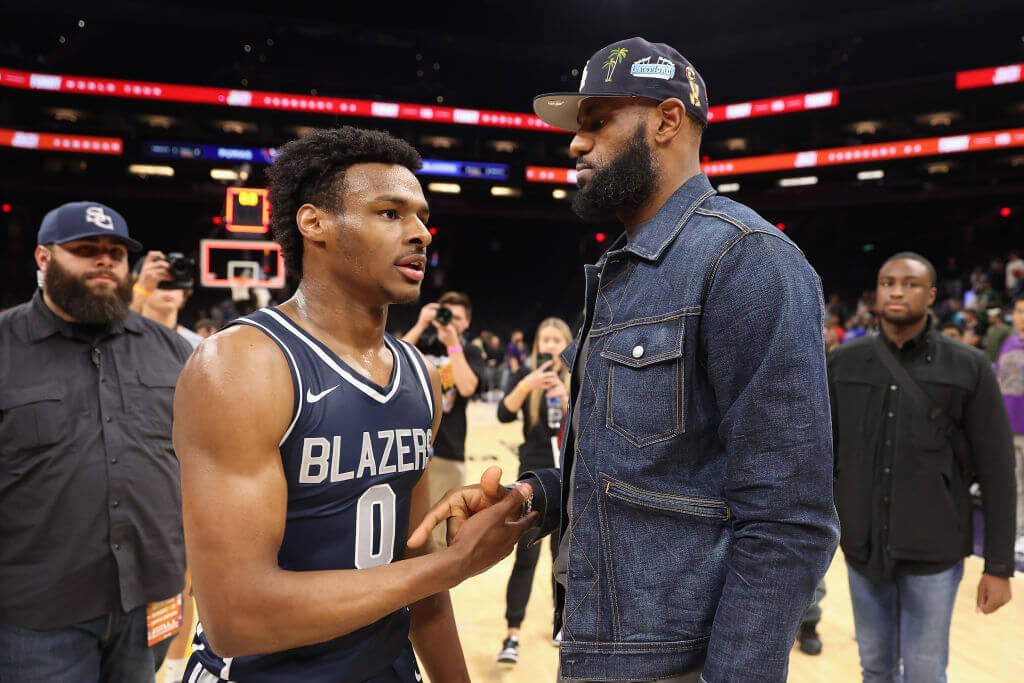 What do NBA legends LeBron James, Scottie Pippen and Penny Hardaway have in common? They all have sons playing basketball for Sierra Canyon, a top-ranked Los Angeles area high school that will face an Orthodox Jewish powerhouse Thursday night.
The matchup with Valley Torah High School, a gender-separated school also located in the San Fernando Valley with a reputation for toppling basketball giants, will take place at 6 p.m. P.T. at Sierra Canyon's gym in Chatsworth. The game can be streamed on the NFHS network, and tickets are available to the public on a first-come, first-serve basis.
It is currently ranked 20th in the country by ESPN, but Sierra Canyon's tabloid appeal is unrivaled at the high school level. LeBron James Jr., known as Bronny, and Bryce James are both expected to play Division I college hoops. The brothers anchor a Trailblazers squad (8-2 so far this season) rounded out by Justin Pippen and Ashton Hardaway, whose dads combined for 11 all-star appearances.
Sierra Canyon's games are regularly attended by back-page regulars including Drake, Kim Kardashian, and Jamie Foxx. The elite school also calls Kylie and Kendall Jenner and Willow Smith alumni.
But Valley Torah's Wolfpack (14-1), which won the national Yeshiva University Sarachek Basketball tournament this year, has never been intimidated by high-profile opponents. On its Cinderella run to the California Division IV semifinals in February, it knocked off No. 1-ranked Westchester and No. 8 Chatsworth.
And it will bring its own star power to Thursday's game: senior forward Johny Dan won Division IV player of the year last season, averaging 27 points per game. 
It's unclear how the game was scheduled, but one connection between the two schools is a private basketball trainer, Mickey Moshashvili. The former Maccabi Tel Aviv player works with the James kids as well as Valley Torah standout and current Motor City Cruise swingman Ryan Turell. 
The post Orthodox high school powerhouse to face team stocked with NBA stars' kids appeared first on The Forward.