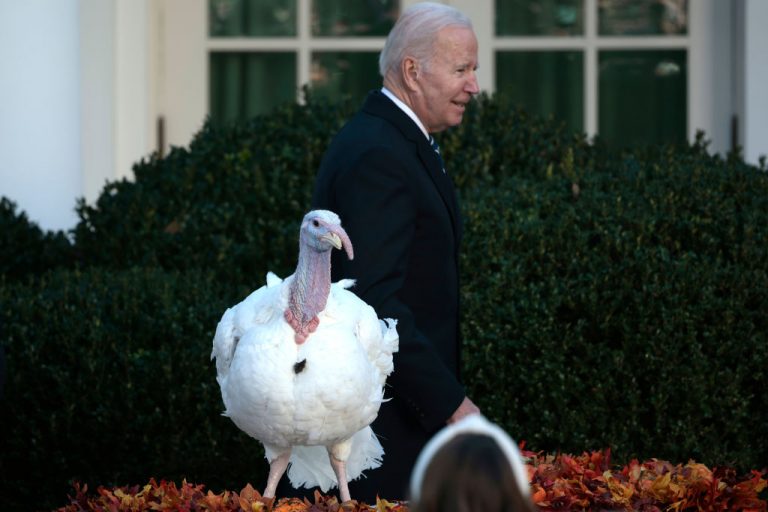 The cost of a Thanksgiving meal has jumped up 20 percent this year, Axios reported Wednesday.
A traditional Thanksgiving meal for 10 will cost $64.05, a record high, according to an American Farm Bureau survey. Sky-high inflation under President Joe Biden is the biggest cause, the farm bureau found, with economist Roger Cryan saying inflation is "slashing the purchasing power of consumers."
The report comes as worries increase about the economy under Biden. Some of the largest corporations are cutting jobs even as the holiday season approaches, with layoffs jumping 13 percent in October. Consumer confidence, meanwhile, plummeted last month amid inflation and recession fears. Biden's policies, including his $2 trillion American Rescue Plan and $400 billion student-loan cancellation scheme, have worsened inflation, economists say.
The price of almost every item in a traditional Thanksgiving meal has increased, Axios reported:
A 16-pound turkey costs about $28.96, almost $5 or 21 percent more than the average cost a year ago and $9.57 more than in 2020, the survey found.
Holiday staples with the biggest price increases include:
• 14-ounce bag of cubed stuffing mix, $3.88 (up 69 percent)
• Two frozen pie crusts, $3.68 (up 26 percent)
• Half pint of whipping cream, $2.24 (up 26 percent)
• A pound of frozen peas, $1.90 (up 23 percent)
• A dozen dinner rolls, $3.73 (up 22 percent)
• 30-ounce can of pumpkin pie mix, $4.28 (up 18 percent)
While the government has warned about a shortage of turkeys because of bird flu, the American Farm Bureau found that inflation is far more responsible for the high prices.
"The supply of whole turkeys available to consumers should be adequate this year," the report found.
The post Thanks for Nothin', Joe: Bidenflation Drives Thanksgiving Prices to Record Highs appeared first on Washington Free Beacon.