| | |
| --- | --- |
| This article is part of our morning briefing. Click here to get it delivered to your inbox each weekday. | |

 
In a video posted to YouTube before the coronation, U.K. Chief Rabbi Ephraim Mirvis reflected on the resonance between King Charles' coronation and Emor, the Torah portion read in Shabbat services on Saturday.
I landed in London on Saturday morning, just around the time, as an acquaintance put it, "Charlie boy was being bashed by the bishops" — meaning, adorned with various holy emblems, including holy oil from Jerusalem. 
In Victoria Station, near the festivities in Green Park, everyone seemed to be carrying petite British flags, some of which bore the newly-minted King Charles' royal visage. A dog trotted by in a bandana emblazoned with the Union Jack. 
The coronation had been notable, in part, for the efforts King Charles took to include Jewish, Muslim, Hindu, Sikh and Buddhist clerics in the elaborate Anglican rite. One of those leaders was Rabbi Ephraim Mirvis, chief rabbi of the United Kingdom, who with his interfaith colleagues made a declaration praising the value of unity and public service. 
The rabbi and the new king have a well-documented relationship. In January, Charles bestowed a knighthood on Mirvis, praising not just his work for London's Jews, but also his advocacy for persecuted faith groups across the world, including China's Uyghurs. 
Mirvis spent the night as a guest of the king, so he could walk to Buckingham Palace for the ceremony, since it was on Shabbat. Charles also made sure he had kosher meals. In a reflection posted on Friday, the rabbi offered some historical context, telling the story of how Richard I's coronation, in 1189, sparked a pogrom in which 30 Jews — including England's most senior rabbi — were murdered. 
"We are blessed to have a monarch who holds a deep, personal conviction that there is great strength in the diversity of our country and who cherishes his warm relationship with British Jews," Mirvis wrote.
On Saturday night, he posted a video to Twitter. "What an extraordinary Shabbat this has been," he said. "God save the king."
Of course Dianne Feinstein doesn't want to go. Neither did Moses. The senior senator from California, whose mental fitness has been questioned for the last few years, now faces increasing pressure to step down after a months-long absence from Washington due to illness. In a new column, our LA-based columnist, Rob Eshman suggests Feinstein revisit the biblical story of Moses, who, facing death, pleaded with God to keep his place in the Jewish community — but eventually understood the need to step aside so someone else might lead. Read his essay ➤
Mrs. Maisel and Philip Roth — the match that was never meant to be. Did you catch up on the latest episode this weekend? Then you know our marvelous comic almost became Mrs. Roth. Our PJ Grisar imagined what the courtship of two American Jewish icons —OK, yeah, one of them isn't real, whatever — might have looked like, down to Roth's proposal at the notoriously romantic Katz's Deli. Read the (fictional) story ➤ 
Dept. of corrections: The subject line for our Sunday newsletter inaccurately suggested that the creator of a new musical about Jesus is Jewish. In fact the creator, Anna Miriam Brown, was raised in an evangelical Christian family; the show's producer, Bruce Lazarus, is Jewish.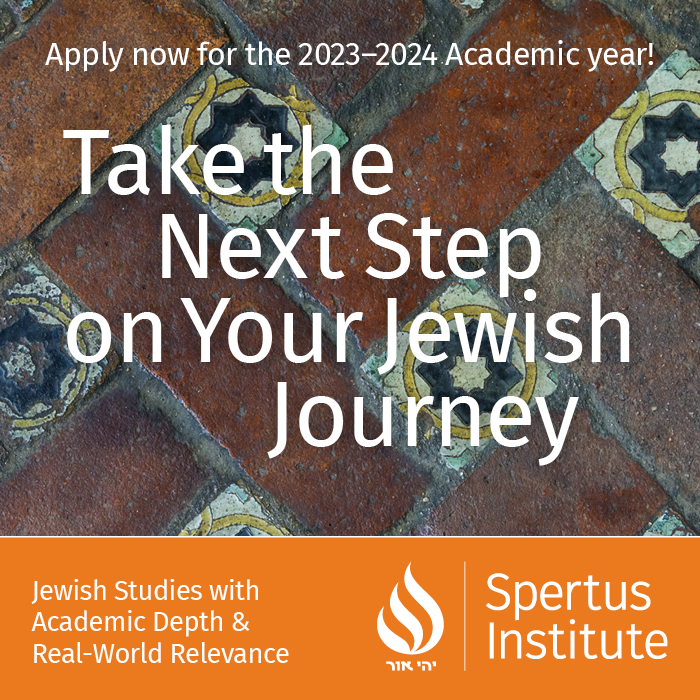 The Jewish Studies graduate programs at Spertus Institute make advanced Jewish learning conveniently available. Taught by skilled and distinguished faculty, the programs are offered in a flexible, part-time format. Courses meet online and during seminars at our award-winning downtown Chicago campus. 
Our programs draw students who are involved and engaged. Are you ready to join them? 
WHAT ELSE YOU NEED TO KNOW TODAY
Dutch soccer fans were arrested while traveling to a game at the home of the club Ajax, in a historically Jewish part of Amsterdam. (James Gill – Danehouse/Getty Images))
⚽  Amsterdam police officers arrested 154 Dutch soccer fans suspected of singing antisemitic chants while traveling to a game in a historically Jewish area of the city. The police said the group, fans of a team based outside the city, was warned to stop multiple times before being detained. (New York Times)
👀  European Union envoys will meet today to decide how to respond to Israeli Security Minister Itamar Ben-Gvir's insistence on speaking at a Tuesday event for the anniversary of the bloc's establishment. Multiple European countries had asked that another Israeli leader attend in his place; one ambassador worried that Ben-Gvir might use the event "to claim that the world is starting to accept him and his racist ideology." (Times of Israel, Haaretz)
😤  University of California, Santa Cruz condemned a group of students who celebrated Hitler's birthday last month with an on-campus gathering featuring a cake "adorned with hateful and horrific symbols." (Los Angeles Times)
😥  A 20-year-old gunman who killed eight people and wounded 14 in a shooting in Serbia last week is suspected of Nazi sympathies. Authorities called the massacre, the second mass shooting in Serbia in a week, an attack on the nation, and released a photo of the suspect wearing a shirt blazoned with the slogan "Generation 88" — a reference to the white nationalist use of "88" as code for "Heil Hitler." (ABC) 
😞  A Jewish Israeli shot and killed a 19-year-old Arab Israeli on Saturday, sparking protests in the northern village where the victim was from. Authorities said the shooting was related to an incident of road rage, and that the 32-year-old suspect appeared to be driving under the influence, with a revoked license. (Haaretz)
😳  A 96-year-old Ukrainian Jew was circumcised in Toronto. Armin Konn, who said his parents did not circumcise him as a baby due to concerns of antisemitism, underwent the ritual alongside his rabbi's infant son. Konn had emigrated to Canada after World War II. (Jewish Chronicle)
Mazel tov ➤ To Shaya Rosenberg, who appeared in an episode of Jewish Matchmaking, on his recent engagement. (No, it's not to anyone he met through the show.)
Shiva call ➤ Pianist Menahem Pressler, a Holocaust refugee who founded a renowned chamber music trio, died at 99 … Isabel Pedro, who spied for Israel in Egypt under the cover of studying archaeology, died at 89 … Jonathan Omer-Man, a pioneer in the area of Jewish meditation, died at 89. 
What else we're reading ➤ Inside the rise and fall of Germany's top rabbi … Is this Jewish indie sibling band the new Haim? … In northeastern Israel, a stark picture of how the judicial crisis is dividing the country.
Maurice Sendak was loved by generations of children for his imaginative and scary picturebooks. (Maurice Sendak)
On this day in history (2012): Maurice Sendak, the children's book author and illustrator, died at age 83. Best known for Where the Wild Things Are, Sendak created whimsical books that never shied away from the darkness and confusion that children often feel. Sendak, who lost family members in concentration camps, once said "the Holocaust has run like a river of blood through all my books." 
(Finnbarr Webster/Getty Images)
Sure, everyone else was riding to Saturday's coronation in a fancy carriage. But Rabbi Mirvis looked quite pleased on his solitary walk to Westminster Abbey. 
The post A rabbi walks into a coronation + Dianne Feinstein's Jewish obligation appeared first on The Forward.