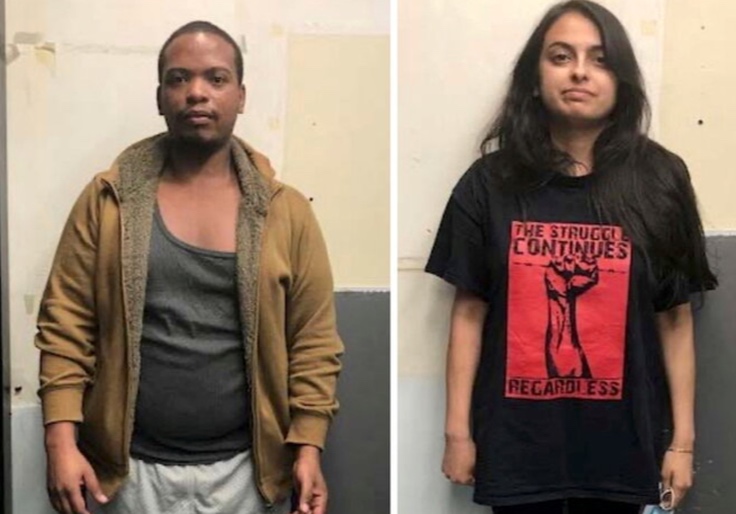 New York disbarred the two left-wing lawyers who pleaded guilty to firebombing a police cruiser during the George Floyd riots in May 2020.
New York's Appellate Division on Tuesday ruled that Colinford Mattis and Urooj Rahman's guilty pleas qualified them for the state's automatic disbarment provision, Reuters reported. The court order dates their disbarment back to June, when the pair pleaded guilty to throwing a Molotov cocktail at an NYPD car. Both lawyers told U.S. District Judge Brian Cogan at the time that they understood their guilty plea would cost them their licenses.
Rahman's attorneys in September asked for a commutation of her sentence, saying she was inebriated the night of the attack and working through "unprocessed trauma" stemming from "abusive partnership relationships" and "early trauma" from being taunted as a Muslim after 9/11. Rahman and Mattis in June negotiated their potential 10-year sentences down to a maximum of 5 years.
The pair claim the Trump Justice Department brought federal charges to make an example out of them, and Rahman's attorneys say their client's "commitment to social justice" ought to earn her a reduced sentence.
But prosecutors maintain that Rahman and Mattis "abdicated their responsibilities as attorneys" and cite text messages showing the duo's attack was premeditated.
"Bring it to their neck," Mattis texted Rahman before sharing the location of NYPD  headquarters. "Molotovs rollin'," Rahman responded. "I hope they burn everything down. Need to burn all police stations down and probably the courts too."
Rahman is set to be sentenced on Friday. Mattis's hearing is scheduled for Dec. 16.
The post New York Disbars Left-Wing Lawyers Who Firebombed Police Cruiser appeared first on Washington Free Beacon.