M.N.: FBI, stop exploiting and abusing children and adolescents! You contribute into early skewing of immature souls with possibly facilitating the adverse, pathological, and maladaptive character traits. Look into this, think about it, and consider this seriously. 
Recruit only the mature adults. 
7.26.18
Mike Nova's Shared NewsLinks
Mike Nova's Shared NewsLinks
Pueblo teen returns from FBI leadership camp
| | |
| --- | --- |
| | mikenova shared this story from www.chieftain.com – RSS Results in news/pueblo of type article. |
---
An incoming East High School sophomore recently returned from the FBI Youth Leadership Program at the world renowned FBI Academy in Quantico, Va.
Layne Martinez was one of only 60 teenagers selected to participate in the weeklong program, modeled on the National Academy and run by counselors to develop leaders and future criminal justice professionals.
The young men and women who earned spots in the program — the 20th offered by the FBI — did so based on academic achievements, leadership abilities and involvement in school and community.
As part of the application process, Layne was required to submit an essay on the subject of leadership.
"Being a leader isn't about being correct about anything and everything," she wrote. "It isn't being the first or fastest one to complete a mission, nor is it feeling like you have the authority to control other people's beliefs and shame on them because they may be different than yours.
"Displaying leadership is staying committed to your beliefs, strengths and ideas — making challenging decisions that will not only benefit you, but the people and cause you are fighting for."
Layne said she applied for the program to strengthen her already prominent leadership skills and to get an inside track at a career in criminal justice.
"I have always wanted to pursue a career in the FBI or law enforcement and I knew I could learn a lot from the counselors and fellow students who had similar aspirations," she said.
Over the course of the program, Layne and her colleagues learned about the qualities that define a strong leader "and how to apply them in our daily lives, such as always having a positive mindset, doing the right thing when nobody is looking, and standing up for what you believe in even if you may be ridiculed for it.
"We also learned to live by this quote: 'If not me, then who?' "
Before a visit to the Holocaust Memorial Museum in Washington D.C., participants were presented with an overview of World War II and the principals involved on both sides.
"Leaders have two options when distributing their strength: They can use it to bring benefit to the people or they can use it for destruction, such as Adolf Hitler," Layne explained.
There also was a primer on internet and social media safety and etiquette — "we learned that having inappropriate content linked to your name through the internet can come with consequences" — and the 5P Rule of Time Management, which is "Proper Planning Prevents Poor Performance."
While the instruction and lessons were vitally important, for Layne, the most exciting part of the program was the opportunity to form bonds with like-minded students from across the country.
"When everyone stepped on their planes on the way to this camp, we had no idea what to expect or who we were going to meet," Layne said.
"But we formed friendships within hours of meeting one another. When faced with challenges throughout the camp, we faced them together.
"We cheered each other on, accepted everyone for who they are, and we learned from one another."
As part of the program, participants visited the Hostage Rescue Team facility in Yorktown, a stop that was of special interest to Layne.
"I am currently interested in becoming a special agent, working with the hostage rescue team, or dealing with human trafficking cases," she said.
"Attending the camp helped me make that decision because we got to personally meet students who are learning at the academy in Quantico."
As a final mental and physical challenge, the students were tasked with completing a modified version of the grueling "Yellow Brick Road" obstacle course all FBI recruits must navigate.
Fittingly, Layne received a symbolic yellow brick for being a finisher.
jpompia@chieftain.com
The pitfalls and perils of the Trump-Putin-Netanyahu triad – U.S. News
---
The prime minister has achieved unprecedented global prominence but may have forgotten that the higher they climb, the harder they may fall
Want to enjoy 'Zen' reading – with no ads and just the article? Subscribe today
Subscribe now
(8) Schröder criticizes Heiko Maas in the case Özil – policy
---
Former Chancellor Schroeder calls statements by Foreign Minister Maas in the case of Ozil "simply unbearable".

Among other things, Maas had said that "the case of a multi-millionaire living and working in England provides information about the ability to integrate in Germany".

Mesut Özil has declared his resignation from the national team on Sunday and just this, among other things with racism against him.
Former Federal Chancellor and SPD leader Gerhard Schröder has sharply criticized Foreign Minister Heiko Maas (SPD) for commenting on the case of Mesut Özil. Speaking to the Süddeutsche Zeitung , Schröder said that a foreign minister, as part of the debate on a German soccer player with Turkish roots, admitted that Maas had done so was "simply unbearable".
Maas's "dull comments" on Özil also have "nothing at all to do with social democratic ideas of integration". The Foreign Minister makes the football player not only indirectly to the charge that he earns a lot of money and his food point currently not in Germany. In a way, he also doubts that "Özil really belongs here". With his statements he plays into the hands of those who rejected Mesut Özilbecause of the Turkish origin of his family.
Maas hatte am Montag unter anderem gesagt, er glaube nicht, "dass der Fall eines in England lebenden und arbeitenden Multimillionärs Auskunft gibt über Integrationsfähigkeit in Deutschland". Der Außenminister hatte für diesen Satz von verschiedenen Seiten Kritik einstecken müssen. Er fügte seiner Äußerung dann an anderer Stelle Aussagen wie "ein Rücktritt wegen rassistischer Anfeindungen ist ein Armutszeugnis für alle" hinzu.
Mesut Özil hatte am Sonntag seinen Austritt aus der Nationalmannschaft erklärt und das unter anderem mit der von ihm als rassistisch empfundenen Debatte über sein Bild mit dem türkischen Präsidenten Erdoğan und dem Umgang des Deutschen Fußball-Bundes mit seiner Person begründet.
heiko maas – Google Search
---
The Local Germany
–
Jul 24, 2018
Germany's foreign minister Heiko Maas says Europe won't give in to … tariffs, because everyone loses in the end," Maas wrote on Twitter.
… including on the Northern Ireland border issue, German Foreign Minister Heiko Maas said in a media interview published on Wednesday.
Revanche! Revanche! "RUSSLAND-AFFARE"; Made in Germany! "He's making us dance"… in PDF – Updated on 7.24.18 | Global Security News
---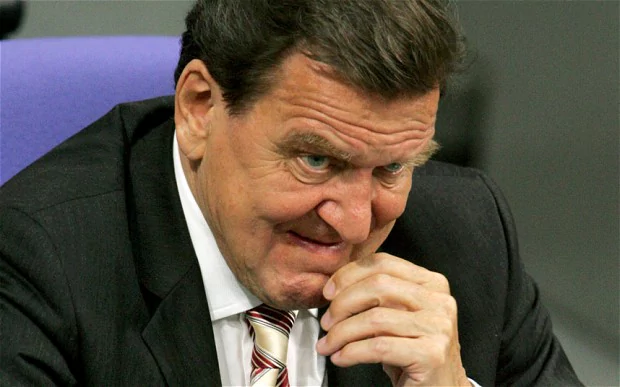 24/07/18 12:58 from Mike Nova's Shared Newslinks
mikenova shared this story from [Untitled]. Russian President Vladimir Putin and then-German Chancellor Gerhard Schroeder in Berlin in 2005, two months before Schroeder left office and became chairman of the Nord Stream project's s…
Trump Draws Attention to Controversial Role of Putin-Friendly Former German Chancellor