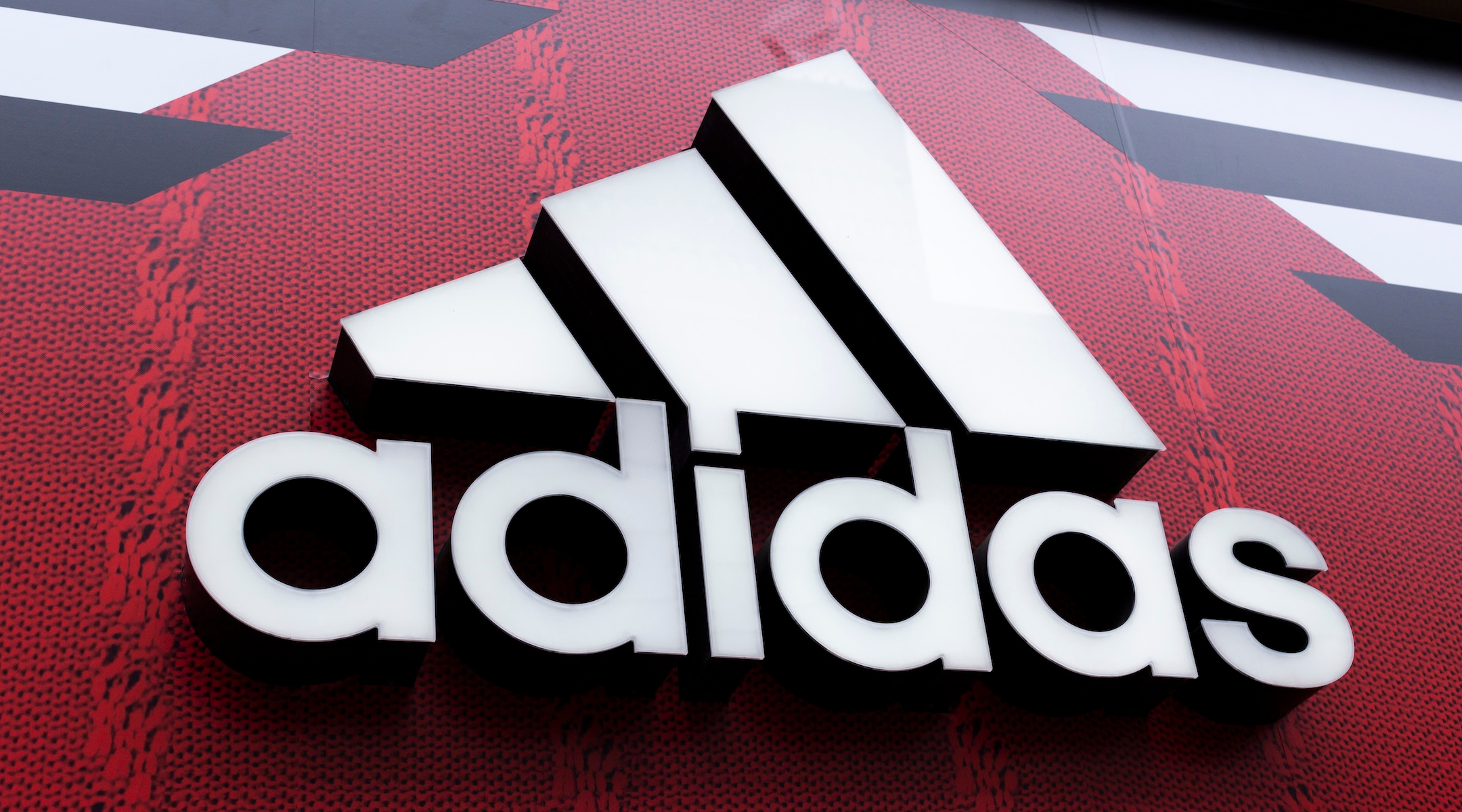 (JTA) – The sportswear giant Adidas has decided to sell off its remaining inventory of sneakers from Kanye West's Yeezy brand and donate the proceeds to charity.
The decision comes roughly seven months after Adidas cut ties with West in the face of mounting pressure due to his stream of antisemitic comments. Adidas' sales of the rapper's sneakers had accounted for 10% of the company's annual revenue last year — roughly $2 billion. That decision left Adidas with $1.3 billion of unsold Yeezy inventory in its possession.
During the company's annual shareholders meeting on Thursday in Germany, where Adidas is based, CEO Bjørn Gulden pledged that the money would go "to the organizations that are helping us and that were also hurt by Kanye's statements."
Gulden did not elaborate on which organizations the proceeds would be directed to, nor if any of them would go to Jewish or anti-hate groups. Adidas did not respond to a Jewish Telegraphic Agency request for comment.
Jews were the target of West's comments last fall. West, who now goes by Ye, promised to "go death con 3 on Jewish people," professed admiration for Hitler and bragged that he could say antisemitic comments and Adidas would not drop him. In November, the rapper dined with former President Donald Trump and Nick Fuentes, a prominent antisemite, at Trump's Mar-a-Lago resort in Florida.
Following his comments, statements such as "Kanye Was Right" became a rallying cry for antisemites. According to the Anti-Defamation League, 59 antisemitic incidents that took place from October 11 through the end of 2022 directly referenced West.
Shortly after dropping West, Adidas  — which was founded by Nazi Party members — announced a $1 million, four-year partnership with the ADL designed to educate athletes about antisemitism and other forms of bigotry.
The ADL praised Adidas' plans but told JTA that the company hasn't said if the ADL will receive a donation from the Yeezy sales. The organization added that it was not advising Adidas on where to direct the sale proceeds. 
"This is a thoughtful and caring resolution for the unsold merchandise," ADL CEO Jonathan Greenblatt said in a statement. "Ye's antisemitic remarks and abhorrent behavior have resulted in real-world acts of antisemitic hate. Any attempt to turn the consequences of his actions into something that ultimately benefits society and the people he has hurt is most welcome."
Adidas had agonized for months over how to deal with the Yeezy merchandise, at one point considering simply burning it. That idea was nixed by Gulden on Thursday: "Burning is not the solution," he told shareholders.
But the company's Yeezy woes aren't over yet. Adidas still faces a lawsuit from investors who allege executives knew about West's "extreme behavior" for years and didn't end their partnership quickly enough.
As for West himself, he recently announced that he no longer hated Jewish people after watching Jewish actor Jonah Hill in "21 Jump Street."
This article originally appeared on JTA.org.
The post Adidas says it will sell off Yeezy shoes and donate proceeds to those 'hurt by Kanye's statements' appeared first on The Forward.