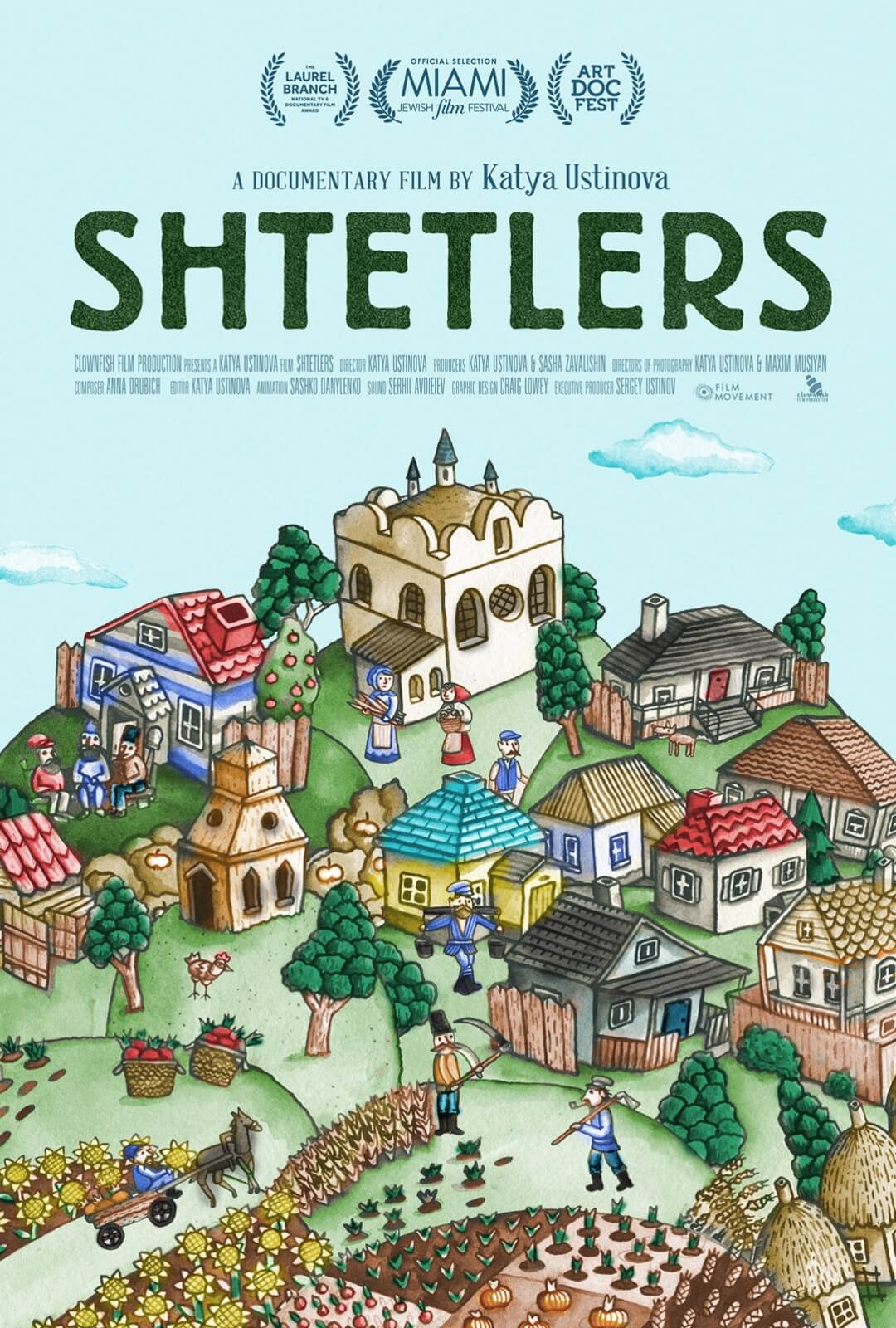 אין זײַן שטילער עלעגיע פֿון 1946 באַקלאָגט דער דיכטער אַהרן צײַטלין אַ װעלט װאָס איז פֿאַרבײַ. "מײַן װאַרשע בויט מען נישט װידער," שרײַבט ער. "מײַן װאַרשע בלײַבט אייביק צעשטערט."
אַזאַ צעשטערטע װעלט װײַזט אונדז די יונגע רעזשיסאָרין קאַטיאַ אוסטינאָװאַ אין איר נײַעם דאָקומענטאַר־פֿילם "שטעטלערס", וואָס מע וועט אָנהייבן ווײַזן אויף Apple TV דעם 3טן פֿעברואַר 2023. כּדי אָנצוקומען צום לינק פֿון פֿילם גיט אַ קוועטש דאָ.
די װעלט וואָס דערפֿון דעם פֿילם שילדערט איז אָבער ניט פֿון די גרויסע שטעט װי װאַרשע, נאָר פֿון די ייִדישע שטעטלעך פֿון אוקראַיִנע און מאָלדאָװע, הײַנט באַװאָקסן מיט מאָך, האַלב־צעפֿאַלן — און ייִדן־פֿרײַ.
אוסטינאָװאַס פֿילם, אַזוי װי צײַטלינס ליד, איז אַ שטילער, כּמעט אין גאַנצן אָן מוזיק. דער טרויער איז קלאָר, כאָטש מען װײַזט אים נישט דורך דראַמאַטישע זשעסטן אָדער סצענעס פֿון גרויס שפּאַנונג. מע פֿילט אים אין די קליינע פּרטים: אײַנגעזונקענע טרעפּ, קוים צו זען אונטער איבערגעװאַקסענע װילדגרעזער; אַ מזוזה אויף אַ װאַנט, איבערגעפֿאַרבט מיטן װײַסן קאָליר פֿון די װענט אין אַן אַמאָליקן ייִדישן הויז װוּ עס װוינט הײַנט אַ גוייִש פּאָרפֿאָלק; אַ פֿאַרשטויבט היטל פֿון איין פּאַרשוינס טאַטן, איבערגעלאָזט יאָרן לאַנג אין דעם הויז פֿון זײַן יוגנט, אינעם פּיצלדיק בעסאַראַבער דאָרף טירגול־װערטיויעני.
דאָס היטל זיצט אויף אַ פֿענצטערברעט, אָבער קיין גלאָז אין פֿענצטער איז נישט פֿאַראַן. דער פּאַרשוין װאָס װײַזט די פֿילמיר־אַפּאַראַטן דעם טאַטנס היטל איז סלאַװאַ, איינער פֿונעם פֿילמס רירנדיקן אַנסאַמבל פֿון נײַן אַמאָליקע "שטעטלערס", װאָס מיר זעען אין זייערע הײַנטיקע הײַזער אין ירושלים, ברײַטאָן ביטש און פֿילאַדעלפֿיע. אַ סך פֿון זיי האָבן װײַטער געװוינט אין די שטעטלעך פֿון זייער געבורט אַפֿילו יאָרן נאָכן חורבן, במשך פֿון דער סאָװעטישער עפּאָכע. צװישן די נאַראַטאָרן זענען אויך עטלעכע נישט־ייִדן וואָס וווינען נאָך אין די ייִדישע שטעטלעך פֿון אַ פֿריִערדיקער תּקופֿה.
"דאָס איז אַ מאָל געװען אונדזער װוינצימער," זאָגט סלאַװאַ, בשעת ער טרעט אַרײַן אין אַ חרובֿן פּלאַץ, מיט אײַנגעװאָרפֿענע קלעצלעך האָלץ אויפֿן דיל. ווײַטער דערציילט ער, אַלץ אויף רוסיש־לשון: "אַזוי װי דאָס הויז, איז אויך מײַן ייִדיש נישטאָ. די גאַנצע שטעטלדיקע קולטור איז נישטאָ."
נאָר מע קען זי נאָך אַלץ שפּירן, נאָך אַלץ הערן די װידערקולות דערפֿון, אין די געשיכטעס פֿון די אַמאָליקע אײַנוווינער. זיי דערציילן װעגן די יונגע יאָרן, זייערע אַמאָליקע קהילות און דערמאָרדעטע משפּחות, זייערע נאָך־חורבנדיקע פּרנסות און געדאַנקען. כאָטש זיי זענען מערסטנס אַלט און גרוי, פֿילן זיי אָן דעם פֿילם מיט בונט לעבן.
נאָך אַ פּאַרשוין אין פֿילם, אַן אַלטע ייִדענע, סאָפֿיאַ, װאָס װוינט הײַנט אין פֿילאַדעלפֿיע, דערקװיקט אונדז מיט אירע געשמאַקע רייד בשעת זי באַקט אַ געזאַלצענע מצה־באַבקע. פּונקט דעם זעלבן מאכל באַקט אַ נישט־ייִדישע פֿרוי אין אַ פֿריִערדיקער סצענע, נאַדיאַ. נאַדיאַ, אַן אוקראַיִנער ערדאַרבעטערין, װוינט נאָך אַלץ אין איר אַלטן שטעטל, און האָט זיך אויסגעלערנט דעם רעצעפּט פֿון אירע אַמאָליקע ייִדישע שכנים, װעמען זי דערמאָנט מיט װאַרעמקייט.
בשעת זי מאַכט די באַבקע קאָכט די ייִדישע סאָפֿיע געפֿילטע פֿיש, דעם עכט טראַדיציאָנעלן סאָרט, מיטן געהאַקטן פֿיש אַרײַנגעשטאָפּט אין דער פֿישהויט און נאָך דעם אָפּגעבראָטן. װען זי האָט צרות בײַם אָפּשינדן דעם פֿיש, װיצלט זי זיך: "אָט, צװיי עקשנטעס, דער פֿיש און איך." שפּעטער, װען זי נעמט אַרויס דעם פֿיש פֿון אויװן, רופֿט זי אים צערטלעך אָן מיטן נאָמען "פּרינצעסין".
אָט אין איר און אין די אַנדערע אַלטע ייִדן פֿון פֿילם געפֿינט זיך נאָך אַלץ דער אַלט־שטעטלדיקער חוש פֿאַר הומאָר. בײַ זיי אַלעמען, כאָטש זיי זענען צעזייט און צעשפּרייט איבער אַלע עקן פֿון דער װעלט, לעבט װײַטער די אויבן דערמאָנטע "שטעטלדיקע קולטור". זי לעבט נאָך, נישט געקוקט אויפֿן גװאַלדיקן, מערדערישן בראָך אינעם אַמאָליקן שטעטל־שטח — אַזוי װי די אַלטע, פֿאַר־מלחמהדיקע ביימער װאָס מע זעט אין פֿילם, װאָס װאַקסן נאָך אַלץ בײַ די צעריסענע הײַזער און מצבֿות פֿון די ייִדן. זיי האָבן דאָרט טיפֿע װאָרצלען.
אין צײַטלינס לעצטער סטראָפֿע זאָגט ער פֿאָרויס די צוקונפֿט פֿון זײַנע נאָענטע פֿון װאַרשע, און זייער ירושה:
דער שטומער קדיש װעט שטאַרבן
מיט אונדז צוזאַמען — און אַלץ
װעט, װי אַ לידל אַן אַלטס,
װערן פֿאַרגעסן.
אין אַ גרויסער מאָס איז ער, צום באַדויערן, געװען גערעכט. אַ סך װערט יאָ פֿאַרגעסן. איז עס לכן אַ גוטע זאַך װאָס מיר האָבן אַזעלכע שאַפֿונגען װי אוסטינאָװאַס פֿילם, מיט זײַנע אָפֿן־האַרציקע, טיף־פֿילעװדיקע נאַראַטאָרן, זיי זאָלן אונדז דערמאָנען.
The post 'Shtetlers', film about Yiddish-speaking shtetls begins streaming Feb. 3 appeared first on The Forward.