A major Democratic pro-Israel group is targeting Jewish voters in Georgia's runoff election between Sen. Raphael Warnock and Republican Herschel Walker, a key race that could give the Democrats a clear majority in the U.S. Senate. 
Democratic Warnock "fully supported funding Israel's $3.8 billion annual security assistance without any additional conditions" and "helped combat the antisemitic Boycott, Divestment, & Sanctions (BDS) movement that seeks to demonize Israel," read a full-page ad published Wednesday in the Atlanta Jewish Times, a local weekly newspaper, and sponsored by the Democratic Majority for Israel's political action committee. It will run in next week's paper as well. 
Warnock, who leads Martin Luther King Jr.'s Ebenezer Baptist Church in Atlanta, led Walker, a former University of Georgia football star with a Jewish name, by 36,000 votes — less than 1% — in last week's contest. But he failed to get above the 50% threshold needed to win under state law.
Rachel Rosen, a DMFI spokesperson, said that in just under two years, Warnock "has already lived up to his commitment to advancing the Biden-Harris agenda and supporting a strong U.S.-Israel relationship." She added: "We believe his continued vision and leadership in the Senate will serve Georgians and all Americans well."
DMFI spent $600,000 in the general election, in addition to $5 million in this year's Democratic primaries. But most of its ads were aimed at boosting its preferred candidates among the general electorate. In this Georgia race, the group is targeting Jewish voters, who could serve as tiebreakers. 
Jews make up 1.3% of the electorate in Georgia. According to data from the AP VoteCast survey, they comprised 2% of the electorate on Election Day. A 2021 Jewish Electoral Institute survey showed that 54% identify as Democrats or said they were independents who lean Democratic, while 38% identify as or lean Republican.  In September, the Jewish Democratic Council of America ran digital ads that targeted Jewish independents, warning about the danger of "MAGA Republicans" threatening U.S. democracy.
The outcome of the Dec. 6 runoff won't decide who controls the Senate, as was the case in 2021 when Warnock faced Republican Kelly Loeffler. Democrats now have 50 seats without Georgia, having picked up a seat in Pennsylvania. Even if Warnock loses, Vice President Kamala Harris holds a tiebreaking vote.
But the election is still important for both parties because a win for Warnock will give his party a majority in all committees and ease the process for confirming judges and other administration appointees. In the past two years, Republicans exercised their power to hold up some confirmations in evenly split committees.
DMFI said it intends to roll out additional digital advertising in the coming weeks to highlight the Democratic incumbent's support for Israel.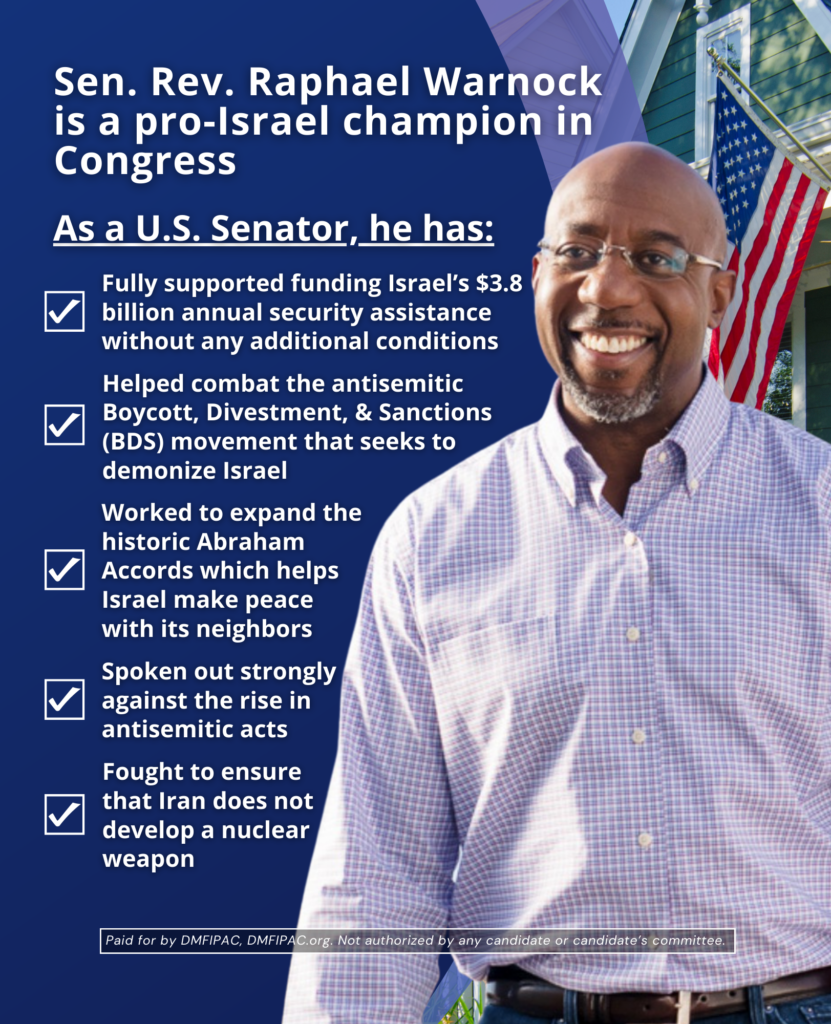 A Democratic Majority for Israel full-page ad in support of Sen. Raphael Warnock. Courtesy of DMFI
Warnock is a member of the Caucus on Black-Jewish Relations. 
The post Democratic pro-Israel group aims to sway Jewish voters in Georgia runoff appeared first on The Forward.