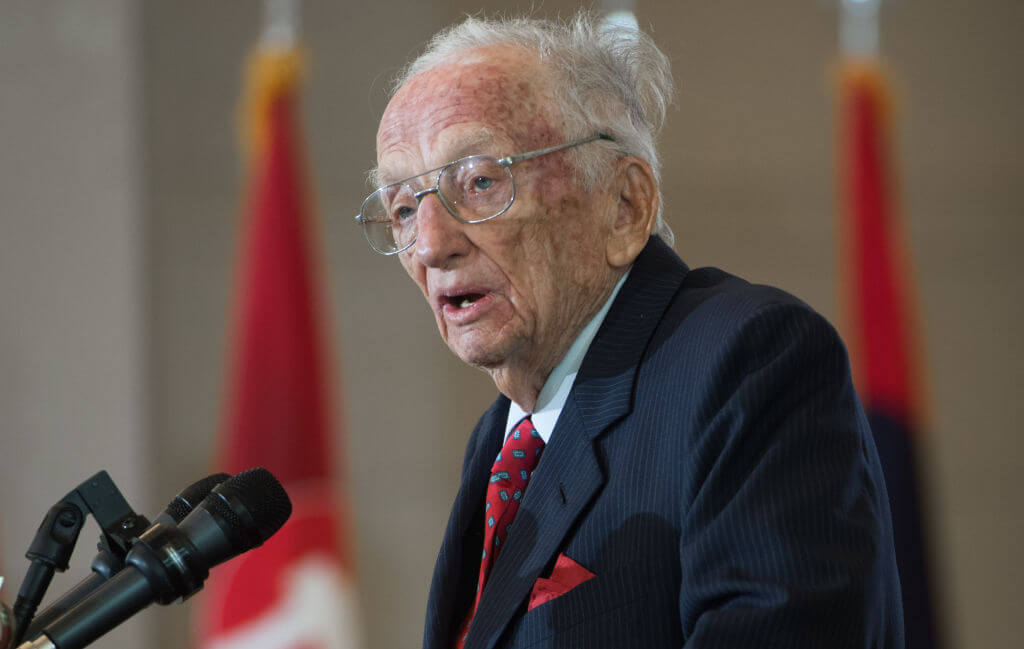 Benjamin Ferencz, the last surviving prosecutor from the Nuremberg trials, will be awarded the Congressional Gold Medal — the highest award bestowed by Congress — at a ceremony in Delray Beach, Florida, on Thursday for his prosecution of  Nazi war criminals.
Ferencz, who will turn 103 in March, served in combat as the Allies liberated the Nazi concentration camps and later secured convictions against 22 high-ranking Nazis in the historic war crimes tribunal in Nuremberg, Germany. 
The bill to award Ferencz passed in the House last May — Jewish American Heritage Month — and was recently signed into law by President Joe Biden after it was included in the fiscal year 2023 omnibus funding package. 
Ferencz, the son of Hungarian Jews, was a 10-month-old toddler when he immigrated to the U.S. with his family in 1920 and settled in New York City. After graduating from Harvard Law School in 1943, he joined an anti-aircraft artillery battalion preparing for the invasion of France. Discharged from the U.S. Army in 1945, Ferencz was recruited to collect evidence from Nazi offices and archives in Berlin to build the case that they had committed genocide.
Ferencz served as chief prosecutor for the U.S. in the Einsatzgruppen case, in which commanders of SS mobile death squads faced charges of war crimes and crimes against humanity. Of the 22 convicted, 14 were sentenced to death.
In a November interview with NBC News, Ferencz said "the world has still not learned the lessons of Nuremberg," when asked to comment about the war in Ukraine and the uptick in global antisemitism. He also told the London Daily Mirror that he believes Russian President Vladimir Putin should be jailed for war crimes.
A resident of Delray Beach, Ferencz' health has declined in recent months. His son, Don Ferencz, will accept the medal on his father's behalf at a Florida ceremony attended by Holocaust survivors and Jewish leaders.
The bill was introduced by Reps. Lois Frankel, a Jewish Florida Democrat, and Joe Wilson, a South Carolina Republican. 
Frankel said she sought to honor Ferencz, who lives in her district, with the medal to reinforce, amid a time of rising antisemitism and Holocaust denial among celebrities, that this hatred must not be tolerated. "Ferencz is a hero of the Jewish community who has dedicated decades of his life to combatting antisemitism, prosecuting those who act on their hatred, and keeping the lessons of the Holocaust alive." 
Florida Gov. Ron DeSantis awarded the governor's medal of freedom to Ferencz last year.
The post Last living Nuremberg prosecutor, 102, awarded Congressional Gold Medal appeared first on The Forward.