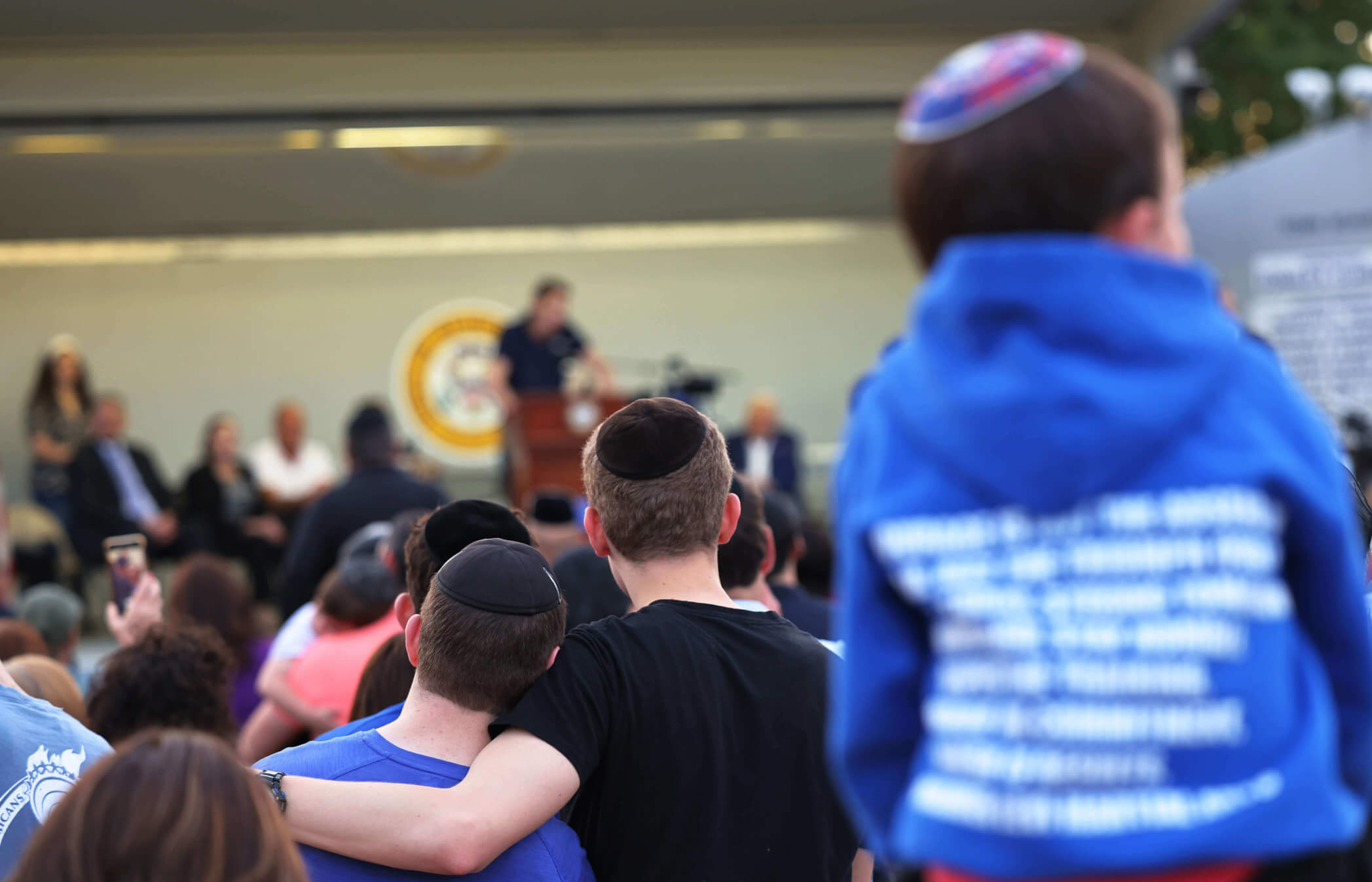 The Anti-Defamation League's annual global report on antisemitism shows declines in incidents in several Western nations in 2002, including France, Germany and Britain — but not the U.S.
The report, despite the notable decreases, paints an overall dismal picture of 2022, pointing to "thousands" of incidents worldwide, "including hundreds of physical assaults."
Given the lack of a major Israeli military offensive or widespread pandemic lockdowns — factors experts say contributed to spikes in antisemitism in recent years — the persistence of antisemitism is all the more worrisome, the report concludes.  
"Unlike in 2021, there were no specific events which can be linked to a rise in antisemitism, which speaks to the deeply-seated nature of Jew Hatred around the world," said ADL CEO Jonathan Greenblatt in a statement. He called the report "very troubling."
The report also found that Haredi Jews are the main victims of antisemitic assaults in the West, and that such attacks tend to happen in a small number of urban centers and are most often not premeditated.
The report was cobbled together with the help of a number of groups and agencies — some governmental, some not — that gather data on antisemitism, often using different methodologies. Some countries provide more complete pictures than others. In Argentina, for example, the data focuses mostly on online antisemitism.
Among the reports findings:
Incidents of antisemitism dropped in a number of countries. In the United Kingdom, there were 1,652 antisemitic incidents in 2022, 603 fewer than 2021. Canada, which set a record with 2,799 incidents in 2021, saw that number drop, as did violent crimes involving antisemitism, although exact numbers were not available in the report. Other countries with notable dips included France and Sweden. 

Germany saw a decline in "politically motivated crimes with an antisemitic background," with 389 fewer incidents, for a total of 2,639. At the same time, there was an increase in incidents of antisemitic violence: from 63 in 2021 to 88 in 2022.

In addition to the U.S., countries that saw an increase in antisemitism in 2022 include Australia and Switzerland, while Belgium reported the largest rise of any country, percentage-wise. With only 28,000 Jews, 17 antisemitic incidents were reported, more than four times higher than the previous year. 
In the United States, the ADL's 2022 audit showed 3,697 antisemitic incidents, the highest number on record since the organization first began keeping track in 1979 — and a 36% increase from the previous year. 
The ADL, for its 2021 U.S. audit, changed the way it gathered information on antisemitism by including incidents reported by partner organizations. That methodology, which contributed to a higher total number of cases, was also used for the 2022 report.
One chapter of the report lays part of the blame for the rise in antisemitism in the U.S. at the feet of Republicans. The party in principle opposes antisemitism but in practice many Republican leaders often empower — or refuse to condemn — those hostile to Jews, the report argues. It gives a number of examples, including former Republican President Donald Trump's dinner last year with internet streamer Nick Fuentes, who is known for denying the Holocaust and other antisemitic views. In January, the Republican National Committee passed a motion condemning Fuentes. 
A request for comment from the Republican National Committee was not immediately returned. 
New York and London
The 83-page report also honed in on physical attacks against Jews in London and New York, the two cities that saw the largest number of such incidents in 2022. Visibly Jewish people, such as Haredi Jews, were the most frequent targets of attacks, according to the report.  
New York police counted 30 physical assaults with an anti-Jewish motivation, with 22 of those occurring in predominantly Haredi Jewish areas such as Williamsburg or Borough Park, Brooklyn. 
The Community Service Trust, an organization that provides physical security and training to British Jews, reported 82 physical antisemitics assaults in Greater London.  
It is unclear from the report if Haredi Jews were also disproportionately targeted in other cities and countries. 
The report also includes case studies of how antisemitism has manifested in several nations, including some, like Japan and Yemen, with tiny Jewish populations. In Japan, which has less than 2,000 Jews, two political parties that have trafficked in antisemitic conspiracy theories have managed to make small electoral gains. 
The ADL produced its report with Tel Aviv University's Center for the Study of Contemporary European Jewry, the first such collaboration between the two organizations.
The post ADL: As antisemitic incidents skyrocketed in US, other countries saw a decline in 2022 appeared first on The Forward.