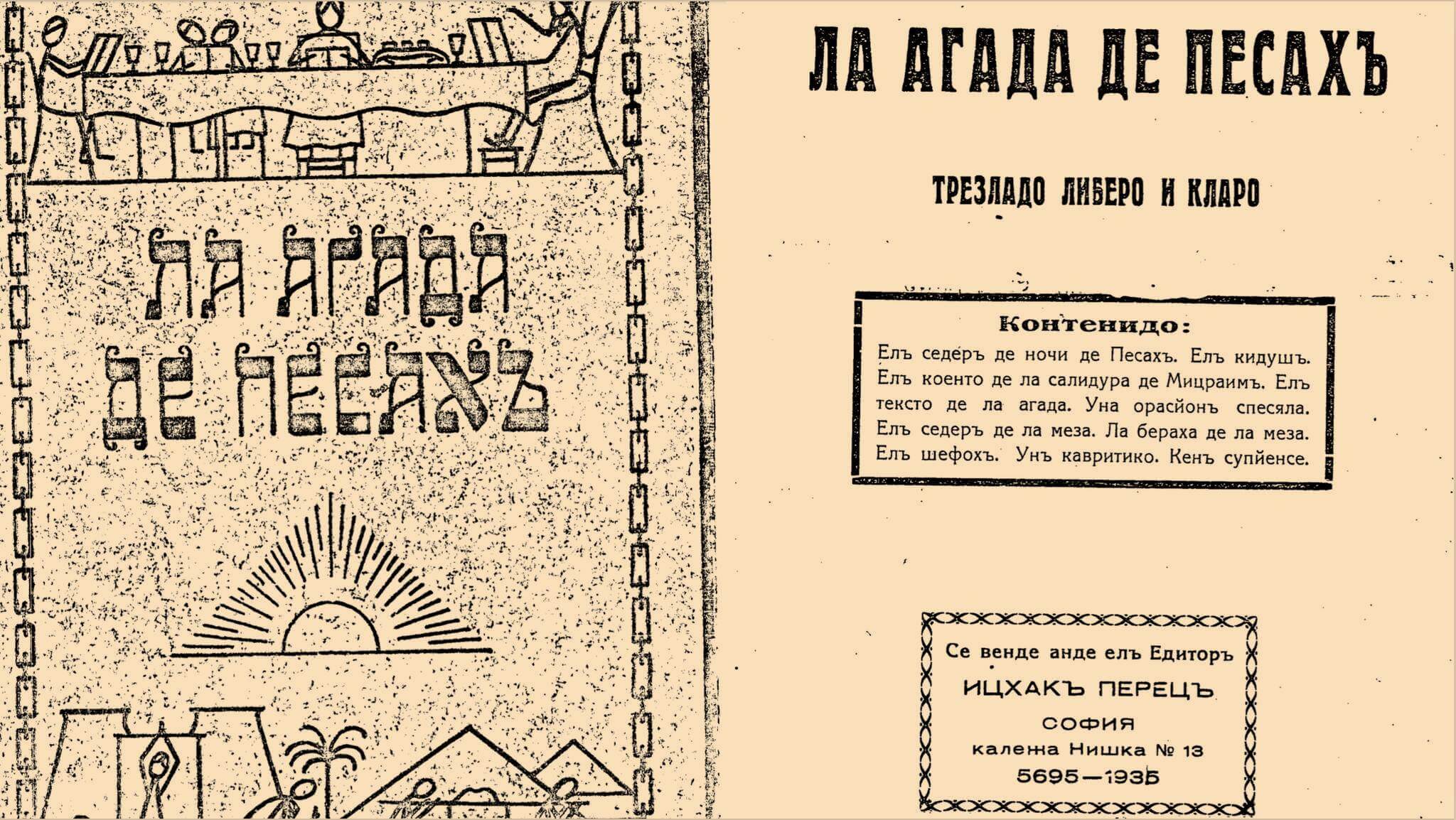 אין מײַן פֿאָריקן אַרטיקל האָב איך דערמאָנט משה בערעגאָווסקיס לידער־זאַמלונגען, אָפּגעדרוקט אויף ייִדיש אין דער סאָוועטישער מאָסקווע מיט לאַטײַנישע אותיות.
איינער פֿון די לייענער האָט בײַ מיר געפֿרעגט: צי האָט מען ווען־ניט־ווען געדרוקט ייִדישע ביכער, אָנגעשריבן מיטן רוסישן אַלפֿאַבעט? אויף וויפֿל איך ווייס, קיינמאָל נישט. די אַשכּנזישע ייִדן האָבן תּמיד באַטראַכט דעם כּתבֿ ווי אַן אינטעגראַלן, אומאָפּנעמלעכן טייל פֿון זייער שפּראַך. ס׳איז אינטערעסאַנט אָבער, אַז אַזעלכע ביכער האָט מען טאַקע אַרויסגעגעבן אויף אַן אַנדער ייִדיש לשון: לאַדינאָ.
קודם־כּל, מוז מען דאָ דערמאָנען, אַז די "רוסישע" אותיות שטאַמען נישט פֿון רוסלאַנד, נאָר פֿון דער מיטל־עלטערלעכער בולגאַריע – פּונקט אַזוי, ווי די "ענגלישע" אותיות זענען לאַטײַנישע און ווערן באַנוצט אויף אַ סך לשונות אַרום דער וועלט. צוויי ברידער, קיריל און מעטאָדיוס, וואָס זענען געבוירן געוואָרן אין סאַלאָניק אינעם פֿריִיִקן נײַנטן יאָרהונדערט, האָבן דערפֿונדן דעם דאָזיקן כּתבֿ, באַגרינדעט אויפֿן גריכישן און טיילווײַז ייִדישן אַלף־בית. ביידע ווערן אָנערקענט אין די פּראַוואָסלאַוונע לענדער ווי הייליקע.
אין דער מיטל־עלטערלעכער בולגאַריע האָבן זייערע תּלמידים סטאַנדאַרטיזירט דעם כּתבֿ און פֿון דאָרט האָט ער זיך פֿאַרשפּרייט אין מיזרח־אייראָפּע, אַרײַנגערעכנט דעם שטח פֿונעם הײַנטיקן רוסלאַנד, אוקראַיִנע און רומעניע. צוזאַמען מיטן כּתבֿ איז אַלט־בולגאַריש געוואָרן די אָפֿיציעלע קלויסטער־שפּראַך — אַ מין לשון־קודש בײַ אַ סך פּראַוואָסלאַוונע קריסטן.
צו ערשט האָבן קיריל און מעטאָדיוס אויסגעטראַכט גאָר אַן אַנדער אַלף־בית – די גראַגאָליצע, וואָס זעט אויס אין גאַנצן אייגנאַרטיק. אויפֿשריפֿטן מיט אַזאַ כּתבֿ טרעפֿן זיך אין די אַלטע צערקוועס פֿון קראָאַטיע, נאָר פּאָפּולער איז ער אין ערגעץ נישט געוואָרן.
אויף רומעניש האָט מען געשריבן מיט די קירילישע אותיות נאָך אינעם 16טן יאָרהונדערט. הײַנט שרײַבט מען סײַ אין רומעניע, סײַ אין מאָלדאָווע, מיטן לאַטײַנישן אַלפֿאַבעט; רומעניש און מאָלדאַוויש זענען פֿאַקטיש די זעלבע שפּראַך. אין טראַנסניסטריע, דעם מיזרחדיקן טייל פֿון מאָלדאָווע, וואָס האַלט זיך פֿאַר אַן אומאָפּהענגיק לאַנד, שרײַבט מען נאָך אַלץ מיטן קירילישע אַלף־בית. סערביש, באָסניש, קראָאַטיש, טשערנאָגאָריש זענען אויך פֿאַקטיש איין לשון, נאָר מיט די קירילישע אותיות שרײַבט מען אים איצט בלויז אין סערביע – אַ לאַנד מיט אַ שטאַרקער פּראַוואָסלאַוונער אידענטיפֿיקאַציע.
ס׳איז אינטערעסאַנט, אַז די קולטור פֿון די באַלקאַנער ספֿרדים איז היסטאָריש פֿאַרבונדן מיט יענער גריכישער שטאָט, פֿון וואַנען עס שטאַמט דער קירילישער אַלפֿאַבעט: סאַלאָניק. גריכיש־רעדנדיקע ייִדן, די ראָמאַניאָטן, האָבן דאָרט געוווינט פֿון קדמונים אָן, אָבער נאָכן גירוש־ספֿרד, אינעם 16טן יאָרהונדערט, האָט זי זיך גיך פֿאַרוואַנדלט אין אַ גרויסן ספֿרדישן לאַדינאָ־שפּראַכיקן צענטער. שפּעטער האָבן זיך אַ סך סאַלאָניקער לאַדינאָ־רעדער באַזעצט אין בולגאַריע און סערביע. עס קאָן זײַן, אַז די אַרומיקע גריכיש־שײַכותדיקע פּראַוואָסלאַוונע און אָטאָמאַניש־מוסולמענישע סבֿיבֿה האָט זיי אַהין צוגעצויגן ווי אַ פֿאַרשטענדלעכע און היימישע.
די באַלקאַנען זענען אַ ראַיאָן פֿון דורותדיקן קולטורעלן און שפּראַכלעכן אויסמיש. דער געדאַנק, אַז אויף איין שפּראַך קאָן מען שרײַבן מיט פֿאַרשיידענע מינים אותיות, איז אין יענע מקומות טיף אײַנגעוואָרצלט. למשל, די באָסנישע מוסולמענער האָבן זינט דעם 15טן יאָרהונדערט און צומאָל ביז דער צווייטער וועלט־מלחמה געשריבן מיטן אַראַבישן כּתבֿ. אַ צאָל שפּראַך־אַקטיוויסטן פּרוּוון אויפֿצולעבן די דאָזיקע טראַדיציע און האָבן במשך פֿון די לעצטע 20 יאָר אַרויסגעגעבן אַ פּאָר ביכער אויף דער "אַרעביצע", ווי מע רופֿט אַזאַ שטייגער פֿון שרײַבן אויף באָסניש.
אינעם סוף 19טן יאָרהונדערט האָט זיך אין בולגאַריע און סערביע פֿאַרשפּרייט דער מינהג – דער עיקר, בײַ פֿרויען, וואָס האָבן שוואַך געקענט לשון־קודש – צו שרײַבן אויף זייער מאַמע־לשון מיט קירילישע, לאַטײַנישע און צומאָל אַפֿילו גריכישע אותיות. אינעם יאָר 1894 האָט זיך אין דער שטאָט רוסע (בולגאַריע) באַוויזן אויך אַ פֿאַרקערטער חידוש: אַ ייִדישע צײַטונג אויף בולגאַריש, אָנגעשריבן מיטן ייִדישן אַלף־בית.
אין 1927 איז אין בעלגראַד אַרויס דאָס ספֿרל "ליקוטי תּפֿילות" – אַ תּפֿילה־זאַמלונג פֿאַר ימים־נוראָים אויף לאַדינאָ, פֿאַרשריבן מיטן קירילישן אַלפֿאַבעט לויטן סערבישן אויסלייג. אין 1935 איז אין סאָפֿיע פֿאַרעפֿנטלעכט געוואָרן אַ הגדה אויף דער דאָזיקער שפּראַך מיט דער בולגאַרישער אָרטאָגראַפֿיע. דער גרעסטער אוצר פֿון אַזעלכע כּתבֿים איז מסתּמא די פּריוואַטע קאָרעספּאָנדענץ פֿון באַלקאַנישע ספֿרדים במשך פֿונעם פֿאָריקן יאָרהונדערט. ווי באַלד אַזעלכע טעקסטן זענען פֿאַרשריבן אויף אַ פֿאָנעטישן שטייגער, ווײַזן זיי גענוי, ווי דער עולם האָט למעשׂה אַרויסגערעדט די ווערטער.
אין 1928 איז געשען אַ קוריאָז, וואָס ס׳האָט צוגעצויגן דעם אויפֿמערק פֿון ייִט״אַ: אין מאָסקווע האָט די סאָוועטישע רעגירונג באַזײַטיקט אַ פּאָטשטאַליאָן, וועלכער האָט זיך אָפּגעזאָגט אָפּצושיקן אַ טעלעגראַם, וואָס ער האָט נישט פֿאַרשטאַנען, ווײַל זי איז געווען אָנגעשריבן אויף ייִדיש מיט די רוסישע אותיות. קירילישע אויסדרוקן און זאַצן אויף ייִדיש טרעפֿן זיך גענוג אָפֿט אין די בריוו פֿון סאָוועטישע ייִדן און ביז הײַנט אויף דער אינטערנעץ. זיי דערמעגלעכן גלײַך צו אידענטיפֿיצירן דעם היימישן דיאַלעקט פֿון די מחברים. קיין טראַדיציע צו שרײַבן לאַנגע טעקסטן אויף אַזאַ אופֿן איז אָבער בײַ די אַשכּנזים קיינמאָל נישט אויפֿגעקומען. צי דאָס האָט משפּיע געווען אויפֿן דערפֿאָלג פֿון ייִדישיזם (בײַ די ספֿרדים איז קיין ממשותדיקע שפּראַך־באַוועגונג, צום באַדויערן, נישטאָ) – איז אַן אַנדער אינטערעסאַנטע פֿראַגע.
The post A forgotten tradition: Writing Ladino in the Cyrillic alphabet appeared first on The Forward.