Next Page of Stories
Loading…
Page 2
Next Page of Stories
Loading…
Page 3
Michael Grimm (politician) – Wikipedia Sunday October 8th, 2017 at 8:28 AM 1 Share Michael Gerard Grimm (born February 7, 1970)[2] is an American businessman, and politician who represented New York in the United States Congress from 2011 to 2015. Grimm represented New York's 13th congressional district during his first term, after which he represented New York's 11th congressional district. Both districts consisted of Staten … 
Continue reading

 "8:33 AM 10/8/2017 – News Review: Grim Redux and other shared stories"
 The WorldWide Times
"This is Middle America," Mr. Grimm declared moments after taking the stage. Before the national anthem, he not so subtly invoked Mr. Trump to cheers: "I know no one here is going to be taking a knee."
With his law enforcement credentials, tart tongue and square jaw, Mr. Grimm, the rare elected Republican in New York City, was once seen as a future star. Troubles with the law cut short his career.
There was no doubt that Mr. Grimm made an impression in his two terms, after winning in the Tea Party wave of 2010. In 2014, he beat back a Democratic challenger while under federal indictment, only to give up his seat when he pleaded guilty to tax fraud for underreporting wages at a restaurant he owned and filing false tax documents.
"I know what he did was wrong. He did his time," said Cathy Reid, a Staten Island Republican who arrived to support Mr. Grimm's comeback in a three-wheeled motorcycle, wearing a black helmet with an "If I'd shot you when I wanted, I'd be out by now" sticker on it.
"Every business does that," she said. "He was made an example of."
While Mr. Grimm said he was "truly sorry" for his transgressions, saying he wished he was "perfect but I am not," he also made light of them. He said he first began working for his father at age 11. "Yeah, it was off the books," he joked.
Some in Staten Island said they welcomed Mr. Grimm's blunt manner, especially after seeing his outspoken advocacy after Hurricane Sandy.
"He got down and dirty," said Thea Friscia.
On the way to the rally, her friend Cathy Bannon stopped at a dollar store to pick up a "Welcome Home" balloon, like for those returning from hospital stays, in a show of support. "Michael was the only one who stood with us," she said.
Another woman, Maria Romagnuolo, added that Mr. Grimm had gotten her disabled son a "mobility scooter" after the storm. "He's one of us," she said.
Mr. Donovan, a former Staten Island district attorney, is expected to have the support of much of the Republican political apparatus both in New York and nationally. He has $300,000 cash on hand.
Mr. Grimm ended June with $420,000 in unpaid campaign legal bills. He entered into a "confidential settlement" with the law firm he owed, according to spokesman Michael Caputo. He also owed nearly $150,000 in tax restitution payments. Mr. Grimm borrowed money from family and "a friend" to pay off that debt, Mr. Caputo said, adding that the lenders would be disclosed on a future financial disclosure form.
At his rally, the signs had the required Federal Election Commission disclosures either added with stickers or taped onto them.
Jessica Proud, a spokeswoman for Mr. Donovan, dismissed Mr. Grimm's candidacy: "We're not really concerned about a challenge from a convicted felon who was rated one of the most liberal Republicans in Congress."
The bigger fear among national Republicans is that Mr. Grimm would lose the primary to Mr. Donovan and then seek to stay on the ballot as a third-party candidate, dividing the vote and opening a pathway for Democrats.
"He's keeping all of his options open," Mr. Caputo said.
A former campaign adviser to Mr. Trump, Mr. Caputo is helping Mr. Grimm make the case he would be a stronger ally to the president. "It's time to make anti-Trump Republicans pay a price at the polls," Mr. Caputo said.
Mr. Grimm once 
famously threatened
 to throw a reporter who asked about the federal investigation off a balcony during a television interview. "I'll break you in half," Mr. Grimm said then. "Like a boy."
He initially blamed the reporter for his question but later apologized.
When Mr. Grimm was sentenced to prison, the judge in his case told him, "Your moral compass, Mr. Grimm, needs some reorientation."
Mr. Grimm said on Sunday that he had matured. Still, he remained ever combative.
"I took my lumps like a man," Mr. Grimm said. "We took more than we should have."
Continue reading the main story
Read the whole story
· · ·
New York Post
–
13 hours ago
Michael Grimm, Staten Island's ex-con ex-congressman, says that his stint in jail got Loretta Lynch her job as U. S. Attorney General.
New York Times
–
Oct 5, 2017
Michael Grimm after announcing on Sunday he was running for his old House seat. He is challenging Representative Dan Donovan of Staten …
Michael Grimm is dead certain of these things: He didn't deserve that prison time. He can recapture his old seat representing New York in …
President Donald Trump talked on Twitter, but Facebook was the crucial tool that helped elect him, says the man who directed the digital aspects of the Trump campaign. Brad Parscale tells Lesley Stahl how he fine-tuned political ads posted on Facebook to directly reach voters with the exact messages they cared most about – infrastructure key among them — and had handpicked Republican Facebook employees to guide him. Stahl's report will be broadcast on 60 Minutes Sunday, Oct. 8 at 7 p.m. ET/PT.
CBS News
"Twitter is how [Trump] talked to the people, Facebook was going to be how he won," Parscale tells Stahl.  Parscale says he used the majority of his digital ad budget on Facebook ads and explained how efficient they could be, particularly in reaching the rural vote.  "So now Facebook lets you get to…15 people in the Florida Panhandle that I would never buy a TV commercial for," says Parscale.  And people anywhere could be targeted with the messages they cared about. "Infrastructure…so I started making ads that showed the bridge crumbling…that's micro targeting…I can find the 1,500 people in one town that care about infrastructure. Now, that might be a voter that normally votes Democrat," he says. Parscale says the campaign would average 50-60,000 different ad versions every day, some days peaking at 100,000 separate iterations – changing design, colors, backgrounds and words – all in an effort to refine ads and engage users.
Parscale received help utilizing Facebook's technology from Facebook employees provided by the company who showed up for work to his office multiple days a week. He says they had to be partisan and he questioned them to make sure.  "I wanted people who supported Donald Trump."  Parscale calls these Facebook employees "embeds" who could teach him every aspect of the technology. "I want to know everything you would tell Hillary's campaign plus some," he says he told them.
Both campaigns used Facebook's advertising technology extensively to reach voters, but Parscale says the Clinton campaign didn't go as far as using "embeds." "I had heard that they did not accept any of [Facebook's] offers."
The conservative Parscale sees an irony in all this. "These social platforms are all invented by very liberal people on the West and East Coast.  And we figure out how to use it to push conservative values. I don't think they thought that would ever happen," says Parscale.
© 2017 CBS Interactive Inc. All Rights Reserved.
Next Page of Stories
Loading…
Page 4
Brad Parscale tells Lesley Stahl how he fine-tuned political ads posted on … Parscale says he used the majority of his digital ad budget on …
Firstpost
The Keene Sentinel
–
1 hour ago
"Twitter is how (Trump) talked to the people; Facebook was going to be how he won," Brad Parscaletold "60 Minutes," according to an excerpt …
Wichita Eagle
–
Sep 19, 2017
Topeka native Brad Parscale recounted how he helped drive the campaign's Facebook strategy to electoral success while leading its digital …
Facebook Inc.'s platform was a crucial messaging tool for President Donald Trump's 2016 campaign, according to the campaign's digital director — who told CBS's "60 Minutes" that he hand-picked pro-Trump "embeds" from the company to help him use the platform in targeted ways.
"Twitter is how (Trump) talked to the people; Facebook was going to be how he won," Brad Parscale told "60 Minutes," according to an excerpt of an interview that the program intends to air tonight. The social media platform was particularly valuable because it allows for targeted messaging, Parscale said, according to the excerpt.
Facebook's employees showed up for work at his office multiple days a week to provide guidance on how to best use the company's services, Parscale said in the interview excerpt. "I wanted people who supported Donald Trump," he said — and he questioned the workers about their political views.
Parscale didn't immediately respond to a request for comment. A Facebook spokesman said the company provided the Trump campaign with the same guidance and services it offers any major advertiser.
Facebook has found itself at the center of multiple inquiries into Russia's involvement in the 2016 election. The social-media giant said it has so far found $100,000 in advertising spending linked to a Russian troll farm that has ties to the Kremlin. The company turned over details on the ads to Congress and to special counsel Robert Mueller 3rd, who is leading the criminal investigation into Russia's campaign meddling and possible links to Trump's associates.
A person familiar with the company's work for the Trump campaign took issue with Parscale's use of the word "embeds" to describe its employees because it implies that the campaign work was their sole focus. The workers had tasks for other clients as well, said the person, who asked not to be identified because the matter is sensitive.
The company offered Democratic nominee Hillary Clinton the same opportunity, the person said.
Although federal election law generally bars corporations from aiding political campaigns, there's nothing wrong with a company providing training and services to a campaign if it offers the same services to every client spending similar amounts, said Larry Noble, former general counsel of the Federal Election Commission.
"If you'd do it for any customer, it's OK," Noble said, adding that the services have to be offered to all customers. "It can't be just for political campaigns."
Facebook was especially useful in reaching rural voters, Parscale told "60 Minutes," according to the published excerpt. "So now Facebook lets you get to … 15 people in the Florida Panhandle that I would never buy a TV commercial for," he said.
Read the whole story
· · ·
Next Page of Stories
Loading…
Page 5
Next Page of Stories
Loading…
Page 6
Next Page of Stories
Loading…
Page 7
The note Stephen Paddock left in his hotel room in Las Vegas
THE cops who first saw the hotel room where Las Vegas gunman Stephen Paddock opened fire have revealed what they found.
News Corp Australia Network
October 8, 2017

12:19pm
THE police officers who first stormed the hotel room where Las Vegas gunman Stephen Paddock carried out America's biggest massacre in history have broken their silence.
In an interview airing on 60 Minutes in the US, three police officers who were in the Mandalay Bay hotel room will reveal new details about what they discovered.
REVEALED: Uarmed guard stopped Stephen Paddock
MORE: Vegas killer's secret trip to the Middle East
CBS reports that they found a note in the hotel room that included handwritten calculations about where he needed to aim to maximise his accuracy and kill as many people as possible.
The officers being interviewed were the first to see Paddock's body and his massive arsenal of weapons and ammunition he had stockpiled for days before his mass shooting.
He requested an upper-floor room overlooking the festival, stockpiled 23 guns, a dozen of them modified to fire continuously like an automatic weapon, with a bump stock device.
He had also set up cameras inside and outside his room to watch for approaching officers.
Officer Dave Newton from the Las Vegas Police Department's K-9 unit said he noticed a note on the shooter's nightstand.
He said the note was located near one of the windows that Paddock had smashed with a hammer to fire onto the crowd at the Route 91 Harvest Music Festival.
"I could see on it he had written the distance, the elevation he was on, the drop of what his bullet was gonna be for the crowd," Newton said.
"So he had that written down and figured out so he would know where to shoot to hit his targets from there."
Paddock's hotel suite was on the 32nd floor of the hotel.
Newton told reporter Bill Whitaker recalled how they entered the room amid the flashing lights of a fire alarm set off by an explosive used to blow through the door.
"Very eerie. Yeah, the dust from the explosive breach. And then you have the flashing lights," Newton said. "And that looked straight, like, out of a movie, you know?"
Paddock's hotel suite gave him an ideal perch from which to carry out his attack on a crowd of more than 20,000 people attending the festival concert across the street, some 365 metres away.
The note has not shed any light on the gunman's motives, which authorities are yet to uncover nearly a week after the deadliest mass shooting in recent US history.
Police release body cam vision of Las Vegas shooting
0:41
Police have released the first body cam footage from the Las Vegas shooting that left 60 people dead
GUNMAN WENT TO MIDDLE EAST
Stephen Paddock visited the Middle East on a cruise within the last year, a police source has said.
The anonymous official confirmed the gunman had travelled on a dozen voyages over the past few years — one of which was to the region.
Police had earlier dismissed three claims by Middle Eastern terror group ISIS that Paddock carried out the attack on its behalf after converting to Islam six months ago.
But an anonymous police source last night told Associated Press that investigators are closely analysing the cruises he took in the years leading up to the massacre.
Among popular cruise destinations in the Middle East are Dubai and Abu Dhabi, Oman, the Jordanian port of Aqaba, Bahrain, Qatar and a number of Egyptian ports.
ISIS 'RARELY CLAIM' ATTACKS THEY AREN'T INVOLVED IN
The Sun reports how on ISIS expert believes it is plausible that Paddock was in contact with ISIS.
Rukmini Callimachi, a reporter with The New York Times who covers the fanatics for the influential newspaper, said IS's claim carried weight.
She said: "ISIS has rarely claimed attacks that were not by either their members or sympathisers.
"I don't buy the argument that they are now opportunistically claiming attacks to deflect from battlefield losses."
Fifty-eight people were killed and more than 500 injured when Paddock pumped thousands of bullets into a musical festival crowd from the nearby Mandalay Bay Hotel.
He fired into the crowd using his arsenal of more than 20 assault rifles and killed himself shortly before police burst into his room.
Publicly, investigators have said they are struggling to establish a motive for the massacre.
FBI REMOVE PERSONAL BELONGINGS
Nearly a week after the deadliest mass shooting in modern U.S. history, federal agents on Saturday started hauling away the piles of backpacks, purses, baby strollers and lawn chairs left behind when frantic concert-goers scrambled to escape raining bullets from a gunman who was shooting from his high-rise hotel suite.
FBI agents fanned out across the crime scene near the Las Vegas Strip throughout the week stacking the belongings left from last Sunday's shooting into more than a dozen large piles.
On Saturday morning, the agents were seen loading the items onto dollies and into the back of a white truck. Authorities have said they plan to return the belongings to people in the next week.
MIKE PENCE PAYS RESPECTS
As Las Vegas police are appealing to the public for help in uncovering a wealthy retiree's motive for massacring 58 people at an outdoor concert this week, US Vice President Mike Pence has visited Las Vegas offering solace. "We are united in our grief, in our support for those who have suffered and united in our resolve to end such evil in our time," Pence said, joining Las Vegas Mayor Carolyn Goodman and other local leaders at a City Hall commemoration for victims of the shooting that followed a prayer walk through the city.
Participants trod 11km along four separate paths to City Hall for an event where security was high. President Donald Trump paid a visit to Las Vegas earlier in the week.
The commemoration came as Clark County Undersheriff Kevin McMahill said investigators remain largely in the dark about what drove retired real estate investor and high-stakes gambler.
POLICE SAY THEY HAVE NO MOTIVE FOR MASSACRE
Police in Las Vegas said yesterday they have looked at "everything" in Stephen Paddock's life and can find no motive for what drove him to commit America's deadliest mass shooting.
Saying they could find "no known nexus" to suggest Paddock was acting on behalf of Islamic State, Las Vegas police confirmed he was alone in room 32135 of the Mandalay Bay casino when he opened fire last Sunday night.
A lawyer for Paddock's Australian partner, Marilou Danley said she "continues to co-operate fully with the investigation".
"She does not anticipate making any public statements today or in the immediate future," he said.
Clark County Undersheriff Kevin McMahill yesterday expressed the frustration of police and FBI officers who have "run down well more than 1000 leads in this investigation".
"Some of it has helped create a better profile into the madness of this suspect but we do not still have a clear motive or reason why," said Sheriff McMahill.
"In the past, terror attacks or mass murder cases, motive was made very clear by a note that was left by a social media post, by a telephone call that was made.
"Today, in our investigation, we don't have any of that uncovered. I wish we did."
He issued an appeal for anyone with any clues to come forward.
"We do not clearly have a motive or a reason why," he said.
"I can assure we are aware of all aspects of this case to include the rumour, innuendo and suppositions by many in the public.
"And I get it. We all want answers."
Read the whole story
· · · · · · · · · · · · · · · · · · · · · · · · · · · · · · · ·
Members of the law enforcement team who were the first to enter Stephen Paddock's hotel room after he opened fire on a crowd in Las Vegas.
CNN has previously reported that a note containing only numbers was found in the room. Those numbers were characterized as being significant to the gunman.
CBS News' "60 Minutes" first reported that Paddock's note contained handwritten calculations.
The note was found in the hotel suite at the Mandalay Bay Resort and Casino among 23 firearms, ammunition and the gunman's dead body. Paddock took his own life, authorities have said, after killing 58 people and wounding nearly 500.
Investigators have been combing through evidence left behind and Paddock's background for any hint as to what led the retired accountant to amass an arsenal of high-powered assault rifles, meticulously map out an attack and open fire on the crowd at last weekend's Route 91 Harvest Festival.
close dialog
No sign of motive in sea of tips
Authorities have no credible information about Paddock's motive despite more than 1,000 leads and tips, Undersheriff Kevin C. McMahill said at a news conference Friday.
In the news briefing and an interview with CNN's Wolf Blitzer, McMahill released more details about the shooting and investigation Friday, including:
• A Mandalay Bay security guard who authorities believe drew Paddock's attention toward the hallway outside his hotel suite went to that floor to respond to an alarm due to an open door near Paddock's room. The guard, Jesus Campos, was shot in the leg while checking on the alarm. According to a police-reported timeline, Paddock never fired on the crowd below again after that.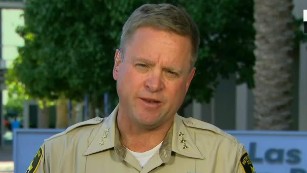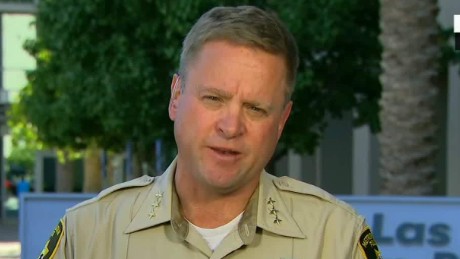 JUST WATCHED
Vegas police investigating if gunman had help
MUST WATCH
Loaded: 0%
Progress: 0%
0:00
Loaded: 0%
Progress: 0%
0:00
03:06
• The alarm from a room "a number of doors down" from Paddock's likely was a coincidence. The door was not forced open, had been open for a while and Paddock didn't have the keys to that room. McMahill said that door either had been left open or didn't shut completely.
• Investigators looking into Sunday's massacre have found no known nexus to terrorism or connections to ISIS.
• Authorities are confident there was not another shooter in Paddock's room but are still trying to determine whether anyone else knew of his plans.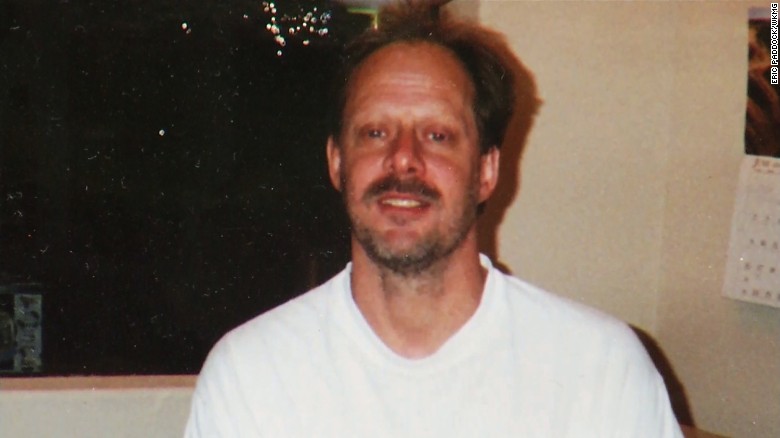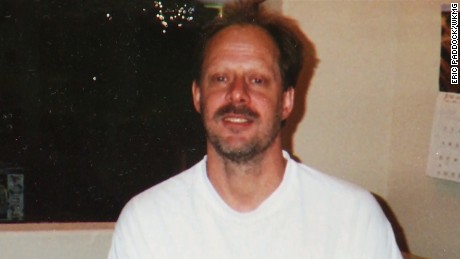 JUST WATCHED
Las Vegas gunman's gambling under scrutiny
MUST WATCH
Loaded: 0%
Progress: 0%
0:00
Loaded: 0%
Progress: 0%
0:00
03:05
• Authorities do not believe another person used Paddock's room key at the Mandalay Bay hotel.
• Investigators have reviewed "voluminous amounts of video" from different locations, including Mandalay Bay, and have not seen any other person they think at this point is another suspect.
• Asked about video on which Paddock might have discussed motive, McMahill said: "I am not aware that we have recovered any such video."
• Police don't know what the killer was going to do with 50 pounds of explosives found in his car.
• Paddock brought the 23 guns and ammunition he had in his hotel suite over the course of several days, the undersheriff told CNN.
• Paddock's girlfriend, Marilou Danley, continues to cooperate with investigators, her lawyer and McMahill each said Friday. Attorney Matthew Lombard said Danley wouldn't be making any more public statements in the near future.
Pence honors massacre victims
Vice President Mike Pence offered prayers and words of comfort for Las Vegas on Saturday, as he and his wife participated in a citywide "unity prayer walk" in honor of the shooting victims.
"We are with you today. Today we are all Vegas strong," Pence told participants gathered at City Hall. "President Trump personally asked us to be here to stand with you, to pray with you, for strength, comfort and healing."
The President visited Las Vegas on Wednesday. Like Trump, Pence praised first responders, saying, "Their actions undoubtedly saved lives that night."
"We find hope in the heroic actions in the Las Vegas Metropolitan Police Department, the fire department and all the first responders on that night who, without regard for their personal safety, rushed into harm's way," Pence said.
The vice president called the shooting "a tragedy of unimaginable proportions" and said, "Las Vegas came face to face with pure evil" that night.
Request to seize shooter's assets
The family of one of the concertgoers killed last weekend is asking a Nevada court to appoint a special administrator to take control of the shooter's assets.
John Phippen
, 56, of Santa Clarita, California, was at the festival with his son Travis when the shooting started. When the son, a medic, stopped to help someone, Phippen stayed with him and was shielding a woman when he was shot dead, said a neighbor, Leah Nagiyvanyi.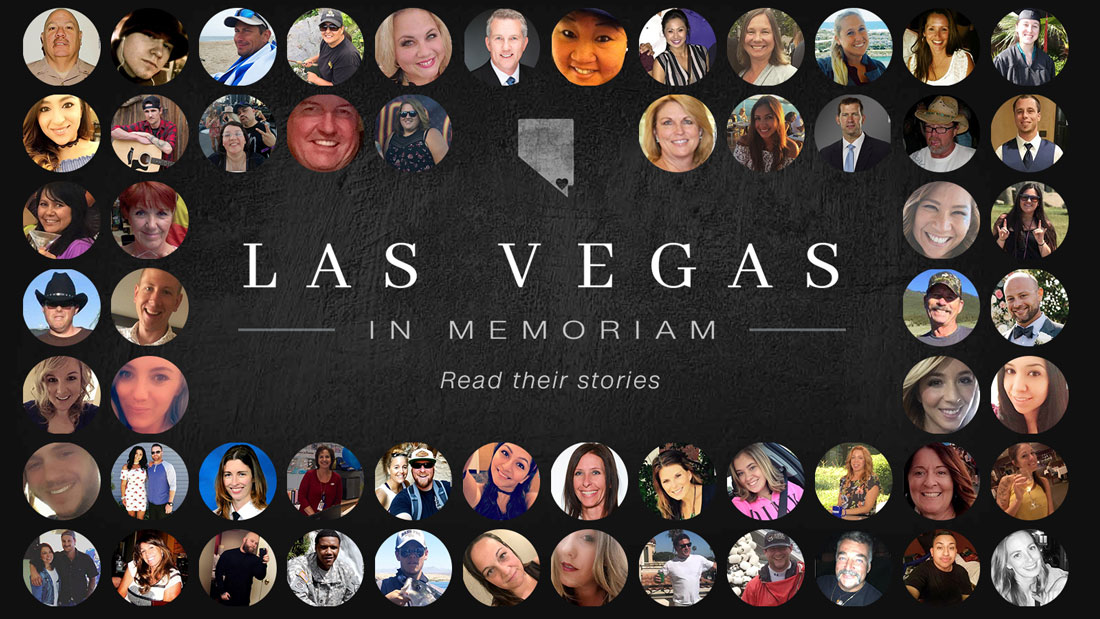 Attorneys for Phippen's family filed the petition Friday in District Court in Clark County. The petition asks a judge to appoint the county's public administrator to account for and control Paddock's estate — in part to make it available for any future lawsuits filed by the shooting victims.
Paddock, a gambler and retired accountant, owned a home in Mesquite, Nevada, and
 he was a successful real estate investor who owned apartments and houses. Sales agents told CNN that Paddock
 for his Mesquite home in 2014.
The court "will notify (Paddock's) family members, and we'll see where this goes," said Richard A. Patterson, a California attorney representing Phippen's son Travis.
"We want (Paddock's estate) administered by the court. I don't think we're at the bottom of (Paddock's assets)," Patterson said.
"We want someone to oversee the assets so it stays the way it is," said Nevada-based probate attorney Richard Chatwin, who is working with Patterson on the petition.
Source: Shooter tried to buy tracer rounds
Paddock tried to buy tracer ammunition at a gun show in the Phoenix area in recent weeks, a law enforcement official briefed on the investigation told CNN.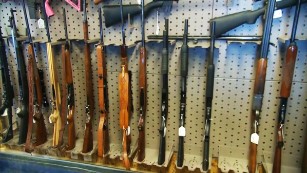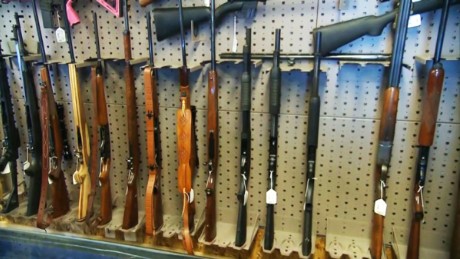 JUST WATCHED
33 gun purchases, no red flags
MUST WATCH
Loaded: 0%
Progress: 0%
0:00
Loaded: 0%
Progress: 0%
0:00
02:51
Paddock bought other ammunition at the show, but he couldn't obtain the tracer ammunition — bullets with a pyrotechnic charge that, when the round is fired, leaves an illuminated trace of its path — because the vendor didn't have any to sell, the official said.
Paddock did not use tracer bullets when he fired into the festival crowd hundreds of yards away.
The official explained that if Paddock had tracer ammunition, he could have had a more precise idea of where his shots were going in the darkness, and could have been more accurate.
Shooters wanting greater accuracy often mix tracer rounds with non-tracers — perhaps having one tracer every fifth round in a magazine, said Art Roderick, a CNN law enforcement analyst.
"It allows you to keep your weapon on not necessarily a specific target, but a specific area. … There would have been a lot higher casualty rate if he had tracer rounds," said Roderick, a former assistant director of the US Marshals Service.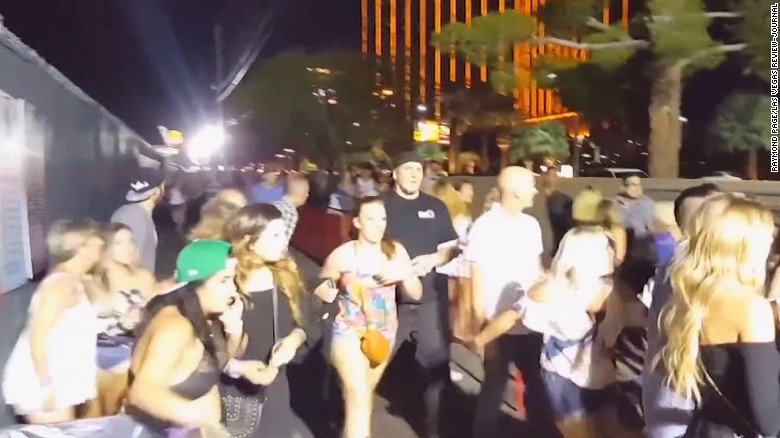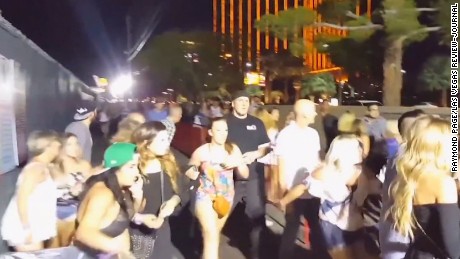 JUST WATCHED
New video shows concertgoers fleeing scene
MUST WATCH
Loaded: 0%
Progress: 0%
0:00
Loaded: 0%
Progress: 0%
0:00
02:57
But tracer rounds also could have allowed police to see Paddock's location more quickly, CNN law enforcement analyst James Gagliano said.
Without the tracer ammunition, Paddock's location was difficult to determine from the outside, said Gagliano, a retired FBI supervisory special agent.
"The barrel of the rifle — we could not see muzzle flashes, from the angles I've seen on videos, which meant that he was … pulled back inside," Gagliano said.
A source close to the investigation told CNN on Friday that authorities think Paddock might have fired at massive jet fuel tanks at McCarran International Airport near his hotel before shooting at the concert crowd.
Did Paddock want to escape?
Six days after the mass shooting, authorities are trying to determine the motivation of the retired accountant, who had no criminal record and did not raise any flags while accumulating his arsenal of weapons.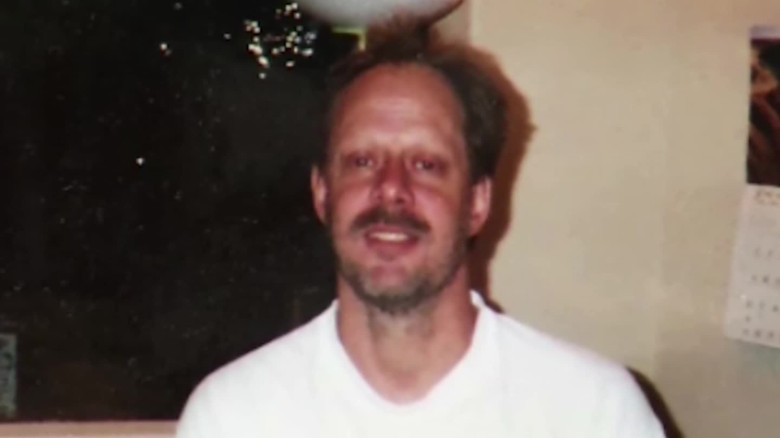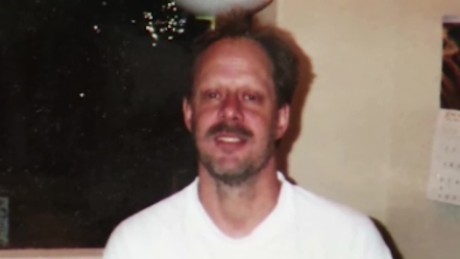 JUST WATCHED
What we know about the Las Vegas gunman
MUST WATCH
Loaded: 0%
Progress: 0%
0:00
Loaded: 0%
Progress: 0%
0:00
01:41
In addition to the weapons in his hotel suite, Paddock had more than 50 pounds of exploding targets and 1,600 rounds of ammunition in his car in the hotel parking lot, police said, fueling suspicion he intended to survive the massacre.
McMahill said Friday there was no evidence that Paddock intended to use the target material for a homemade bomb.
Escape, in this case, might have meant using the equipment in the car for further assaults until he got caught, said John Sheahan, a former Las Vegas SWAT team member.
"There's one of three ways it's going to end for an active shooter, and they pretty much all know this. You're either going to commit suicide; you're going to … shoot it out with (police) and you're going to be killed, or you're going to continue on a preplanned rampage at locations B, C, D and E until the police finally stop you," Sheahan said.
"He rented the room in his own name. He's already on video coming in and out. We know who he is. He's going to be the most wanted man in the world if he does try to leave here," he added.
CNN's Dave Alsup, Chris Boyette, Brian Todd, Kyung Lah, Evan Perez, Scott McLean, Sara Weisfeldt and Sheena Jones contributed to this report.
Read the whole story
· · · · · · · · · · · · · · · · · · · · · · · · · · · · · · · · ·
October 7, 2017 | 7:36pm | 
Updated October 7, 2017 | 7:54pm
Las Vegas mass murderer Stephen Paddock coldly calculated where he needed to aim to bolster his accuracy — and kill as many people as possible, according to a new report.
Officer Dave Newton of the Las Vegas Police Department's K-9 unit said he noticed a pink slip of paper Paddock left on his nightstand in the 32nd floor Vista suite at the Mandalay Bay Resort and Casino.
"I could see on it he had written the distance, the elevation he was on, the drop of what his bullet was gonna be for the crowd," Newton 
told "60 Minutes" in an interview that will air Sunday
. "So he had that written down and figured out so he would know where to shoot to hit his targets from there."
Paddock murdered 58 people and wounded hundreds more
 attending the Route 91 Harvest Music Festival, across Las Vegas Boulevard from his suite at the hotel .
Sometime after his 10-minute shooting spree, 
Paddock killed himself
.
Trending Now
on <a href="http://NYPost.com" rel="nofollow">NYPost.com</a>
Get real time stock quotes, the latest commodities, currencies, funds, rates, ETFs data and more from over 100 global exchanges.
You have successfully emailed the post.
A leaked photo of Stephen Paddock's hotel suite. Daily Mail/Business Insider
Investigators probing the deadly shooting rampage that unfolded on the Las Vegas Strip on Sunday night say that a piece of paper found in the gunman's hotel suite is not a suicide note.
Still, there has been much speculation about what may have been on that paper. Police so far have not commented on that detail.
Clark County Sheriff Joseph Lombardo said during a news conference on Wednesday night that there was evidence to suggest that the gunman, Stephen Paddock, had 
planned to get out of the Mandalay Bay Resort and Casino alive
, but Lombardo did not elaborate further.
Lombardo, however, did say that Paddock had planned extensively for the shooting — those plans included keeping a vehicle at the hotel filled with explosive material and 1,600 rounds of ammunition, Lombardo said. He also suggested the cameras Paddock set up inside and outside his hotel room were an indication that he wanted to keep eyes on the hallway, perhaps to fend off approaching officers.
Paddock 
fired multiple rounds through his room door
 and into the hallway as a security guard identified as 
Jesus Campos approached
, wounding Campos in the leg. The gunman killed himself as more police descended on his room.
Investigators have not publicly said what motivated Paddock to carry out the rampage, which is the deadliest mass shooting in modern US history. Fifty-eight people were killed, and hundreds more were injured.
Recommended For You Powered by Sailthru
Military & Defense Emails & Alerts
Get the best of Business Insider delivered to your inbox every day.
Sign-Up
BI Intelligence Exclusive
Get the Slide Deck from Henry Blodget's IGNITION Presentation on the Future of Digital
Signed in as 
mikenova
Share this story on NewsBlur
Shared stories are on their way…
Read the whole story
· · · · · ·
Next Page of Stories
Loading…
Page 8
Next Page of Stories
Loading…
Page 9
Next Page of Stories
Loading…
Page 10
Signed in as 
mikenova
Share this story on NewsBlur
Shared stories are on their way…

Axios

Axios AM

Axios

Good Saturday morning. One year ago today — Oct. 7, 2016 — brought one of the tectonic news collisions in the history of elections … 3 p.m.: White House releases 

intelligence

 community statement saying 

Russians

 are behind election hacking … 4:02 

… and more »
Good Saturday morning. 
One year ago today — Oct. 7, 2016 — brought one of the tectonic news collisions in the history of elections … 
3 p.m.:
 White House releases intelligence community 
statement
saying Russians are behind election hacking 
… 4:02 p.m.
: WashPost reveals "Access Hollywood" tape … 
4:30 p.m.:
 John Podesta emails posted by Wikileaks. 
Relive it if you dare.
1 big thing: Being John Kelly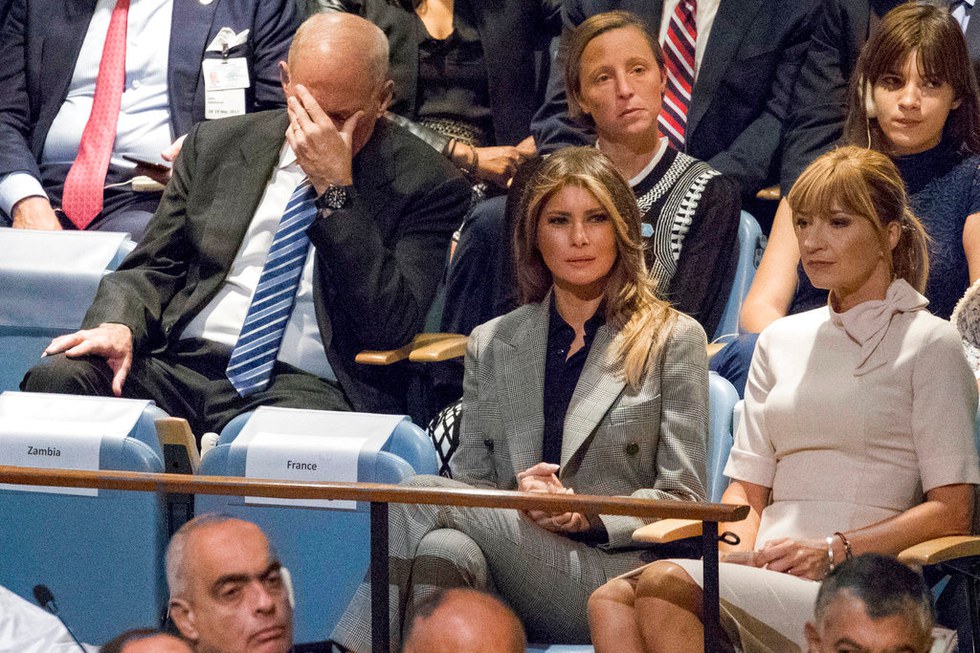 Kelly reacts as Trump calls North Korea a "band of criminals" during his address to the U.N. on Sept. 19. (AP's Mary Altaffer)
You are White House Chief of Staff John Kelly:

You are a true America hero — enlisting in the Marines and rising to become a highly decorated four-star general who once ran the entire U.S. Southern Command.
You gave your life to service. Your son, Marine Lt. Robert Kelly, 29, gave his in service, killed after stepping on a landmine while leading a platoon in Afghanistan.
Now, you spend your days cleaning up messes all around your Commander, the actual Commander-in-Chief — a guy who dodged the draft, and taunts or tramples on many of things you feel and believe deep in your bones. Everyone knows you don't share his views, values or politics.
Most of your days, like those of your friend Rex Tillerson, blow.
You spend most of your time killing bad things: bad ideas, bad information flow, bad habits. You inherited an Island of Misfit Toys, and tossed out the most obnoxious ones.
You run a tight ship during workdays — but lose total control of the wheel when your boss goes rogue, which is most nights, most mornings, most weekends.
Now scattered, Trump originals ask what exactly it means for you to do your duty as chief of staff. You feel your duty is to protect the nation from POTUS.
But some Trump loyalists won't concede that you're always right and DJT is always wrong. They think that sometimes it's their duty to subordinate their opinions to his. They ask: What's patriotic about thwarting the duly elected POTUS?
You cringe and sometime rage when you see the nasty tweets, the childish taunts, the wild improvisation.
You start watching Fox just to see what he sees, and read Breitbart for a glimpse of the world through the President's eyes.
You plot with Tillerson and SecDef Mattis and National Security Adviser McMaster, and find comfort and camaraderie in your pact to save the world from an impulsive president.
It's a worthy war — but often one you fear you are losing. No wonder you've been caught on camera with an exasperated face pressed firmly against your hand. It's a civilian salute to your new reality. 
2. Being Rex Tillerson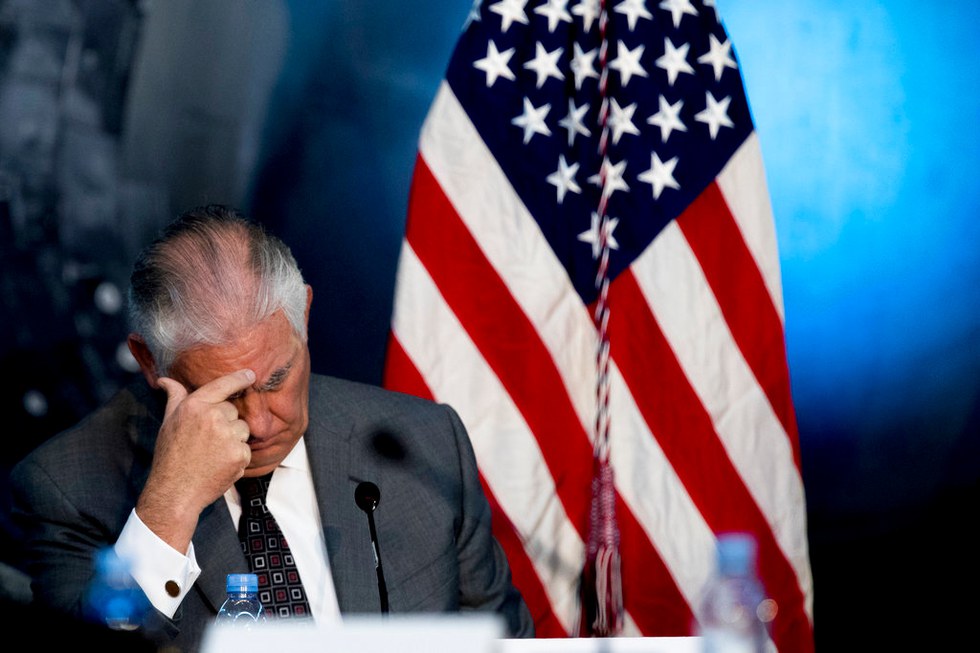 Tillerson attends National Space Council in Chantilly, Va., Thursday. (AP's Andrew Harnik)The New Yorker's great Dexter Filkins files a well-timed (and relatively sympathetic) profile, "Rex Tillerson at the Breaking Point … Will Donald Trump let the Secretary of State do his job?":
"When I met Tillerson recently, in his seventh-floor office at the State Department, he was wearing a dark-blue suit and a bright-red tie, but he carried himself like a hard-charging Texas oilman."
"He was named for two Hollywood actors famous for playing cowboys: Rex Allen and John Wayne (his middle name is Wayne).'"
The 1 sentence to read: "Unlike his predecessors, he has not given a major foreign-policy address in which he has outlined a world view."
Why it matters: "A senior European diplomat … told me that the overwhelming perception of American foreign policy among European governments was chaos."
"The uncertainty was compounded by the fact that there were few people in the White House or the State Department whom they could talk to."
What everyone's saying: "Tillerson has centralized decision-making so aggressively that he is unable to keep up. A senior Trump Administration official told me, 'Where things fall in the cracks is in the area of management and leadership of the organization, and in leveraging the immense amount of expertise in that building.'"
"Why isn't Tillerson making better use of his people? 'I can't explain it,' the official told me. 'I cannot frickin' explain it.'"
3. Trump's phone-a-friend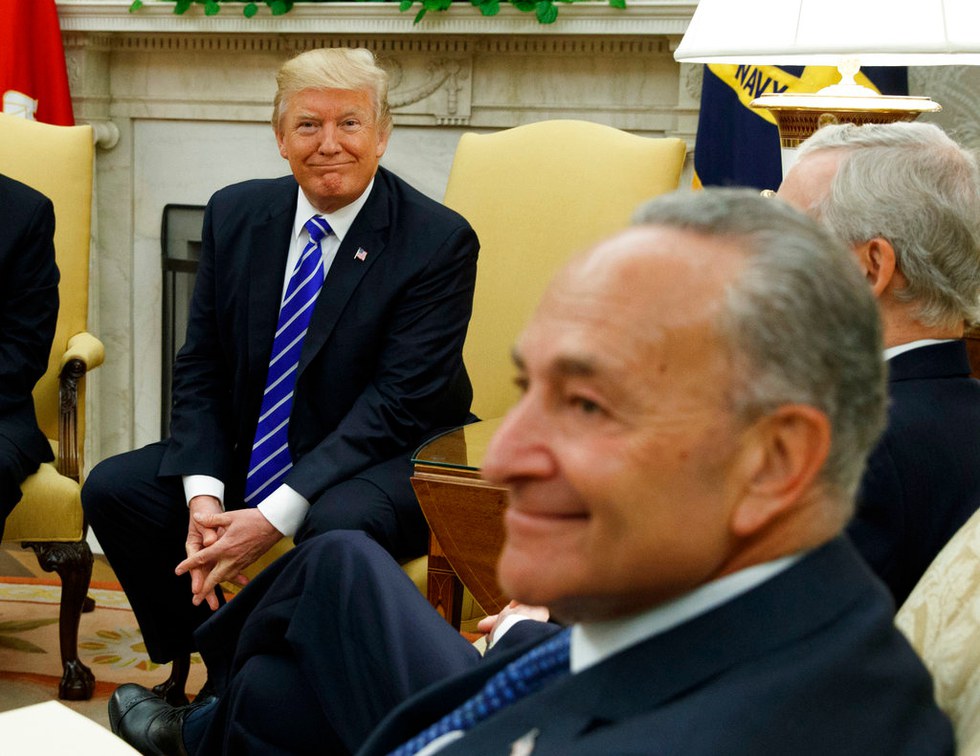 Trump and Schumer meet with other congressional leaders in the Oval Office on Sept. 6, when the original "Chuck and Nancy" deal was struck. (AP's Evan Vucci)
A Trump tweet this morning confirms last night's Axios scoop: "I called Chuck Schumer yesterday to see if the Dems want to do a great HealthCare Bill. ObamaCare is badly broken, big premiums. Who knows!"

The initial reaction among some Republicans was consternation, Jonathan Swan and I reported:
A well-wired Republican told us: "It codifies the Rs' failure on repeal/replace and shows the President can move without hesitation or ideological impediment to make a deal with the Dems. It depresses R base turnout in the midterms, as Trump voters are further disconnected from the Congressional wing."
Be smart: Trump wants to be the deal guy, and he's going to keep playing the "Chuck and Nancy" card. To him, Republicans consternation is a feature, not a bug. 

Between the lines … Axios health care editor Sam Baker emails me:
"All of the things Trump and his administration have done on health care — not just pushing for repeal-replace, but independently cutting off enrollment outreach, keeping insurers in limbo about their payments, reportedly putting the kibosh even on Republican governors' efforts to stabilize their markets, all of it — cuts in the exact opposite direction of anything Schumer would want or could abide."
"If there's any hope for something bipartisan, I would have thought the most likely vehicle for that would have been [Sens.] Lamar Alexander [R-Tenn.] and Patty Murray [D-Wash.], since they're both already working and not nearly as far apart as Trump and Schumer would have to be. Yet that effort is far from a lock."
Bonus 1: Pic du jour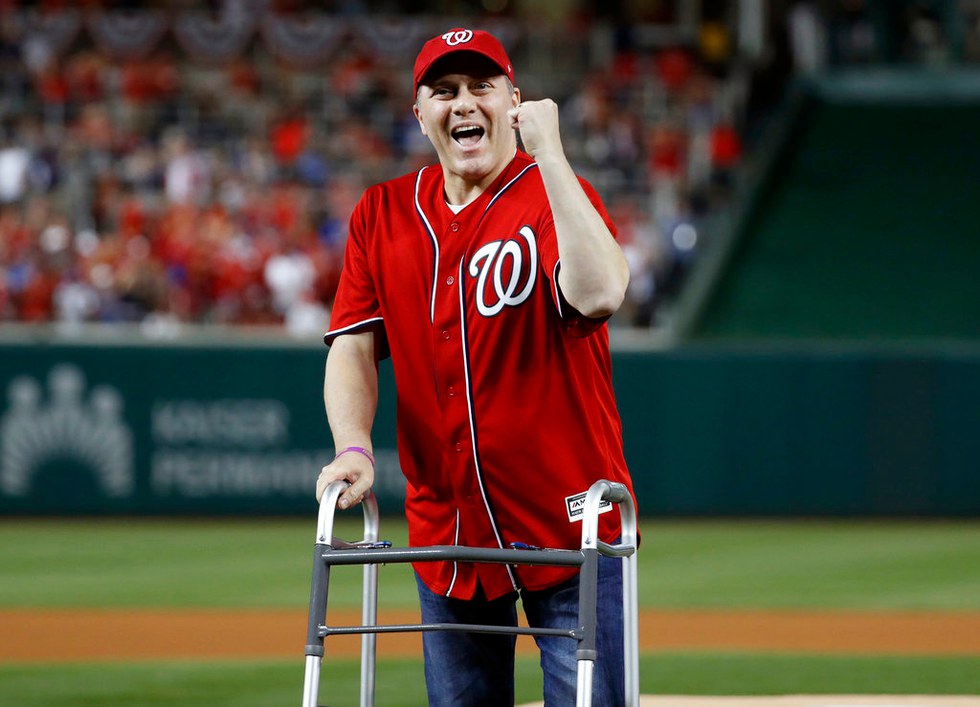 AP's Alex Brandon
Eight days after his triumphant return to the Capitol, House Majority Whip Steve Scalise (R-La.) threw out the ceremonial first pitch before Game 1 of the National League Division Series between the Washington Nationals and the Chicago Cubs, at Nats Park last night. Nats fell to Cubs, 3-0.
New tick-tock of the shooting from the Alexandria (Va.) prosecutor's report, via CNN:
"James Hodgkinson, the 66-year-old shooter, had taken cellphone video of the field where the Republican team practiced as far back as April, and had been spotted by neighbors 'casing' the area in the months preceding the attack."
Hodgkinson [fired] at least 70 rounds, most of them from an assault rifle."
"Capitol Police officers on Scalise's detail fired 25 rounds back at Hodgkinson."
Bonus 2: Reader pic gets results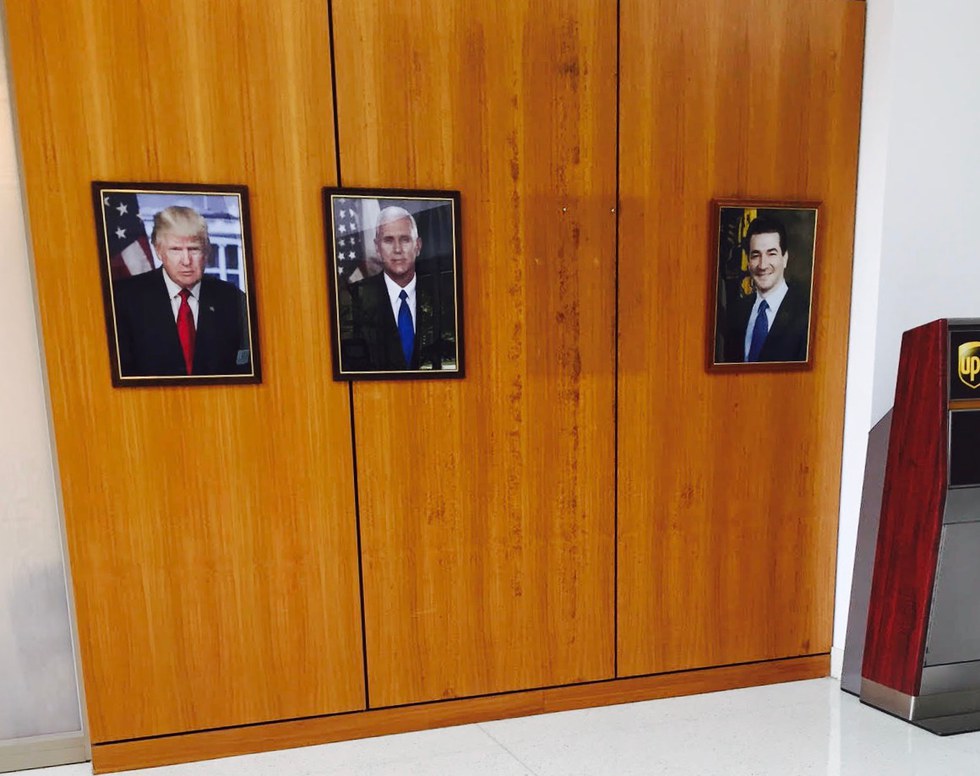 From an Axios AM reader
Yesterday we brought you a pic that a reader titled "Absence of Leadership," showing the lobby of Building 32 on the Food and Drug Administration campus in Silver Spring, Md.: A portrait of FDA Commissioner Scott Gottlieb hung next to missing spots for the President, Vice President and HHS Secretary.
Within hours, mismatched photos of Trump and Pence had been tacked up.
4. Huge change for Facebook political advertisers
Facebook will require ads that are targeted to people based on "politics, religion, ethnicity or social issues" to be manually reviewed before they go live, according to an email sent to advertisers and obtained by Axios' Sara Fischer and David McCabe.
Why it matters: The steps Facebook is taking to combat questions of Russian election interference strike at the core of the company's business. The ad buyers who spent $450 million on Facebook ads love the platform's speed and efficiency — something they fear will be diminished by inserting more human oversig
5. "My wonderful small donors"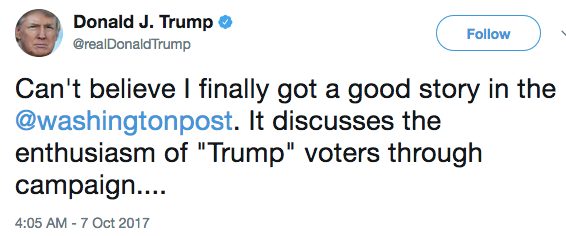 He's talking about the Post's lead print story, "To drain 'swamp,' Trump's base has filled GOP coffers: SMALL DOLLAR DONATIONS SOAR — Party opens wide cash advantage over Democrats," by Matea Gold:
Why it matters: "The RNC's success with small donors illustrates how the Republican Party, long a center of the political establishment, has managed to turn Trump's anti-Washington message to its advantage."
"And it shows how Trump's base, angered by the sense that the president is being treated unfairly, is helping to redefine a party that has long cultivated rich contributors."
6. "One Day"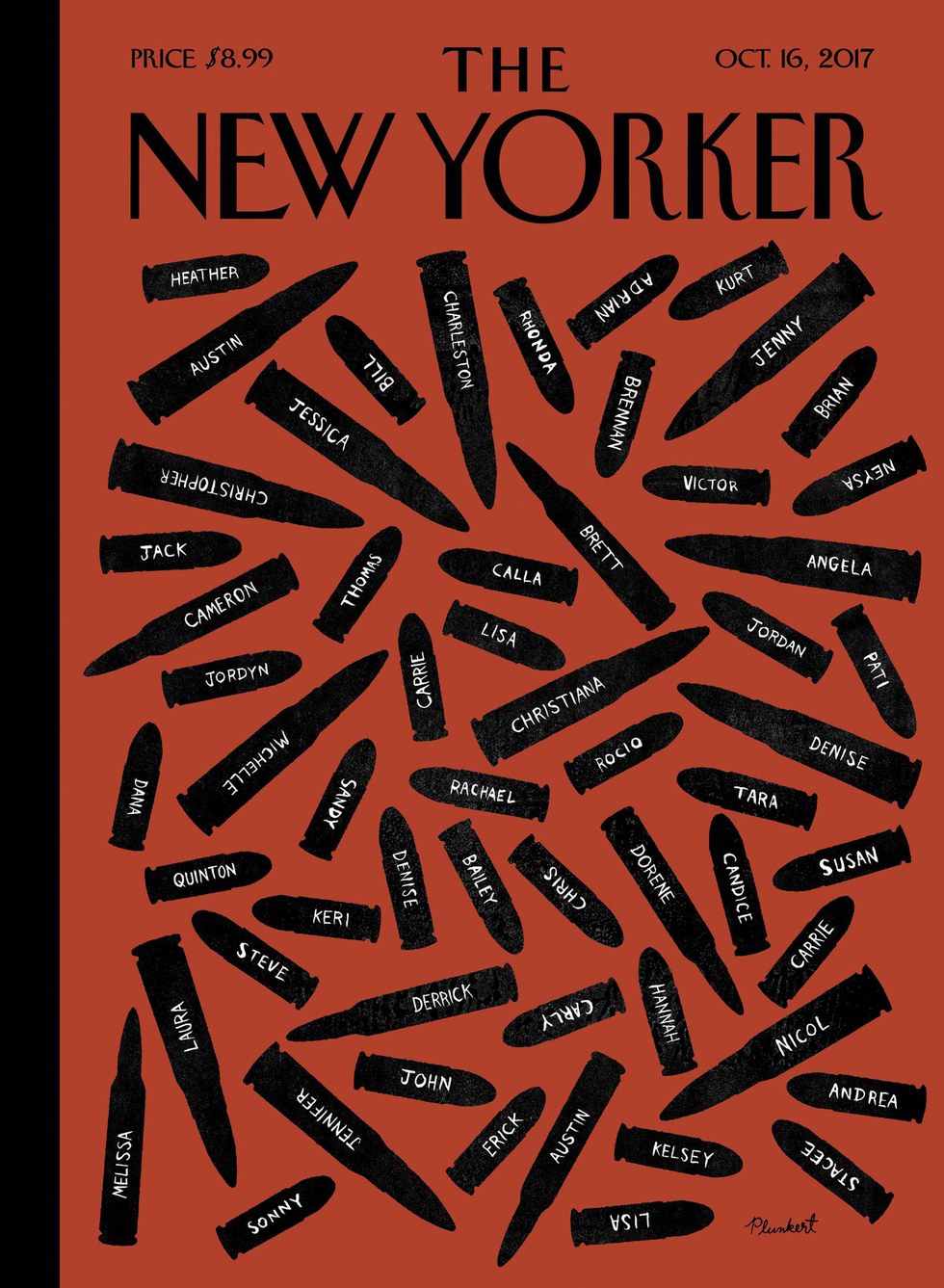 Artist David Plunkert's "October 1, 2017: One Day in a Nation of Guns," memorializing the victims of the mass shooting in Las Vegas: "The names on the cover reflect the official list of victims released by the Clark County, Nevada, Office of the Coroner and Medical Examiner."
P.S. Cover of tomorrow's WashPost Outlook section, "How the erosion of trust leads to murders and mass shootings: Faith in government is closely linked to the homicide rate, says historian Randolph Roth":
"The murder rate since World War II has tracked almost perfectly, as criminologist Gary LaFree has observed, with the proportion of Americans who say they 'trust the government in Washington to do what is right' most of the time and who believe that most public officials are honest."
7. Wrong track

"Just 24 percent of Americans believe the country is heading in the right direction after a tumultuous stretch for … Trump that included the threat of war with North Korea, stormy complaints about hurricane relief and Trump's equivocating about white supremacists," per AP's Julie Pace and Emily Swanson:
"That's a 10-point drop since June, according to a poll from The Associated Press-NORC Center for Public Affairs Research."
Why it matters: "The decline in optimism about the nation's trajectory is particularly pronounced among Republicans. In June, 60 percent of Republicans said the country was headed in the right direction; now it's just 44 percent."
P.S. Banner of yesterday's USA Today, "Poll portrays an unhappy America," by Susan Page and Julia Fair: "Americans overwhelmingly disagree with President Trump … But a USA TODAY/Suffolk University poll also finds an unusual disconnect: Americans are increasingly optimistic about the nation's economy."
8. 2 plot twists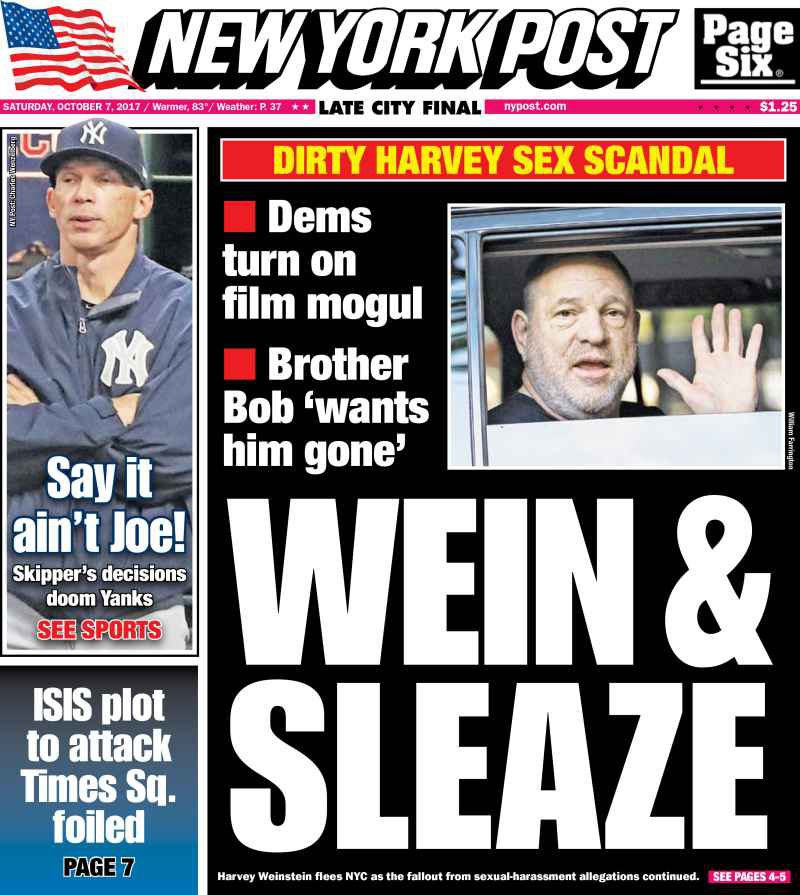 "Harvey Weinstein's brother may have been mastermind behind sex allegation exposé," by Ian Mohr of N.Y. Post "Page Six":
"It's Cain and Abel — Hollywood style."
"Bob Weinstein, the disgruntled co-founder of The Weinstein Company, … 'wanted Harvey out for years," said a former staffer, who added that the two brothers are becoming increasingly suspicious of each other. … 'Bob may have even fed this story' to the Times."
Bob Weinstein: "These assertions are untrue."
"The duo founded Miramax — the entertainment company that revolutionizing the indie film business — in 1979 in Buffalo.They sold the company to Disney in 1993 and exited in 2005 to found The Weinstein Company.
"While Harvey got credit for Miramax's string of high-end Oscar wins, Bob was behind the brand's Dimension Films, which made hits like the 'Scream,' 'Scary Movie' and 'Spy Kids' ­series."
N.Y. Times spokeswoman Danielle Rhoades Ha, via Variety: "Mr. Weinstein should publicly waive the NDAs in the women's agreements so they can tell their stories. As a supporter of women, he must support their right to speak openly about these issues of gender and power."
Go deeper … "The Democrats giving away donations from Harvey Weinstein," by Axios' Alayna Treene.
9. Collison of tech, business
"Hollywood Glory Eludes Amazon," the Wall Street Journal's Ben Fritz and Joe Flint write on the front page:
What's new: "Amazon Studios has been stumbling when it comes to producing content that attracts audiences and buzz. The Hollywood arm of the online giant is pivoting away from dramas for adults but is struggling to define a new strategy."
What happened: "It has alienated high-profile content creators, who say executives have proven incapable—or unwilling—to smooth out conflicts that inevitably crop up during the shooting of a television show."
What's next: "Amazon Studios is taking steps to get back on track, such as developing shows intended to be more globally popular, cutting back children's programming and considering new leadership in its film unit."
P.S. "Wal-Mart Gets Back on the Growth Track: E-commerce is helping the retailing giant jump-start stalled revenue and profit growth," by Barron's Jack Hough:
"[T]here have been a string of … acquisitions, experiments, and musings that are out of character for Wal-Mart … Some seem out there, like having store employees deliver packages on their way home."
"Groceries are more than half of U.S. revenue, making Wal-Mart the country's largest grocer. … The company … has stores within 10 minutes of 90% of the U.S. population."
Why it matters: "None of this would matter if business at Wal-Mart's stores was deteriorating. But same-store sales have increased for 12 straight quarters."
Free link for Axios readers. Thank you, Barron's!
10. 1 fun thing
Office architecture … "First there were individual offices. Then cubicles and open floor plans. Now, there is a 'palette of places,'" the N.Y. Times' Steve Lohr writes on the cover of N.Y. Times Sunday Business:
"The new model is largely open, but not entirely. Under the revised thinking, breaking down walls to bring people together is good, but so are 'team spaces' and standing tables, comfortable couches and movable walls."
"It's partly a backlash against the one-size-fits-all mind-set, not to mention the corporate penny-pinching, embodied in the move toward pure open floor plans … [M]any experts agree it often went too far, with row upon row of desks and workbench-style seating more likely to generate ennui than efficiency."
"The new designs often include 'isolation rooms,' soundproof phone booths, and even lounges where technology is forbidden."
Wait for it … "[T]he new designs … are … meant to appeal to millennial recruits, many of whom are more comfortable working in a Starbucks than in a traditional office."
Thank you for reading. If you're lucky enough to be off today, maybe call someone who'll be pleasantly surprised to hear from you.
Read the whole story
· · · · · · · · · · · · · · · · · · · · · · · ·
| | |
| --- | --- |
| | General: Military's Presence in PR Open-Ended |
Read the whole story
· · ·