Trump is right about the FBI @CNN https://t.co/Pk2t1UbxC7

— Paul Callan (@PaulCallan) December 30, 2017

M.N.: And I would add: not only "by a systematic" but also "by a systemic" failure which might be even more troubling. 
"The FBI's reputation has been severely damaged not by the President's criticism but by a systematic failure of the bureau's leadership… The bureau's leadership has forfeited the reputation of a cherished American institution."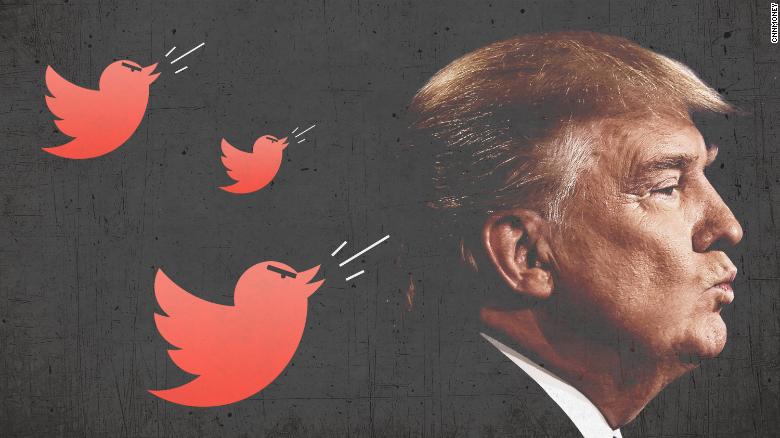 (CNN)The ferocity of President Donald Trump's recent attacks on the integrity of the FBI has sent shock waves through an agency accustomed to public adulation in recent years. Sadly, much of the presidential criticism of the bureau may be entirely legitimate.
The FBI has traditionally enjoyed a highly favorable reputation among a majority of the nation's citizens. Despite controversial programs that sometimes employed illegal forms of surveillance and enforcement methods — such as those used on black citizens lawfully protesting racial segregation, individuals in the "red scare" of the 1950s and long-haired students and others protesting the war in Vietnam during the 1960s and '70s — this reputation endured.
And American presidents continued to steadfastly defend the bureau — that is, until now.
The tradition of presidential support was unquestionably grounded at least partially in the fear of J. Edgar Hoover's rumored 50-year political skeleton "dossier," which would undoubtedly make the controversial "Steele dossier" look like child's play.
But Hoover is gone now, and President Trump's persistent attacks have the potential to inflict long-lasting reputational damage to the nation's preeminent law enforcement agency. These criticisms focus largely on FBI fumbles and missteps in the Hillary Clinton and Trump/Russia investigations, which the President suggests were deliberate attempts to sabotage his election and administration. Trump supporters and possibly the President himself say they see the workings of a conspiratorial "deep state" liberal-embedded bureaucracy fiercely resisting any conservative change.
Some of Trump's recent criticisms of the agency relate to the alleged activities of FBI special agent Peter Strzok and FBI lawyer Lisa Page. An investigation by the Justice Department's inspector general revealed that the two exchanged text messages strongly indicative of anti-Trump and pro-Clinton bias while Strzok played a critical role in the Clinton investigation and a subsequent lesser role in Mueller's Trump/Russia probe. (A CNN reporter, in a news article after the text message controversy erupted, wrote that an attorney for Strzok did not respond to a request for comment, and Page could not be reached for comment.)
In addition, the President continues to call the Russia investigation a "witch hunt" and to castigate the agency's deputy director, Andrew McCabe, for alleged "bias" and incompetence.
Last Saturday, the President tweeted that former FBI Director James Comey, whom he fired, is a "liar" and called him "leakin' James Comey."
Trump also issued a clearly derogatory "Wow" comment regarding the unexplained reassignment of the FBI's general counsel, James Baker, reportedly a close friend of Comey's.
The President may have been angered by reports that McCabe was backing Comey's claim that the President made a loyalty demand and requested leniency for his former national security adviser, Gen. Michael Flynn, who is now a convicted felon awaiting sentencing under federal indictment.
When news of the text messages between Strzok and Page came to light against the backdrop of claimed McCabe improprieties, it became harder to just dismiss all of Trump's FBI conspiracy claims as delusional — though many of his critics do.
Strzok was one of the FBI's top counterintelligence agents supervising the investigation of Clinton's controversial email problems. He subsequently joined Robert Mueller's Trump/Russia investigation, and the question lingers as to why his obvious anti-Trump prejudice was not uncovered in his job interview for the position with Mueller.
Why didn't McCabe warn Mueller of Strzok's likely bias, which he should have known from his own day-to-day conversations with Page and Strzok at FBI headquarters? Page reportedly worked for McCabe, who certainly also had frequent contact with Strzok — again, the FBI's No. 2 counterintelligence agent.
This assessment is admittedly speculative, but it is speculation grounded in common sense.
Strzok was abruptly removed from the Mueller investigation in mid-summer of 2017. It seems that he had exchanged a series of 375 text messages with Page, clearly documenting their joint revulsion at all things Trump. The President is variously described as a "loathsome human," an "idiot" and a "d*uche," while they describe the prospects of the President's election as "terrifying."
The shocking aspect of the Strzok/Page discussions about the "terrifying" possibility of Trump's election is that some of those discussions may have taken place, according to one of Strzok's texts in "Andy's Office."
CNN has reported that the text was presumably referring to the office of FBI Deputy Director Andrew McCabe in August of 2016. Page had previously opined, according to the texts: "There's no way he gets elected." Strzok, however, texted that even if Trump's election is a long shot, "I want to believe the path you threw out for consideration in Andy's office …that there's no way he gets elected — but I'm afraid we can't take that risk. It's like an insurance policy in the unlikely event you die before you're 40."
The most benevolent interpretation of this Strzok statement, as suggested by The Wall Street Journal, is that Strzok was advocating a fast and aggressive pursuit of the Russia investigation "because some of Mr. Trump's associates could land administration jobs and it was important to know if they had colluded with Russia," according to the Journal's story.
But there is more. Strzok was the FBI agent who changed the language used by former Director Comey in his controversial July 5, 2016, public statement clearing Clinton of criminal charges regarding her handling of classified materials. Strzok changed the final draft wording of Comey's statement from "grossly negligent" (which is commonly used in criminal cases) to the softer, non-criminal "extremely careless" wording.
Trump supporters would point to this as evidence that Strzok, the FBI's No. 2 counterintelligence agent, appears to be executing a plan within the FBI to clear Clinton and then destroy Trump's candidacy with the Russia investigation.
Causing further headaches for FBI brass, we now know that Deputy Director McCabe's wife, Jill McCabe, an unsuccessful Democratic 2015 candidate for the state senate in Virginia, had received approximately $700,000 in campaign contributions from then-Virginia Gov. Terry McAuliffe's political action committee and the state's Democratic Party. While this didn't violate any laws or FBI protocols, the association looks unseemly for an agency conducting an investigation with potentially historic implications.
McAuliffe had been the campaign chairman of Clinton's 2008 presidential campaign and has been described by onlookers as being "as close as family" to the Clintons.
While McCabe's wife certainly has a right to run for office, her acceptance of hundreds of thousands of dollars in campaign contributions from sources with clear links to the Clintons was a red-flag warning that should have caused McCabe to recuse himself from any involvement in any Trump/Hillary related investigations. He had no business calling any of the shots in these sensitive probes that would likely influence the outcome of the presidential election. The FBI has stated that that McCabe acted in accordance with stated agency protocols while his wife was running for office.
McCabe remains a very important figure in the unfolding Mueller investigation; the latest reports are that McCabe may be a key witness backing Comey's claim that the President had improperly asked him to terminate the Flynn investigation. McCabe's credibility, however, may now be compromised by the facts and circumstances regarding Strzok's text messages, the meetings in "Andy's Office" and the political contributions given to McCabe's wife.
While I rarely agree with much of what the President does or says regarding legal issues, this time he's got it right. The FBI's reputation has been severely damaged not by the President's criticism but by a systematic failure of the bureau's leadership.
The field agents of the FBI should still retain the trust of the American people. Their honor and dignity has not been compromised; but the bureau's leadership ranks require a prompt and thorough house cleaning by the new director, Christopher Wray. The bureau's leadership has forfeited the reputation of a cherished American institution.
Saved Stories – None
Trump is right about the FBI – CNN
This week in the Trump-Russia investigation Mueller targets big data, the White House prepares to cast Mike Flynn … – Business Insider
Islamic State claims its men planted bomb at St. Petersburg supermarket – Long War Journal
A look back at 2017 – Register Pajaronian

Register Pajaronian

A look back at 2017

Register Pajaronian

Anxiety

 over the results of the November 

2016 election

, when Donald Trump, a candidate who had a markedly rigid stance on immigration, emerged victorious in the presidential race. Fear in Watsonville's large undocumented population that their families 

…and more »
How to Infuriate Thousands Without Really Trying – seattlepi.com (blog)
Is this Robert Muellers holiday surprise? FBI raids home in Northern Virginia

Its been famously said that Special Counsel Robert Mueller loves surprises. He likes to catch his suspects and subjects off guard by taking actions they never saw coming. Thats led many to ask if Mueller might be planning a holiday surprise in the Trump-Russia scandal, while everyone involved is distracted. So its notable that the FBI just raided a home in Northern Virginia this evening.Thus far we only know a handful of details: the FBI raid definitely happened, and it took place in Sterling, Virginia. Donald Trump does own a golf course in that town, but the local TV affiliate is reporting that it took place in a residential area, which rules out the golf course (link). The FBI has previously raided Paul Manaforts home in Northern Virginia, but thats in Alexandria, not in Sterling. Michael Flynn also has a home in Northern Virginia, but its also in Alexandria, and its unlikely his home would be raided after he cut a plea deal. So whats going on?To be clear, this could be entirely coincidental, and it may have nothing to do with the Trump-Russia scandal. The FBI certainly has plenty of other business to conduct beyond exposing the crimes of Donald Trump and his associates. But it is worth noting that Mueller has run  portion of his investigation out of the federal court district in Virginia which has jurisdiction over this area. In addition, a number of political figures in Washington DC have homes in northern Virginia.So will this turn out to be something or nothing? We may not know for some time. In addition to loving surprises, Robert Mueller also loves secrecy. So if this  about Trump-Russia, its entirely possible the FBI could leak a cover story to try to distract from it. After all, we didnt learn about the raid of Manaforts house, or the arrest of George Papadopoulos, until long after they took place.
The post Is this Robert Muellers holiday surprise? FBI raids home in Northern Virginia appeared first on Palmer Report.
The fruits of crisis: Alabama's top political stories of 2017 – Gadsden Times
Guidelines for news-watching and staying sane in 2018 – Kansas City Star (blog)
LARB Radio Hour: Masha Gessen on Russia's Evolution from Soviet Socialism to Putinism – lareviewofbooks
Army recruits now being trained in counter-terrorism – The Indian Express
Trump still wants to mend ties with Moscow Russian ambassador – TASS
Robert Mueller is investigating Donald Trump and Russia for rigging Michigan and Wisconsin

For weeks, prominent Republicans in Congress have begun trying to smear Special Counsel Robert Mueller. Now we know why. Earlier this week we learned that Mueller has been investigating the Republican Party's role in the Trump-Russia scandal. Now we're learning that Mueller is specifically investigating Trump, the Republican Party, and Russia for their roles in conspiring to rig multiple key swing states in the 2016 election.Russian trolls micro-targeted voters in Wisconsin and Michigan, feeding them fake political news in order to trick them into voting under false pretenses, thus rigging the outcome of the election in those two states. The trolls in question had the kind of sophisticated knowledge and profiling of specific voters in these states that they almost certainly couldn't have come up with on their own. Now, according to New York Magazine (link), Mueller is seeking to prove that the Trump campaign and the Republican National Committee provided this voter data to the Russians.This is the most specific confirmation to date that Mueller is indeed seeking to prove that Trump and his Republican allies did in fact rig the outcome of the election by illegally conspiring with Russia to alter the outcome. This will prove that Donald Trump was not legitimately elected President of the United States, and that Hillary Clinton was the rightful winner. It will also be enough to send a swath of people involved, including anyone at the RNC who signed off on this, to prison.By his own admission, Jared Kushner was deeply involved in the Trump campaign's voter data analysis effort, which was largely handled by a company called Cambridge Analytica. Steve Bannon ran that company just before he took over the Trump campaign. Trump's former campaign chairman Paul Manafort called Trump just before election day and told him to go to Michigan. Any of these people can provide evidence that Donald Trump was in on the treasonous plot, which is why Robert Mueller is targeting them all.
The post Robert Mueller is investigating Donald Trump and Russia for rigging Michigan and Wisconsinappeared first on Palmer Report.
MSNBC panel names James Comey's firing Trump's biggest mistake of 2017: 'It set in motion two Russiagate … – Raw Story
Donald Trump warns Iran 'world is watching' as he condemns arrest of protesters – Telegraph.co.uk
Universal truths about the media in 2017 – Washington Examiner
Despite threatened crackdown, few leakers caught under Trump and Jeff Sessions – Washington Examiner
Alabama Teaches America a Lesson – Patriot Post

Patriot Post

Alabama Teaches America a Lesson

Patriot Post

Mr. 

Trump's political

 malpractice has been to fail, since his election, to increase his popularity and thus his power. He has a core but it remains a core. He could have broadened his position with a personal air of stability and moderation, and with 

…and more »
Top stories of 2017: Elections bring change – Salisbury Post
Top stories of 2017: Elections bring change

Salisbury Post

Some 30 people died of opioid overdoses in Rowan in 

2016

. Totals for 2017 are yet to be reported, but with more addicts using fentanyl, a highly powerful synthetic opioid, the toll likely will be much higher. Fatal overdoses reached 19 in one five 

…
Alma Rutgers: Truth is lie, and lie is truth – Greenwich Time
Alma Rutgers: Truth is lie, and lie is truth

Greenwich Time

But here's the big one, PolitiFact's choice for Lie of the Year: Russian 

election

 interference is a hoax. Trump continually asserts that Russia's meddling in the 

2016 election

 is fake news, a hoax or a made-up story, even though there is widespread

…  and more »

Why Trump's Middle East negotiator is beating expectations – The Jerusalem Post
Sarah Huckabee Sanders caught using Donald Trumps Twitter account

Weeks ago, after Donald Trump accidentally confessed to felony obstruction of justice with a particularly stupid tweet, he claimed that his attorney had somehow written the tweet. While he was probably lying about this, it did help to confirm what Palmer Report has been documenting for several months: Trump handlers have been periodically tweeting from his account, trying to impersonate him, and failing to various degrees. Now they've become rather brazenly sloppy about it.On Friday evening, Sarah Huckabee Sanders posted this to the @PressSec account on Twitter: "Reports of peaceful protests by Iranian citizens fed up with the regimes corruption and its squandering of the nations wealth to fund terrorism abroad. The Iranian government should respect their peoples rights including their right to express themselves. The world is watching." Roughly two hours later, this tweet appeared on the @RealDonaldTrump account: ""Many reports of peaceful protests by Iranian citizens fed up with regimes corruption & its squandering of the nations wealth to fund terrorism abroad. Iranian govt should respect their peoples rights, including right to express themselves. The world is watching! #IranProtests"To be clear, this was not a retweet or quoted tweet. This was an instance of Huckabee Sanders tweeting something to the Press Secretary account, and then later copy-pasting it to Donald Trump's account, making only a handful of minor changes while leaving nearly all of the verbiage intact. How do we know Trump didn't merely copycat Huckabee Sanders' tweet? Some will claim that there's some other theoretically possible explanation for how this happened, but those explanations will be nonsense. It's clear what happened here.This comes just two days after Donald Trump inexplicably retweeted a tweet from his social media director, Dan Scavino, which congratulated an Iowa football team for winning a college bowl game. Trump never does this with any team. This occurred within moments of Trump's account retweeting tweets from Eric and Ivanka Trump. It's fairly clear what happened here: Scavino used Trump's account to retweet two of Trump's children, and in the process, accidentally retweeted his own tweet about football. Why are Trump's handlers resorting to impersonating him on Twitter? Has his senility become just that severe?
The post Sarah Huckabee Sanders caught using Donald Trump's Twitter account appeared first on Palmer Report.
TV preview: McMafia – Yorkshire Evening Post

Yorkshire Evening Post

TV preview: McMafia

Yorkshire Evening Post

James Norton stars in a new eight-part series set in the 

international

 world of 

organised crime

. Created by Hossein Amini and James Watkins, McMafia is inspired by the bestselling non-fiction book by Misha Glenny. Featuring a distinguished 

… 
Putin power: Dangers abound in 'the autumn of the autocracy' – Irish Times
Top story 3: Opioid problem grows into an epidemic during the year – Marietta Times
Did Russiagate Just Escalate Ukraine's War? – The Real News Network
Did Russiagate Just Escalate Ukraine's War?

The Real News Network

And 

Trump

 has been giving these hawks, who are feeding off Russiagate, bits of what they want. The last bit are these weapons to Ukraine. It's the only reason for it. It makes no sense. It's detrimental to our national interests in every other regard

…