On the far west side of lower Manhattan
A sixth member of the group was among those hospitalized after the attack, … Tuesday's assault, on the far west side of lower Manhattan a few …
NEW YORK (Reuters) – U.S. investigators on Wednesday were focused on an Uzbek immigrant they said killed eight people in New York by driving a rental truck down a riverfront bike path in an attack authorities said had all the hallmarks of terrorism.
The suspect, who was shot by police and arrested moments after the Tuesday rampage in lower Manhattan, left a note saying he carried out the attack in the name of the militant Islamic State group, the New York Times and CNN said.
It was the deadliest single attack on New York City since Sept. 11, 2001, when suicide hijackers crashed two jetliners into the World Trade Center, killing more than 2,600 people. A further 11 people were injured in Tuesday's attack.
Similar assaults using vehicles as weapons took place in Spain in August and in France and Germany last year.
The suspect allegedly swerved the pickup onto a path filled with pedestrians and bicyclists on a sunny autumn afternoon, mowing down people in his path before slamming into the side of a school bus.
He then exited the vehicle brandishing what turned out to be a paint-ball gun and a pellet gun before a police officer shot him in the abdomen.
The attack, which left crumpled bicycles scattered along the path and victims writhing on the ground, was over in seconds.
The suspect underwent surgery for gunshot wounds.
Police declined to publicly identify the man, but a source familiar with the investigation said his name was Sayfullo Saipov, 29. He reportedly lived in Paterson, New Jersey, a one-time industrial hub about 25 miles (40 km) northwest of lower Manhattan.
He had rented the pickup from a Home Depot Inc hardware store which, according to media accounts, was located in Passaic, just south of Paterson.
U.S. Senator Lindsey Graham urged authorities to treat Saipov as an enemy combatant, a move that would allow investigators to question the man without him having a lawyer present.
ARGENTINE FRIENDS AMONG DEAD
Six victims were pronounced dead at the scene and two more at a nearby hospital, Police Commissioner James O'Neill said.
Five of the dead were Argentine tourists, visiting New York as part of a group of friends celebrating the 30th anniversary of their high school graduation, the government there said. Belgium's foreign minister said a Belgian citizen was also among those killed.
New York City Mayor Bill de Blasio said police will be out in force to protect the city's marathon on Sunday, one of the world's top road races, which draws some 51,000 runners from around the globe.
"You'll see a lot of officers with long guns. Other things you won't see that are protecting us," he told MSNBC.
A U.S. law enforcement official described the suspect as a U.S. immigrant born in Uzbekistan, a predominantly Muslim country in Central Asia that was once part of the former Soviet Union. CNN and NBC News said he entered the United States in 2010.
Uzbekistan's President Shavkat Mirziyoyev said his government would do all it could to help investigate the "extremely brutal" attack.
Authorities late on Tuesday surrounded a house in Paterson where, according to the New York Times, Saipov was believed to have lived. Paterson, known for its large immigrant population, is home to about 150,000 people, including 25,000 to 30,000 Muslims.
ABC News reported that Saipov had lived in Tampa, Florida. A check of court records related to a traffic citation that Saipov received in eastern Pennsylvania in 2015 showed he listed addresses then in Paterson and Cuyahoga Falls, Ohio.
CNN and other media outlets, citing police officials, reported that the suspect shouted "Allahu Akbar" – Arabic for "God is greatest" – when he jumped out of his truck.
Although authorities from the mayor's office to the U.S. Department of Homeland Security all swiftly branded the attack an act of terrorism, New York Governor Andrew Cuomo stressed that the suspect was believed to have acted alone.
The New York Times said Saipov had come to the attention of law enforcement in the past. It cited three officials as saying federal authorities knew of Saipov from an unrelated probe, although it was unclear whether that was because he had ties to someone who was under scrutiny or because he was the target of an investigation.
Last week an Uzbekistan citizen living in Brooklyn was sentenced to 15 years in prison for conspiring to support Islamic State.
U.S. President Donald Trump, who has pressed for a ban on travelers entering the United States from some predominantly Muslim countries, said on Twitter that he had ordered Homeland Security officials to "step up our already Extreme Vetting Program. Being politically correct is fine, but not for this!"
He also criticized the U.S. visa system, blaming Democrats and saying that he wanted a 'merit based' program for immigrants to the United States.
(For a graphic on 'New York truck attack' click tmsnrt.rs/2z3aqZv)
Reporting by Dan Trotta and Gina Cherelus in New York; Additional reporting by Jonathan Allen, Anna Driver and Barbara Goldberg in New York, Dan Whitcomb in Los Angeles, Mark Hosenball and Susan Heavey in Washington; Writing by Scott Malone; Editing by Paul Tait and Bill Rigby
Read the whole story
· · · ·
A sixth member of the group was among those hospitalized after the attack, … Tuesday's assault, on the far west side of lower Manhattan a few …
Los Angeles Times
On the far west side of lower Manhattan. … Let's just say they have intelligence on that the suspect in question. … He has long known person connected to some extremist group I mean all those things obviously been raised …
In fact, members of Mueller's investigative team cut their teeth on a who's who of the biggest Justice Department targets of the last quarter …
Washington Post
–
Oct 31, 2017
The past week reveals the more subtle threat that Mueller and his team pose to the Trump White House. Simply put, special counsel Robert S.
Special counsel Robert Mueller's team has scheduled an interview with … House press secretary Sean Spicer, as a part of its investigation.
Read the whole story
· · · · ·
Next Page of Stories
Loading…
Page 2
The suspect in the New York attack has been identified as Sayfullo Habibullaevic Saipov, two law enforcement sources familiar with the investigation told CNN. Law enforcement sources earlier had described him as a 29-year-old Uzbek national who came to the United States in 2010.
[Previous story, published at 7:33 p.m. ET]
The driver of a rental truck drove down a busy bicycle path in New York near the World Trade Center, killing eight people and injuring about a dozen others in what officials said was an "act of terror."
After crashing the truck into a school bus, the suspect exited the vehicle while displaying imitation firearms and was shot in the abdomen by a police officer, according to the NYPD.
close dialog
The suspect, a 29-year-old man, is in police custody and was taken to a hospital for treatment, officials said.
The incident is being investigated as terrorism, officials said. Witnesses reported the suspect was yelling "Allahu Akbar," according to four law enforcement sources. The FBI's Joint Terrorism Task Force is taking over the lead of the investigation.
"This was an act of terror, and a particularly cowardly act of terror," New York Mayor Bill de Blasio said, "aimed at innocent civilians, aimed at people going about their lives who had no idea what was about to hit them."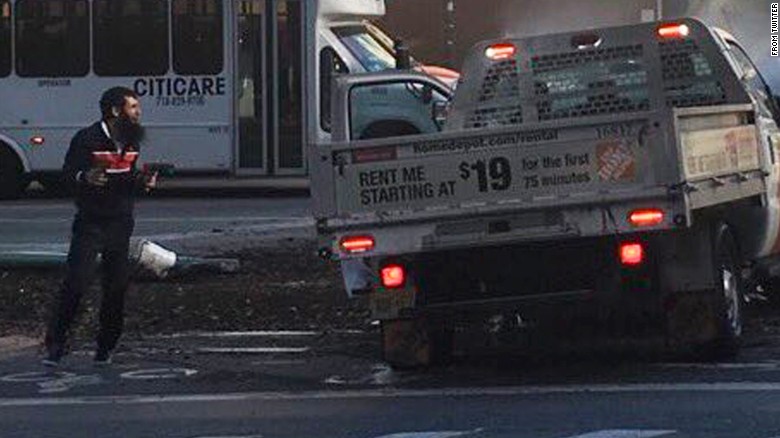 An image taken from Twitter shows what appears to be the suspect, according to a senior law enforcement official.
Here are the latest developments in the attack:
• The suspect in the New York attack is from the central Asian nation of Uzbekistan and came to the United States in 2010, two law enforcement sources told CNN. A Tampa, Florida, address is connected to him. Investigators are also looking into a possible connection to New Jersey, the sources said.
• The man rented the truck in New Jersey on Tuesday, a person briefed on the investigation told CNN.
• President Donald Trump tweeted that the incident "looks like another attack by a very sick and deranged person." In a later tweet, he wrote, "My thoughts, condolences and prayers to the victims and families of the New York City terrorist attack. God and your country are with you!"
• A Belgian national was a victim of the attack, Didier Reynders, Deputy Prime Minister and Foreign Affairs Minister for Belgium, said on Twitter. "I am deeply saddened to announce a Belgian victim in Manhattan – I express my condolences to the family and friends," he tweeted from his verified account.
• New York Gov. Andrew Cuomo directed One World Trade Center to be lit in red, white and blue in honor of freedom and democracy, his office said.
Map Data
Map data ©2017 Google
Rented truck used
Authorities think it is an act of terror because the driver said something moments after leaving the truck and the method of the attack were consistent with other terrorist attacks, New York Police Commissioner James P. O'Neill said. Vehicles have been used as weapons in a
 in recent years, including in deadly incidents in Nice, France, and London.
The suspect, driving in a Home Depot rental truck, hopped a curb at West Houston Street and drove south on the bike path on the west side of West Side Highway in Lower Manhattan for several blocks, officials said. A pellet gun and a paintball gun were recovered from the scene, officials said.
A suspect drove a white truck down a heavily trafficked bike path in New York City on Thursday.
Just after the incident, news footage showed several mangled bicycles on the popular bike path as medics tended to the wounded in the background.
Six people were declared dead at the scene and two were pronounced dead at the hospital. At lease 11 others were transported to the hospital with serious but non-life-threatening injuries, according to New York Fire Commissioner Daniel Nigro.
No other suspects are being sought, the
.
A spokesman for Home Depot confirmed one of the company's rental trucks was part of an incident in lower Manhattan and said the company is "cooperating with authorities" in the investigation.
Witness accounts
Bicycles and debris are scattered on the bike path.
First responders gather at the scene.
Four people on the school bus had minor injuries after the truck crashed into it, a police official said. After hitting the bus, the driver exited the truck and was shot by police while displaying imitation firearms, according to the NYPD.
Police direct people away from the scene.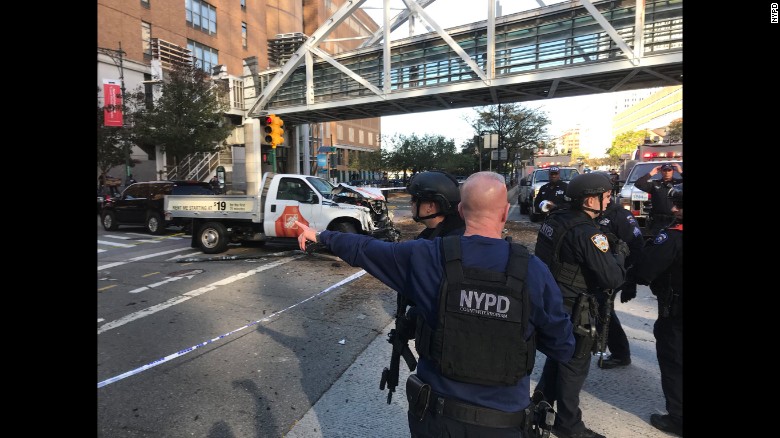 New York City police work in Manhattan after a rental truck drove down a busy bicycle path and struck people on Tuesday, October 31. At least eight people were killed and nearly a dozen were injured in the incident, which is being investigated as terrorism, according to multiple law enforcement sources. A suspect is in custody.
Police officers stand next to a body covered under a white sheet.
The driver of the truck drove the wrong way down the West Side Highway bike path for several blocks, according to two senior law enforcement sources at the New York Police Department. After striking multiple people, the driver hit a school bus and wrecked the truck, an NYPD official said.
Bicycles and debris are scattered on the bike path.
First responders gather at the scene.
Four people on the school bus had minor injuries after the truck crashed into it, a police official said. After hitting the bus, the driver exited the truck and was shot by police while displaying imitation firearms, according to the NYPD.
Police direct people away from the scene.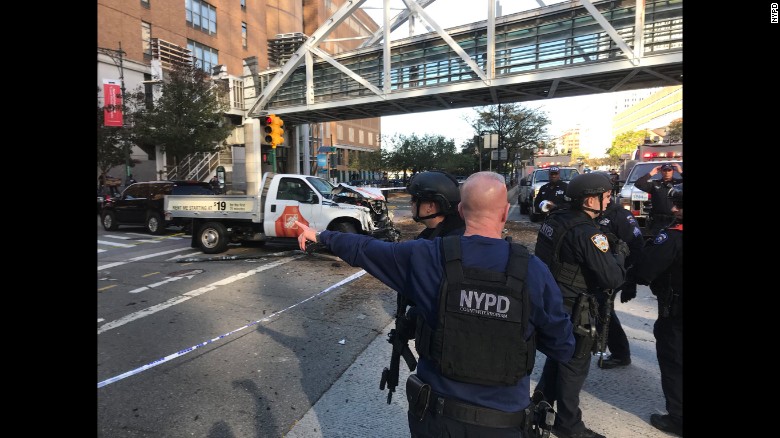 New York City police work in Manhattan after a rental truck drove down a busy bicycle path and struck people on Tuesday, October 31. At least eight people were killed and nearly a dozen were injured in the incident, which is being investigated as terrorism, according to multiple law enforcement sources. A suspect is in custody.
Police officers stand next to a body covered under a white sheet.
The driver of the truck drove the wrong way down the West Side Highway bike path for several blocks, according to two senior law enforcement sources at the New York Police Department. After striking multiple people, the driver hit a school bus and wrecked the truck, an NYPD official said.
Bicycles and debris are scattered on the bike path.
News footage showed crowds of spectators — some capturing the scene with cellphone cameras — gathered behind police lines. A white Home Depot truck with the front end smashed was also visible.
Eugene Duffy said he had just left work at Pier 26 and was waiting on the light to cross West Street when he heard a scream. He thought it might have been a Halloween prank but he said the scream was bloodcurdling.
"I look down and I see a white pickup truck a couple of more blocks down in the bike path," he said. "Automatically, I know something's wrong. Then, as I go down more toward where the girl is screaming, I see two gentlemen laying there and they have tire tracks marked across their bodies. You could tell they both weren't here."
He continued to walk closer to the scene. Gunshots rang out. He saw cops ducking for cover. A yellow school bus was smashed nearby. Cops descended on the area.
"I thought automatically, this area, I thought it was terrorism," he said.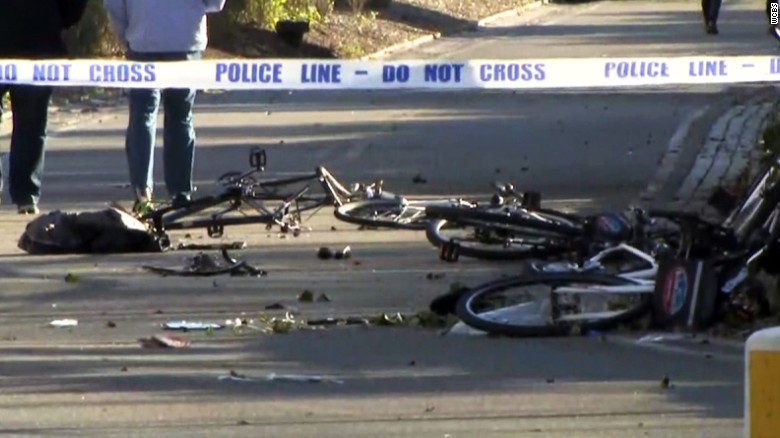 Parts of mangled bikes are strewn on the ground in Manhattan on Tuesday.
Michael Corbin, the assistant real estate manager for District Council 37, the city's largest public employees union, was standing outside the union's lower Manhattan offices attending to a woman who slipped and fell on the sidewalk.
"The first responder to the event was a counterterrorism officer," he said. "We were attending to the victim, getting her onto a stretcher and, at that moment, we heard gunshots. I recalled hearing five gunshots in quick succession and immediately the officer … left to investigate the situation from the direction we heard the noise coming from."
Another witness, Ramon Cruz, described what he saw.
"What I saw was that the driver — he didn't look like he was bleeding," said Cruz. "He was dragging his foot. He looks frustrated, panicked, confused. People are running past me, saying, 'He's got a gun. He's got a gun.' I didn't see any gun.
"It was a white pickup truck. He looked pretty bad without bleeding or anything like that. I didn't see him hit anybody. All I heard was the impact of a crash."
Tuesday afternoon on Twitter, a user posted an image of a person lying on the ground near the scene of an incident near West & Chambers Streets in Manhattan.
Uzbekistan ties
Authorities are sure to look at whether the suspect visited Uzbekistan since he moved to the United States seven years ago, CNN terrorism analyst Paul Cruickshank said.
"There has been a significant problem with jihadism in Uzbekistan," he said.
According to Cruickshank there are two large jihadi groups in the country. One of them is the Islamic Movement of Uzbekistan, which is affiliated with ISIS.
CNN's Jessica Schneider, Shimon Prokupecz, David Shortell, Steve Almasy, Karen Smith and Intisar Seraaj contributed to this report.
Read the whole story
· · · · · · · · · · · · ·
THE BIG STORY:
—
WHITE HOUSE KNOCKS MEDIA AS 'COMPLETELY OBSESSED' WITH RUSSIA:
White House press secretary Sarah Huckabee Sanders on Tuesday accused the media of being "completely obsessed" with the Russia investigation, trying to turn the tables after being asked if the probe was distracting President Trump from other duties. "You guys seem completely obsessed with this, while there are a lot of other things happening around the country and frankly a lot of other things that people care a lot more about," she told ABC News's Jonathan Karl. "The media refuses to cover it."
To read the rest of our piece, 
click here.
–…AND NOW MORE WITH OUR RUSSIA OBSESSION:  The White House said on Tuesday there are no plans to withdraw the nomination of Sam Clovis for a Department of Agriculture position. That comes despite claims Clovis was the Trump campaign official who advised a foreign policy adviser to travel to Russia after that adviser was told Russia was collecting "dirt" on the Clinton campaign. Clovis, who was tapped for science adviser to the Agriculture Department, faces a confirmation hearing in the Senate later this month. But questions are swirling around him after special counsel Robert Mueller revealed Monday that George Papadopoulos, a low-level foreign policy adviser to the Trump campaign, pled guilty on charges he lied to federal investigators about his contacts with Russians during the campaign. Clovis was not identified by name in the court document, but there are several reports he was the campaign official who interacted with Papadopoulus. White House press secretary Sarah Huckabee Sanders told reporters at Tuesday's briefing that Clovis would remain the Agriculture nominee for now. "I'm not aware that any change would be necessary at this point," she said.
To read the rest of our piece, click here.
–…TRUMP SAYS THE BIGGEST STORY MONDAY WAS PODESTA: President Trump on Tuesday claimed the exit of Democratic super-lobbyist Tony Podesta from his firm — and not the indictment of his former campaign chairman — was Monday's big news. "The biggest story yesterday, the one that has the Dems in a dither, is Podesta running from his firm," the president tweeted Tuesday morning.
To read the rest of our piece, click here
 
WHAT'S IN THE SPOTLIGHT: SOCIAL MEDIA AND THE RUSSIA INVESTIGATION
–TWITTER, FACEBOOK, GOOGLE DECLINE TO BACK AD DISCLOSURE BILL AT HEARING: Facebook, Twitter and Google on Tuesday all declined to endorse a bill intended to bring more transparency to online political ads on their platforms. Sen. Amy Klobuchar
Amy Jean KlobucharGAO to investigate Trump's voter fraud commission This is the best first step to stop Russian meddling in our politics Dems push Trump to negotiate lower prices for opioid overdose reversal drugMORE (D-Minn.), who introduced the Honest Ads Act earlier this month, pressed representatives from the three companies during a Senate Judiciary Committee subcommittee hearing. "My first question is simply will you support our bill?" Klobuchar asked. None of the representatives were willing to endorse the current bill.  "We certainly support the goals of the legislation and would like to work through the nuances to make it work for all of us," said Richard Salgado, Google's director of law enforcement and information security. Facebook General Counsel Colin Stretch said that the company has "drawn on much of what's in the bill" in crafting its own reforms to its disclosure rules.
The top lawyers from the three companies were testifying on Russian efforts to use their platforms to interfere in the 2016 election. The hearing was the first of three, with the companies testifying on Wednesday before the House and Senate Intelligence committees.
To read the rest of our piece, click here.
–…COMPANIES SET OUT AD DISCLOSURE FRAMEWORK: The Internet Association, a trade group representing internet platforms like Facebook and Google, outlined principles for what the industry would like to see in online ad disclosure legislation. The wish list includes oversight from the Federal Election Commission and a set of uniform rules applied to all websites equally. The group wants any new law to put the burden on advertisers to disclose information about political ads to the platforms on which they're published.
To read the rest of our piece, click here.
–…RUSSIAN SOCK PUPPET SOCIAL MEDIA ACCOUNTS ENCOURAGED VIOLENCE:  Three Facebook accounts made by the Russian Internet Research Agency pushed for violence between groups of different ideologies, CNN reported Tuesday. An account called "Being Patriotic" said Black Lives Matter activists who don't respect the flag should "be immediately shot," according to CNN. Blacktivist, another Russia-linked group, posted in November 2016: "Black people have to do something. An eye for an eye. The law enforcement officers keep harassing and killing us without consequences." A third group, Secured Borders, said the only way to deal with "dangerous illegal aliens" is to "kill them all." "If you get deported that's your only warning. You come back you get shot and rolled into a ditch… BANG, problem solved," a post by the group said. "The state department needs to be burned to the ground and the rubble reduced to ashes," read another post. The goal appears to have been to stoke political divisions into violence.
To read the rest of our piece, click here.
–THOUSANDS ATTENDED PROTEST ORGANIZED BY RUSSIANS ON FACEBOOK: Thousands of Americans attended a march last November organized by a Russian group that used social media to interfere in the 2016 election.
The demonstration in New York City, which took place a few days after the election, appears to be the largest and most successful known effort to date pulled off by Russian-linked groups intent on using social media platforms to influence American politics.
Sixteen thousand Facebook users said that they planned to attend a Trump protest on Nov. 12, 2016, organized by the Facebook page for BlackMattersUS, a Russian-linked group that sought to capitalize on racial tensions between black and white Americans. The event was shared with 61,000 users.
As many as 5,000 to 10,000 protesters actually convened at Manhattan's Union Square. They then marched to Trump Tower, according to media reports at the time.
To read the rest of our piece, click here.
Read the whole story
· · · · ·
Signed in as 
mikenova
Share this story on NewsBlur
Shared stories are on their way…
Jared Kushner departs a closed-door meeting with the members of the House Intelligence Committee investigating Russian interference with the US election, on July 25, 2017. (Reuters / Jonathan Ernst)
It's no longer difficult to believe that Donald Trump's data and research team, including his son-in-law, Jared Kushner, and Cambridge Analytica, helped the Russians use Facebook, Twitter, and other social platforms to target American voters last year. In fact, that possibility is sure to be one focus of Robert Mueller's relentless Russiagate inquiry.
With the 
indictment and house arrest
 of Paul Manafort, Donald Trump's former campaign manager, and Rick Gates, Manafort's deputy and business partner, Mueller's special-counsel investigation is drawing closer to the White House. And, because of 
Manafort's tangled ties
 to Russian and pro-Russian Ukrainian oligarchs, it draws Mueller closer to the question of whether there was collusion between Trump's campaign and Moscow. Even more interestingly, Mueller has reached a plea agreement with 
George Papadopoulos
, a member of Trump's foreign-policy team in 2016, who reported to then-Senator Jeff Sessions, now the US attorney general. For months last year, according to Mueller's legal filing, Papadopoulos maintained contact with a range of Russians, who promised to deliver "dirt" on Hillary Clinton, including "thousands of emails." And Papadopoulos discussed all this—including his efforts to arrange a meeting between Trump and Vladimir Putin—with top campaign officials, including at least once in the presence of Trump himself.
Russia's use of social-media and other Internet resources was extensive during the 2016 US election. Evidence uncovered so far indicates that the Russians sought to stir up and exacerbate racial, religious, and political divisions in a manner designed to undermine Hillary Clinton's campaign. As I 
reported in Part I
, executives from Facebook, Twitter, and Google will appear jointly on November 1 at an open hearing of the Senate Select Committee on Intelligence (SSCI), as several members of Congress are backing legislation to regulate Internet political advertising.
But if we know, at least in rudimentary form, what the Russian-backed bots and trolls did last year, we don't know yet whether or not they had help. In the opinion of the two senators leading the SSCI investigation, it's 
an open question
 as to whether there was collusion between Russia and the Trump campaign. But many wonder: How did the Russians know when and where to place their ads, whom to target, and which voters might be persuadable?
Mike Carpenter, who served as assistant secretary of defense on Russia during the Obama administration, is one. "Could they have hired a warehouse full of people in Moscow and had them read Nate Silver's blog every morning and determine what messages to post to what demographics? Sure, theoretically that's possible," he 
told Vanity Fair
. "But that's not how they do this. And it's not surprising that it took Facebook this long to figure out the ad buys. The Russians are excellent at covering their tracks. They'll subcontract people in Macedonia or Albania or Cyprus and pay them via the dark Web. They always use locals to craft the campaign appropriately. My only question about 2016 is who exactly was helping them here."
As long ago as this past July, members of Congress and the Department of Justice were thinking along the same lines, according to an investigative report 
by McClatchy
 that month. "I get the fact that the Russian intel services could figure out how to manipulate and use the bots," Senator Mark Warner, vice chair of SSCI, told a podcast cited in the McClatchy report. "Whether they could know how to target states and levels of voters that the Democrats weren't even aware [of] really raises some questions.… How did they know to go to that level of detail in those kinds of jurisdictions?" Among the targets chosen by the Russians placing ads were women and African-Americans in Wisconsin and Michigan, two critical swing states won by Trump last November, McClatchy reported. Added Warner, "The Democrats were too brain dead to realize those states were even in play." So how did the Russians figure that out?
According to McClatchy, Congress and the DOJ are "focusing on whether Trump's campaign pointed Russian cyber operatives to certain voting jurisdictions in key states—areas where Trump's digital team and Republican operatives were spotting unexpected weakness in voter support for Hillary Clinton." Trump, in a series of tweets on October 21, didn't challenge the reports that Russia paid for ads on social media, but he minimized their impact, saying that he "keep[s] hearing about 'tiny' amount of money spent on Facebook ads" and adding: "Facebook was on [Clinton's] side, not mine!" And he didn't address the question of whether or not the Russians may have had assistance from his campaign.
But several former members of the US intelligence community appear to believe that the Russians did get such help. "It is not intuitively obvious that they could have done this themselves," former CIA director Michael Hayden 
told Bloomberg recently
. And Michael Morell, a former acting director of the CIA, told Bloomberg that if the Russians weren't given covert help from the campaign, then they must have obtained it by stealing it, say, through hacking. "They do not have the analytic capability to do that themselves," Morell said.
If there's anywhere to look for possible collusion, it would be at Jared Kushner, President Trump's son-in-law, and more broadly at the Trump campaign's sophisticated data-mining efforts, including the part run by the firm Cambridge Analytica. It was Kushner who, quietly and behind the scenes in 2016, managed the campaign's high-tech data operations and served as liaison to Cambridge. So far, no concrete evidence has turned up to implicate Kushner and Cambridge, but for Robert Mueller, the special counsel looking into Russiagate, they're potentially juicy targets.
Writing 
for Just Security
, Max Bergmann, a former State Department official now at the Center for American Progress, noted that Kushner and Brad Parscale, the Trump campaign's data person, managed a highly sophisticated voter-targeting effort that often concentrated on using so-called "dark posts" that targeted individual voters and small sets of voters, and that Cambridge Analytica played a key role in helping them do so. "If the Trump digital team—powered by Cambridge Analytica and other tech contractors—shared their data and content with Russian operatives, the Russians could have acted as a force multiplier for the Trump campaign," wrote Bergmann. "In effect, the Trump campaign could have 'painted the targets' in initial ad buys for the Russians to follow-on and carpet bomb with their own ads.… Imagine being able to call on the resources of a nation state to do targeted ad buys."
Cambridge Analytica, or CA, is a firm that in 2016 was closely tied to, and partly owned by, two people in Trump's innermost circle: Steve Bannon, the former Breitbart chief who served until August as chief strategist in the White House, and Robert Mercer, a billionaire hedge-fund mogul who was one of the principal financiers behind the campaign. And Cambridge, which operates worldwide (it 
just announced
plans to expand its reach to China), has significant experience in Russia already. Via a 
report
 in the 
Daily Beast
, we learn that 
The Guardian
's Sunday 
Observer
 pulled back the curtain on links between Cambridge and its parent firm, the London-based SCL, and Russia. "Multiple Cambridge Analytica sources have revealed other links to Russia, including trips to the country, meetings with executives from Russian state-owned companies, and references by SCL employees to working for Russian entities," reported the 
Observer
.The same report added that the House Permanent Select Committee on Intelligence (HPSCI) is investigating CA's activities, and that Cambridge is cooperating with the inquiry.
But it's Kushner who could unlock the mystery. The president's son-in-law is already in deep trouble, not only because of questionable 
real-estate deals
, some involving Russian oligarchs, but because it was revealed this past summer that he participated in a meeting in Trump Tower in June 2016 with a team of Russians who'd promised Donald Trump Jr. they would deliver dirt on Hillary Clinton that came straight from Russia's state prosecutor. If Mueller can come up with evidence to charge Kushner with criminal wrongdoing, even if it has to do with his New York real-estate empire and money laundering, perhaps Kushner could be persuaded to seek a deal by turning over evidence about collusion with Russia.
In an 
interview
 with 
Forbes
 last November, Kushner spoke expansively about his work with Cambridge and the data gurus. "I called some of my friends from Silicon Valley, some of the best digital marketers in the world, and asked how you scale this stuff," he told 
Forbes
. "They gave me their subcontractors." After running some tests, Kushner was ready. "I called somebody who works for one of the technology companies that I work with"—almost certainly Cambridge Analytica—"and I had them give me a tutorial on how to use Facebook micro-targeting." Kushner, according to 
Forbes
, then started plugging it all into the Republican National Committee's data machine, and he asked Cambridge Analytica to help create sophisticated maps showing how Trump might most effectively appeal to voters on issues such as immigration.
Though much is yet unknown, it does appear that the Russian-backed ads on Facebook were carefully targeted. "A number of Russian-linked Facebook ads specifically targeted Michigan and Wisconsin, two states crucial to Donald Trump's victory last November, according to four sources with direct knowledge of the situation," 
reported CNN
 on October 4. "Some of the Russian ads appeared highly sophisticated in their targeting of key demographic groups in areas of the states that turned out to be pivotal, two of the sources said. The ads employed a series of divisive messages aimed at breaking through the clutter of campaign ads online, including promoting anti-Muslim messages, sources said."
CNN added: "As part of their investigations, both special counsel Robert Mueller and congressional committees are seeking to determine whether the Russians received any help from Trump associates in where to target the ads."
Sometimes the Russian actions were marked by impressive depth. Take, for example, the Twitter account @Ten_GOP, which 
successfully posed
 as an account run by the Tennessee Republican Party—so successful, in fact, that its tweets were retweeted by Trump insiders Michael Flynn and Roger Stone. Three times, once in 2016 and twice in 2017, the real Tennessee GOP 
warned Twitter
 that the account was fake, but to no avail. (The first reports on @Ten_GOP came from a Russian magazine, 
RBC
, that has carried groundbreaking reports on the work of the secretive Internet Research Agency, or IRA, the St. Petersburg firm behind many of the bots, trolls, and fake Facebook accounts activated during the 2016 campaign.) And @Ten_GOP managed to get its dirty work picked up in the mainstream media. 
According to
The Washington Post
, "A tweet by @Ten_GOP on Oct. 10, 2016, the day after the second presidential debate, was featured in an online People magazine article on prominent online reactions. 'Trump slaughtered Hillary,' tweeted @Ten_GOP, with the words followed by images of knives and the hashtag #debate."
An important case study showing how the IRA and its allies worked in 2016 was reported at length 
by Buzzfeed
, again based in part on a report by 
RBC
. Fake accounts, including one called Black Fist, actually tricked real, live Americans into taking part in protests and self-defense classes in the United States, via the "American Department" of the IRA. Claiming to be a site organized "by black for black," the Black Fist website contacted people through a persona calling itself "Taylor," who told men such as Omowale Adewale, an activist and MMA fighter in New York, to start self-defense classes and to videotape and photograph them. Incredibly, Adewale was even paid as much as $320 per month.
"'When I started to ask questions, that's when they had somebody who wanted to train with me, so they could start their own class,' Adewale said, but that person was a martial arts novice, an oddity for a self-defense class," reported 
Buzzfeed
. "According to Adewale, Taylor soon stopped contacting him altogether. The classes stopped in May. But Adewale said he didn't realize that the situation was connected to Russia until recent reports began to connect Russian efforts to sway the election through Facebook, Twitter, and—in particular—targeting 
black organizers
."
As reported here 
in Part I
 and in a 
previous piece
 for 
The Nation
 on Russia's use of Facebook, many of the ads and fake accounts were aimed at exacerbating America's most volatile and sensitive divisions. Malkia Cyril, founder and executive director of the Center for Media Justice and a member of the Black Lives Matter network in Oakland, California, tells 
The
Nation
 that all of this sets a dangerous precedent and requires urgent action by the government to make sure it stops.
"Let's be clear—this is not simply about what Russian operatives did," says Cyril. "This is about the collusion, knowing or unwitting, between these operatives and social-media platforms; about the collusion between global right-wing forces within the United States, Russia and beyond, using disinformation tactics historically used by our own CIA, to undermine democracy here and abroad.
"It's clear that there are good people at Facebook, Twitter, Google, and other companies impacted by fake news and disinformation campaigns of the global right—but, as companies, they appear more concerned with selling ads than defending democracy. These companies have made some improvements, but those improvements have come too slow and too late—the presidential election was compromised already. Now we need to look forward to future elections and ensure that these platforms are ready to protect the American public from any threats, foreign or domestic, that seek to undermine the electoral process. I don't believe we can expect this administration to protect democracy in any way, but we should demand that Congress take a stand."
Read the whole story
· · · · · · · ·
"Him and Trump are perfect allies."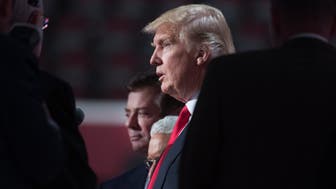 Donald Trump
Next Page of Stories
Loading…
Page 3
Next Page of Stories
Loading…
Page 4
Mueller's First Indictments Send a Message to Trump – The New York Times __________________________ The Daily 202: 10 takeaways from Mueller's shock-and-awe gambit – The Washington Post Paul Manafort, Rick Gates charged with conspiracy in connection with special counsel probe – The Washington Post Paul Manafort, Rick Gates charged with conspiracy in connection with special … 
Continue reading

 "12:11 PM 10/31/2017 – Mueller's First Indictments Send a Message to Trump – The New York Times "
 Trump Investigations Report
"It's obviously a big-deal day. These are big-deal developments," said John Q. Barrett, who served as associate independent counsel during the Iran-contra investigation.
President Trump's former campaign chairman is charged with channeling large sums of money from offshore bank accounts to pay for goods, services and real estate in the United States.
OPEN Graphic
Inside the White House, the mood changed drastically throughout the morning. Although Mr. Manafort was the first president's former campaign chief indicted since John N. Mitchell during Watergate, aides to Mr. Trump felt momentarily relieved that it had largely tracked their expectations and did not include any surprise allegations involving the campaign.
But then, just as Mr. Trump tweeted that the charges involved actions that took place "before Paul Manafort was part of the Trump campaign," the news about Mr. Papadopoulos stunned and alarmed White House aides.
Mr. Trump said nothing more publicly through the day and left it to his advisers to argue that the cases did not impugn him because Mr. Manafort's actions were unrelated to his campaign service while Mr. Papadopoulos was just a volunteer whose efforts to set up meetings with higher-ranking officials were unrealized and who pleaded guilty to lying to F.B.I. agents, not to illegal campaign activity.
"Today's announcement has nothing to do with the president, has nothing to do with the president's campaign or campaign activity," said Sarah Huckabee Sanders, the White House press secretary. She added, "We've been saying from Day 1 there has been no evidence of Trump-Russia collusion, and nothing in the indictment today changes that at all."
Jay Sekulow, a private lawyer for Mr. Trump, said the president and his legal team were not worried about the indictments. "No, not concerned," Mr. Sekulow said on CNN. "I'm completely convinced, as I was from the outset, that not only was there no Russian collusion, there was no obstruction." He added, "I'm not concerned about this at all, and no one else is either."
But lawyers and former prosecutors said Mr. Papadopoulos's admissions and the previously reported meeting involving Donald Trump Jr. already undercut such denials.
"Collusion is what Papadopoulos did. Collusion is what Trump Jr. and others in that meeting did," Mr. Barrett said. "It's meeting and discussing and seeing what common interests they can advance for each other."
Mr. Mueller's action also made it harder for Mr. Trump to brush off the investigation and blame Democrats. "After Mr. Trump whipped up a tweet storm of suspicion about Mueller this weekend, he really now has no place to go with this attack," said Robert F. Bauer, a White House counsel under President Barack Obama. "Mueller's first charge is beyond any potential claim of 'politics' or 'stretching' that the president might wish to bring against him and his office."
The gravity of the threat may yet tempt Mr. Trump to take action to short-circuit the investigation, such as firing Mr. Mueller or pardoning Mr. Manafort or others. Conservative activists said Monday that Mr. Mueller should be pressed to resign because the charges against Mr. Manafort were not directly related to the campaign and therefore outside his prosecutorial mandate.
Roger J. Stone Jr., a sometimes adviser to the president, told The Daily Caller, a conservative website, that the president should not fire Mr. Mueller but could accomplish the same outcome by directing the Justice Department to investigate a deal consummated when Mrs. Clinton was secretary of state giving Russian interests a share of the American uranium market.
Because Mr. Mueller was the F.B.I. director at the time, he could come under scrutiny and therefore could no longer conduct the Russia investigation because of a conflict of interest, Mr. Stone argued. That, he said, was Mr. Trump's "only chance for survival."
Both Ms. Sanders and Mr. Sekulow disputed suggestions that Mr. Trump might seek to fire Mr. Mueller. "There is no intention or plan to make any changes in regards to the special counsel," Ms. Sanders said.
George Papadopoulos, an adviser to the Trump campaign, contacted campaign officials at least 11 times from March to June 2016 about a potential meeting.
OPEN Graphic
The two also played down the possibility that Mr. Trump might pardon Mr. Manafort or others caught in the investigation. "I haven't had a conversation with the president about pardons or pardoning individuals," Mr. Sekulow said. Ms. Sanders likewise said that she had not spoken with the president about the possibility of pardons.
In the past, the president has signaled that he might dismiss Mr. Mueller if the special counsel exceeded what Mr. Trump considers the bounds of his investigation. Mr. Trump has also publicly noted that he has the "complete power to pardon" relatives, aides and possibly even himself in response to the special counsel investigation.
Democrats warned Mr. Trump on Monday not to impede Mr. Mueller's investigation.
"The president must not, under any circumstances, interfere with the special counsel's work in any way," said Senator Chuck Schumer, Democrat of New York and the minority leader. "If he does so, Congress must respond swiftly, unequivocally and in a bipartisan way to ensure that the investigation continues."
Senator Dianne Feinstein, Democrat of California, said the indictment showed that Mr. Mueller was "doing his job" and that the process was working. "I'll continue to support Bob Mueller as he follows the facts — his independence must remain sacrosanct," she said.
With the indictments, Mr. Mueller made clear that he was not to be underestimated. In one court document, his team used two words to describe Mr. Papadopoulos that might send a chill down the spines of some in Mr. Trump's circle: "proactive cooperator." Mr. Papadopoulos has been cooperating with prosecutors for three months, and his statement refers to several other campaign advisers he consulted as he reached out to Russian officials.
Moreover, former prosecutors said the charges against Mr. Manafort and Rick Gates, Mr. Manafort's longtime associate and also a Trump campaign adviser, were so serious that they might be an attempt to scare one or both into cooperating. A White House lawyer said last week that the president has nothing to fear if Mr. Manafort does talk with investigators, but Mr. Mueller and his team of prosecutors appear intent on finding that out themselves.
"They've done phenomenal work, they've done it quickly, they've done it ruthlessly, and they've done it efficiently," said Solomon L. Wisenberg, who was the deputy independent counsel during the investigation that led to the impeachment of President Bill Clinton on charges of lying under oath about his affair with Monica S. Lewinsky. "They're sending a message: 'We're here to stay; don't mess with us.'"
Continue reading the main story
Read the whole story
· · · · · · ·
If you're looking for someone to teach you the dark arts of opposition research, Alan Huffman is your man. A former daily news reporter and a political researcher for, by his count, more than 100 candidates, Huffman is the 
co-author
 of "
We're With Nobody
," a look inside the "oppo" industry.
That industry once aimed to stay out of the spotlight but now finds itself at center stage. Amid swirling questions and investigations into 
how campaigns obtain negative information
 on their opponents, recent reports on organizations linked to both Democrats and Republicans in 2016 have drawn 
attention
 and 
criticism
.
A lawyer representing Hillary Clinton's campaign and the Democratic National Committee 
reportedly paid a group
 called Fusion GPS to conduct opposition research, and that group hired former British spy Christopher Steele to dig up dirt on Donald Trump. (Fusion GPS had 
also worked with Republican interests
 during the 2016 primaries.) Steele's salacious dossier of 
allegedly compromising information
gathered by the Russians — much of it unproven and denied by Trump — was eventually leaked to the media. Complicating matters further are accusations that 
Steele paid sources
 to get information. And it has been reported that a company that consulted for Trump's campaign, 
Cambridge Analytica
, had reached out in 2016 to WikiLeaks founder Julian Assange about exploiting 
emails from Democrats
 that 
Russia had allegedly hacked
 and passed on to WikiLeaks. Assange 
said he rebuffed
 the company's requests.
We asked Huffman, who has worked with candidates from both major parties but mostly works with Democratic campaigns, to help us understand how campaigns and the media use opposition research, and how to interpret the latest revelations. This interview has been edited for clarity and length.
Hilary Krieger
: Could you start by telling us a bit about the history of opposition research — how it developed and evolved?
Alan Huffman
: People have been doing oppo for centuries. It's just what you do: You try to find out the strengths and weaknesses of your opponent. I don't really know when it sort of morphed into also finding out your own strengths and weaknesses. But the attacks that were made on political candidates go back to the origins of the country.
The process of getting that information sort of stayed submerged until really the last decade or so, maybe the last two decades, because when we [Huffman and research partner Michael Rejebian] first started doing it, the candidates were all really paranoid about anyone finding out. You know, like your opponent's going to hold a press conference and say, "My opponent has hired a private investigator to dig up dirt on me." But everybody knows that it's done now.
Krieger
: So can you give me an example from hundreds of years ago? Do you have any great stories of somebody like Thomas Jefferson doing oppo?
Huffman
: I remember even back in the Roman days that it was not unusual for the Senate to dig up dirt on opponents — sometimes with violent results. [Huffman later emailed to relate a story that Rejebian wrote about in their book: "One case of early American oppo came during the 1800 presidential election between incumbent John Adams and Thomas Jefferson, the latter of whom reportedly hired a 'scandalmonger' named 
James Callender
, who had previously revealed a romantic tryst between Alexander Hamilton and a married woman, to research (and promote) an allegation that Adams for some reason wanted to go to war with France. Callender was subsequently jailed for sedition, and after Jefferson was elected, Callender sought a job as a postmaster. When he didn't get the job, he publicly disclosed his arrangement with Jefferson, along with allegations that he'd dug up about Jefferson and his slave children."]
Krieger
: You said things changed about a decade or two ago.
Huffman
: We started doing this in the early '90s, and I would say probably toward the later '90s is when it sort of came out into the open. I don't think it was directly a result of this, but it coincided with all the 
Bill Clinton scandals
. I think at that point, there was no point in pretending that this was all just civil discourse.
Krieger
: So while the labors of opposition researchers have become more public since then, has the process itself stayed pretty much the same?
Huffman
: What has changed about the process is really the advent of the internet infiltrating into every sector. We still have to go on the ground, but not for as long, usually, because some of the records are available online. So much is now recorded on social media.
But the overall process is still the same because we'll talk to anybody. We sit down with some guy that seems a little bit crazy, who's sitting outside of his trailer with a shotgun across his lap because he thinks somebody is going to kill him for talking to you. Maybe he has something and maybe he doesn't, but we'll talk to anybody so long as it leads to documentation — and it's worthless for our purposes if it doesn't.
Krieger:
 What are the kinds of things you do to get this information? Are there 
dirty tricks involved
?
Huffman:
 Michael and I are both trained as journalists, and we approach all of this the same way we would if we were writing for a publication. So, no, there are no dirty tricks on our end, but there are sometimes things that are directed at us. We get death threats, we get followed, all kinds of things like that happen — which just serves the purpose of telling us that we're getting warm. We like it when that happens because it tells us that we're on the trail of something that somebody is afraid of.
People think of opposition researchers like 
political operatives
 — they are a sort of tool of the political machine — but in general they're outsiders. And I can't tell you how many times we've sat down with the candidates after we gave them the report, and he or she has said, "Whose side are you on? I look worse than my opponent in your report."
We're like, "Sorry, we're not going to gloss over anything." We're also not going to encourage them to use something that sort of goes beyond the boundaries of what we consider our purpose, which is to document the fitness of a candidate to serve, ultimately. Sometimes that might be found in their divorce case records. But in general, we might look at all that stuff, but using it almost always backfires on someone unless it's just really, really damning. Of course, now, with the way the whole political discourse is changing, who knows what will backfire or what people will just ignore. Trump has just changed the playing field for everybody.
Krieger
: Can you spell out your process a bit more?
Huffman
: We'll start out like everyone else, I guess. Initially we just start doing manic googling and find out everything that we can about them. Then we'll do an exhaustive Lexis Nexis search and see what's been published. Basically you just build kind of a work outline and see what are the big issues here.
If you're an incumbent, we're going to look at, what is your voting history, what comments have you made that are telling in any way. And we're going to look at whether you pay your taxes. Sometimes that leads you to interesting places. Sometimes it leads to clear wrongdoing.
Krieger
: What are some of the information sources that are publicly available that people might not know to think about?
Huffman
: Really anything that is public record, we're going to look at. If we go to the courthouse, I always stop and just look at the building directory and look at every single office in that building. I think, is there anything that they keep that might be illuminating? The permit office, for example, if the guy's a big developer or landlord. We just kind of go through the whole list every single time.
You customize it with what you know about the candidate, but you're going to look at their personal voting history. At the county and city level, you're going to look at all the criminal records. You're going to look at whether they got a bunch of speeding tickets, and if so, does it make any difference? Is there something else that makes that notable?
You're going to look at all the court cases. If there were minutes to meetings that they were a part of, you're going to look at those — and fall asleep with your head on the table.
Once you've done the initial documentary research, you're going to talk to any sources that you can that might just enlighten you about this candidate. And again, it's always in the hopes that it will direct you toward documentation. So you might not know that there had been suspicious fires at a number of businesses owned by this candidate. It had never been reported in the news, but somebody who worked in the kitchen of the restaurant will tell you that. Then you can go back and find the records that you otherwise would not have known to look for. So it's very important to talk to people.
And that's what I thought about when I was looking at this whole issue of the dossier and whether we would have done that. We don't normally deal 
with spies
. But we will talk to just about anyone as long as it leads to documentation.
Krieger
: What do you make of the dossier, the information in it, how it was obtained?
Huffman:
 You know, you hear a lot of things, and you might even take note of them, but there's a lot in the dossier apparently that is undocumented, just as there's a lot that's documented. It's such a complicated story that it's hard to tell exactly what was going on. A Republican starts the process and then the Democrats pick it up, which is not as unusual as it sounds.
Krieger
: You saw the dossier get into the media. So how does that part of the process work?
Huffman
: That's something that I have limited knowledge about because in some cases when we turn in the report, that's the end of it for us. You know the campaign has no interest in us whatsoever from that point on, and we have no control over what they do. If we think there are red flags, we will note that in the report. But then again, in most cases they don't use it at all. They just like knowing.
Krieger
: When you see information you may have gathered wind up in the media, do you think that there's any issue with how that information is reported on? Is it standard practice for journalists to say that this was provided by a campaign as opposition research? Are there any sort of standards of transparency?
Huffman
: There are no established standards. It really falls on the journalist to be responsible for the source of their information. Whether or not the person who shared that information with the journalist explains how it came about, I think most journalists would know that this is clearly the result of somebody doing oppo. But to the journalist it's a question of: Does it matter if it's a partisan document as long as it's also true? The whole point is to get the truth out there, so yes, it may be questionable who has what agenda. But if it's public record, you just saved them some time. If I was a reporter and something got leaked to me, I would say, "Yeah this was leaked to me." But you may have an agreement that you're not going to say who.
One thing that sort of came out and that kind of gave me pause when thinking about this dossier story is the whole issue of buying information, which is sort of antithetical to us and to journalists. If somebody came to us and said, "We will sell you this," we would automatically be suspicious and skeptical.
Krieger
: Should journalists be more up-front about where they're getting this information?
Huffman: 
If there's any issue about it, about how you came to possess this information and if it came from someone who had been involved in [gathering] it somehow, I think a reporter should definitely be up-front about it and not pretend that this all just magically fell into place. And I think that one of the problems now in journalism is there's not nearly as much focus on documentation as there once was.
Those are the bigger problems, and I hate to sound like a broken record, but it just all goes back to documentation. If you don't have it, then you don't have anything. Unfortunately, that's our view, and it's not necessarily the way it works. I mean, look at Trump. He'll say anything, and he gets the media coverage and he creates this whole weather system that is based on nothing. And so somehow the idea of having documented facts begins to feel a little quaint. But that's what we traffic in, for better or worse.
Krieger:
 We were talking about the dossier and how that was compiled. What about 
Cambridge Analytica reaching out to WikiLeaks
 for information?
Huffman:
 We would never deal with a Russian operative because they're basically an enemy of the state and we're Americans. And I would be very wary about anything that had been stolen. I would look at [the emails] for sure. I would read them and I would see what I could find that could guide my questions when I interview someone and ultimately lead to some proof of what happened. But the provenance of the documents is important.
Krieger:
 Putting the WikiLeaks example in the context of the norms of how these things work, does it seem like a really different scale of magnitude, or is it just sort of the next step in getting what information you can?
Huffman: 
It is kind of the next step. For better or worse, I think because there is such a craving for information, people are going to take it wherever they find it. And, unfortunately, [they may take it] even if it's not clearly true. There's no guidebook for doing opposition research and, politics being so volatile, to me the whole [WikiLeaks] thing is a little bit more cautionary than the dossier.
Krieger:
 Why is the WikiLeaks incident more troubling to you than the dossier?
Huffman:
 It [the dossier] doesn't seem like an illegitimate way to find things out. Now, there are aspects of it that I'm curious about and that seem a little strange. But I don't think it's as unusual as, say, accepting a big document dump from WikiLeaks that may have been obtained in an illegal way.
Read the whole story
· · · · · · · · ·
Next Page of Stories
Loading…
Page 5
On the offchance that our elected representatives actually want to learn … But organic posts are far more vulnerable to infiltration. … linked Russia to the hack of the Democratic National Committee as early as June 2016. … more flexible in their definition of what is and isn't a Russian influence campaign.
Russia Tried To Infiltrate Trump Campaign, Mueller Documents Confirm … probe into the 2016 race and Russia's attempted interference in the election. … A trove of hacked Democratic emails was released by WikiLeaks three months … Singer, who was a Trump skeptic and backed Florida Republican Sen.
Before the start of business, 
Just Security
 provides a curated summary of up-to-the-minute developments at home and abroad. Here's today's news.
TRUMP-RUSSIA
Charges against Trump's former campaign chairman Paul Manafort and campaign advisers Rick Gates and George Papadopoulos were announced by special counsel Robert Mueller yesterday
, the charges were made as part of Muller's investigation into Russian interference in the 2016 U.S. presidential election. Manafort and Gates surrendered to the F.B.I. yesterday and Papadopoulos secretly pleaded guilty to lying to the F.B.I. weeks ago and has been cooperating with investigators for months. Matt Apuzzo, Adam Goldman, Michael S. Schmidt and Matthew Rosenberg report at the 
New York Times
.
Papadopoulos's plea describes extensive efforts to establish links between the Trump campaign and Russian officials, 
in a January 2017 interview with the F.B.I. Papadopoulos said that a London-based professor claimed he had "dirt" on Hillary Clinton, including "thousands of emails." Rosalind S. Helderman and Tom Hamburger report at the 
Washington Post
, revealing how much Trump campaign officials knew about Papadopoulos's attempts to broker relationships.
Papadopoulos's guilty plea is a "small part" of a "large-scale ongoing investigation," 
a spokesperson for Mueller's office, Aaron Zelinsky, said yesterday, Katelyn Polantz reporting at 
CNN
.
The charges against former Trump campaign officials "has nothing to do with the president," 
the White House press secretary Sarah Huckabee Sanders said yesterday in a daily briefing, adding that the indictments do not change the fact there has been no evidence of Trump-Russia collusion and played down Papadopoulos's role in the campaign. Jordan Fabian reports at the 
Hill
.
The indictments demonstrate the wide scope of the Mueller investigation, 
the charges against Manafort and Gates relate to tax and money-laundering while they were working in Ukraine, and the Papadopoulos guilty plea shows that Mueller has the ability to "flip" people without it being leaked. Joe Palazzalo and Jacob Gershman report at the 
Wall Street Journal
.
Republican senators said yesterday that legislation protecting Mueller is not necessary 
because they do not believe Trump would fire the special counsel, Jordain Carney reports at the 
Hill
.
The prominent Washington lobbyist Tony Podesta has stepped down from his lobbying group 
as Mueller's team investigate his connections to Manafort, a source familiar with the matter said yesterday. Mark Honseball and Ginger Gibson report at 
Reuters
.
Trump was "seething" when he found out about the indictments, 
according to a Republican source close to the White House and the President hit out at the Mueller investigation in a series of tweets yesterday. Jeff Zeleny and Kevin Liptak report at 
CNN
.
Republicans have tried to avoid discussing the Mueller indictments 
and sought to distance themselves when probed, Karoun Demirjian and Sean Sullivan report at the 
Washington Post
.
The indictments could upset the congressional investigations into Russia's interference in the 2016 election, 
neither of the intelligence committees have met with Papadopoulos and it is unclear whether Manafort and Gates can engage with Congress. Elana Schor, Kyle Cheney and Ali Watkins report at 
POLITICO
.
Who is George Papadopoulos? 
Alex Johnson explains at 
NBC News
.
The key questions raised by Papadopoulos's cooperation with the F.B.I. 
and what we know already are set out by Aaron Blake at the 
Washington Post
.
The campaign officials described in the Papadopoulos plea 
are explained by Rosalind S. Helderman at the 
Washington Post
.
The unexpected Papadopoulos guilty plea may have significant implications 
as it relates directly to allegations of collusion between the Trump campaign and Russia, and the plea revealed plenty of new information. Just Security Editors Kate Brennan and Ryan Goodman set out the key takeaways at 
Just Security
.
A timeline of Manafort's relationship with Trump 
and the Trump campaign is set out by Joanna Walters at the 
Guardian
.
The charges against Manafort are very likely to relate to Russian intelligence operations
 through his work for Ukraine's government and his work with the Russia-friendly Ukrainian Party of Regions. Just Security editor John Reed writes at 
Just Security
.
Gates was a former business associate of Manafort 
and remained part of the Trump campaign after Manafort was kicked out, taking a central role in Trump's inaugural committee and a lobbying group created to advance the president's agenda. Eileen Sullivan provides a background to the campaign adviser at the 
New York Times
.
The views of legal experts on the indictments 
are set out by Joe Palazzalo and Jacob Gershman at the 
Wall Street Journal
.
What will be the focus of Mueller's investigation following the indictments? 
POLITICO Magazine
 sets out the views of eleven legal experts.
The White House should be concerned about the indictments, 
Trump's links to the unscrupulous Manafort and the Papadopoulos plea indicating that more of Trump's associates should be "afraid of being ensnared in Mr. Mueller's spreading net." The 
New York Times editorial board
 writes.
Trump should be worried as Mueller has shown he is willing to use his mandate widely, 
Betsy Woodruff writes at 
The Daily Beast
.
The Manafort indictment does not involve the 2016 election campaign 
and relates to his work for Ukraine; Mueller has provided no evidence to back up the claims made in Papadopoulos' plea that the Trump campaign worked with Russian operatives and Congress members should push for the whole story, including the Democrats' role in the Fusion GPS-commissioned dossier on alleged Trump-Russia connections. The 
Wall Street Journal editorial board
 writes.
The real investigation on Russia's role in the 2016 election is being carried out by the House Intelligence Committee 
and its chairman Rep. Devin Nunes (R-Calif.), particularly its efforts to uncover the truth behind the dossier alleging Trump-Russia connections, which was compiled by former British Intelligence officer Christopher Steele. William McGurn writes at the 
Wall Street Journal
.
Around 126 million people saw Russia-propagated content on Facebook 
before and after the 2016 U.S. election, according to sources familiar with the matter, prepared testimony ahead of today's hearing before congressional investigators and a statement by the social media company. Google and Twitter also disclosed further information about Russia propaganda efforts on their platforms, Deepa Seetharaman and Georgia Wells report at the 
Wall Street Journal
.
Russian-backed Facebook accounts organized directly with U.S. activists 
on divisive issues to sow discord and, according to a review by the Wall Street Journal, this included at least 60 rallies, protests and marches publicized or financed by eight Russia-backed accounts. Deepa Seetharaman reports at the 
Wall Street Journal
.
The Ukraine warned Facebook and U.S. officials in 2015 about Russia's "aggressive behavior" in spreading disinformation on social media, 
the deputy head of Ukraine's presidential administration said today. Hannah Kuchler and Roman Olearchyk report at the 
Financial Times
.
"Without a single piece of proof, we are as you know being accused of meddling not only in the U.S. election, but also in those in European states," 
the Russian Foreign Minister Sergei Lavrov was quoted as saying by the Interfax news agency today. 
Reuters
 reporting.
NORTH KOREA
A dispute between China and South Korea over the U.S. T.H.A.A.D. antimissile defense system installed in South Korea has been resolved, 
with both countries releasing a statement today, the repaired relations likely coming as relief to the U.S. as it attempts to deal with the threat posed by North Korea and the crisis on the Korean Peninsula. Jonathan Cheng reports at the 
Wall Street Journal
.
South Korea and China will move to normalize their relationship 
motivated by a joint desire to denuclearize the Korean Peninsula, according to South Korea's Foreign Ministry. Adam Taylor reports at the 
Washington Post
.
Japan and N.A.T.O. "condemn in the strongest terms North Korea's nuclear tests and ballistic missile launches," 
the Japanese Prime Minister Shinzo Abe and N.A.T.O. Secretary General said in a joint statement yesterday following a meeting to discuss security cooperation, also calling on U.N. member states to apply Security Council resolutions "fully and transparently." The 
AP
 reports.
North Korean hackers likely stole South Korean warship blueprints 
by hacking into the Daewoo Shipbuilding Company's database, a lawmaker in South Korea's main opposition party said today. Haeijin Choi reports at 
Reuters
.
AUTHORIZATION FOR THE USE OF MILITARY FORCE
Secretary of State Rex Tillerson and Defense Secretary Jim Mattis testified before the Senate Foreign Relations Committee yesterday on the authorization for the use of military force (A.U.M.F.) yesterday, 
saying that a new A.U.M.F. should not have time or geographic constraints, that the 2001 A.U.M.F. – which provides the legal justification for most of U.S. military actions abroad – should not be repealed until a replacement has been put in place, and Mattis emphasizing that the 2001 and 2002 A.U.M.F. "remain a sound basis for ongoing U.S. military options." Rebecca Kheel reports at the 
Hill
.
Tillerson and Mattis declined to explain what an "imminent threat" would constitute, 
but said that the president would not have authority to use military power in North Korea outside of an imminent threat to the United States. Rebecca Kheel reports at the 
Hill
.
 "The next step most logically is to attempt to move to a mark up," 
the Chairman of the committee Sen. Bob Corker (R-Tenn.) said yesterday, saying that legislation for a new A.U.M.F. would come "fairly soon." Rebecca Kheel reports at the 
Hill
.
IRAN
The U.S. Treasury Secretary Steven Mnuchin has called on Washington's allies in the Middle East to step up sanctions against Iran, 
Mnuchin said in an interview yesterday, adding that the focus of sanctions would be on activities outside the scope of the 2015 nuclear deal. Ian Talley reports at the 
Wall Street Journal
.
Any future negotiations with the U.S. are unlikely without a "fundamental change" in American behavior, 
Iran's foreign ministry spokesperson Bahram Ghasemi said yesterday, the 
AP
 reporting.
SYRIA
Russia expects "all" terrorists in Syria to be defeated by the end of the year, 
Russia's head of the upper house of parliament's defense and security committee was quoted as saying yesterday, adding that enough Russian troops would be kept in the country once this has been achieved "to avert a possible repeat of this terrorism." 
Reuters
 reporting.
A U.N. aid convey has reached Syrians in eastern Ghouta near the Syrian capital of Damascus, 
the U.N. said yesterday, the Syrian government has shelled the region which is one of the last remaining rebel-held territories in the country. Philip Issa reports at the 
AP
.
U.S.-led airstrikes continue.
 U.S. and coalition forces carried out five airstrikes against Islamic State targets in Syria on October 29. Separately, partner forces conducted three strikes against targets in Iraq. [
Central Command
]
IRAQ
The deputy head of the Iran-backed and state-sanctioned Popular Mobilization Forces (P.M.F.) militia has rebuffed calls from the U.S. for it to disband, 
saying that the "future of the [P.M.F.] is to defend Iraq." Susannah George reports at the 
AP
.
Who are the P.M.F.? 
Farah Najjar explains at 
Al Jazeera
.
AFGHANISTAN
The U.S. condemned the Taliban for holding a seriously ill U.S. citizen hostage 
in such dire circumstances, referring to Professor Kevin King who has been held since August 2016 and the Taliban called on the U.S. yesterday to meet the conditions for his release in light of his deteriorating condition. Craig Nelson and Habib Khan Totakhil report at the 
Wall Street Journal
.
Key details about the Afghan security forces have been kept secret by the U.S. military 
in a report by the government's Special Inspector General for Afghanistan Reconstruction, Thomas Gibbons-Neff reports at the 
New York Times
.
ISRAEL-PALESTINE
The Israeli army destroyed a tunnel from the Hamas-controlled Gaza Strip to Israeli territory 
yesterday, killing at least seven militants and wounding more than a dozen, Rory Jones reports at the 
Wall Street Journal
.
Officials from the Islamic Jihad militant and political movement vowed to retaliate
, 
Al Jazeera
 reports.
LIBYA
U.S. forces captured Mustafa al-Imam who is accused of being involved in the attack on the U.S. compound in the Libyan city of Benghazi
 in 2012, President Trump said yesterday. Barbara Starr and Zachary Cohen report at 
CNN
.
Airstrikes on the eastern Libyan town of Derna have killed at least 15 people, 
according to local media, no one claiming responsibility for the attack. The 
AP
 reports.
OTHER DEVELOPMENTS
The U.S. yesterday pledged $60m to a U.N.-backed antiterrorism force in Africa's Sahel region, 
Secretary of State Rex Tillerson saying that "these funds will play a key role" in combating extremist groups in the area. Rick Gladstone reports at the 
New York Times
.
The Trump administration's ban on transgender troops serving in the military was temporarily blocked 
by a ruling by a federal judge yesterday, the judge saying that the claim that the transgender people would have any negative effect on the military had "absolutely no support." Dave Philipps reports at the 
New York Times
.
Trump's comments on the case of Sgt. Bowe Bergdahl may impact his sentence, 
the military judge Col. Jeffrey R. Nance said yesterday, Bergdahl pleaded guilty to desertion and endangering troops when he walked off his army base in Afghanistan in 2009. Richard A. Oppel Jr. reports at the 
New York Times
.
The U.S. and Qatar agreed yesterday to "substantially increasing the sharing of information on terrorist financiers," 
the comments coming amid the Gulf crisis which began on June 5 when Saudi Arabia, U.A.E., Egypt and Bahrain diplomatically isolated Qatar due to its alleged support for terrorism and its close ties to Iran. 
Reuters
 reports.
Prosecutors in the U.S.S. Cole case have asked for a hearing to find the three civilians defense lawyers who left the case to be held in contempt of court, 
the civilian lawyers walked away over a classified ethical conflict and they refused an order by the military judge to return to the war court at Guantánamo Bay. Carol Rosenberg reports at the 
Miami Herald
.
The claim that Russia obtained "20 percent" of the U.S.'s uranium supply in an Obama administration deal is false. 
Glenn Kessler fact checks the claims at the 
Washington Post
.
Read the whole story
· · · · · · · · · ·
 trump and russia – Google News
 emails investigation is Russia-Trump set-up – Google News
Next Page of Stories
Loading…
Page 6