Mike Nova's Shared NewsLinks
FBI, This Week: 2016 Crime in the United States Report Released FBI
---
FBI, This Week: 2016 Crime in the United States Report Released
---
September 25, 2017

Audio Player
The FBI's 2016 Crime in the United States report shows violent crime jumped 4.1 percent and property crime decreased 1.3 percent when compared to the year before.
---
Audio Transcript
Mollie Halpern: The FBI's 2016 Crime in the United States report shows violent crime jumped 4.1 percent when compared to the year before.
The report shows increases compared to 2015 in all four offenses in the violent crime category: murder, rape, robbery, and aggravated assault. Murder has the largest growth at 8.6 percent.
2016 was the second year in a row for an increase in violent crime, but Assistant Director of the Criminal Justice Information Services Division Douglas Lindquist says numbers for property crimes went in the opposite direction.
Douglas Lindquist: Property crimes decreased now for the 14th year in a row and have shown a 1.3 percent decrease over the 2015 numbers.
Halpern: This year's annual report has been streamlined.
Lindquist: We're trying to give the public, the press, Congress, everybody out there—and the law enforcement agencies—the information that they need and put it at their fingertips without them having to do unnecessary searches.
Halpern: About 16,700 local, state, tribal, college, and federal law enforcement agencies submitted the crime data to the FBI for the report. Read the report at <a href="http://www.fbi.gov" rel="nofollow">www.fbi.gov</a>. With FBI, This Week, I'm Mollie Halpern of the Bureau.
Audio Download
fbi statistics 2017 – Google Search
---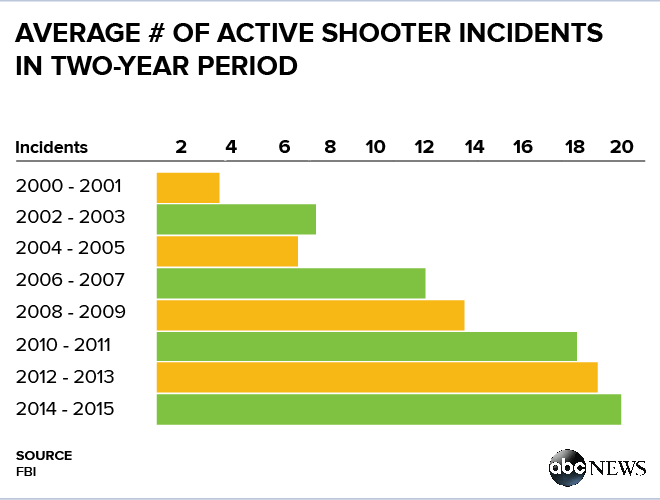 The Next Big Focus In The Russia Investigations: Social Media : NPR
---
Social platforms such as Facebook and Twitter played a larger role than first thought in Russia's influence campaign against the 2016 U.S. presidential race and Congress wants answers. Source: The Next Big Focus In The Russia Investigations: Social Media : NPR
4:06 PM 9/24/2017 Through soft power and propaganda, Russia is trying to topple democracy in the USA
---
Through soft power and propaganda, Russia is trying to topple democracy in the USA Sunday September 24th, 2017 at 4:04 PM Scroll.In 1 Share The Cold War is back. And this time its personal. A quarter century ago, America won the Cold War. After a long, patient, cohesive diplomatic campaign, the West prevailed in the early 1990s, … Continue reading"4:06 PM 9/24/2017 – Through soft power and propaganda, Russia is trying to topple democracy in the USA"
Deadly Tennessee church shooting: Sudanese immigrant arrested, FBI launches civil rights investigation – Fox News
---
We Know a Lot About What Robert Mueller Is Doing. We Also Know Nothing at All. – New York Magazine
---
FBI opens civil rights investigation into deadly Tennessee church shooting – CBS News
---
The Latest On Mueller's Russia Investigation – WBUR
---
National crime isn't the epidemic the FBI would have us believe – R Street
---
National crime isn't the epidemic the FBI would have us believe

R Street

Preliminary reports suggest the 

FBI's

 annual crime report, expected to come out at the end of the month, will show an uptick in violent crimes for the second year in a row. Before various law-and-order pundits have a collective panic attack and declare 

…
Violent Crime in U.S. Rises for Second Consecutive Year
---
Experts were divided over why violence rose in consecutive years for the first time since 2006.
Emanuel Kidega Samson: key words and phrases, and the interpretation
---
Emanuel Kidega Samson – Google Search Monday September 25th, 2017 at 8:51 AM 1 Share ____________________________________ Gunman identified in Tennessee church shooting that left 1 dead ABC News The gunman, identified by police as 25-year-old Emanual Kidega Samson, arrived in the parking lot and first fatally fired at 39-year-old by mikenova Monday September 25th, 2017 at 6:26 AM Trump Investigations Report … Continue reading"Emanuel Kidega Samson: key words and phrases, and the interpretation"
2016 Crime Statistics Released – Federal Bureau of Investigation (press release) (blog)
---
FBI Releases 2016 Crime Statistics – Federal Bureau of Investigation (press release) (blog)
---
Facebook Warned FBI About Russian Interference Before 2016 Election: Report – Newsweek
---
FBI: Violent crime increases for second straight year – USA TODAY
---

USA TODAY

FBI: Violent crime increases for second straight year

USA TODAY

WASHINGTON Violent crime in the U.S. ticked up in 2016 for the second consecutive year the first time a two-year increase was recorded in more than a decade, according to the 

FBI

. Overall violent crime was up 4.1% last year, while murder increased 

…
Facebook knew about Russian meddling well before the US election
---
At the time, Zuckerberg admitted the social network knew about problems, but told Obama that it wasn't widespread and that there wasn't a lot Facebook could do in any case. In June 2016, Facebook's security team found suspicious accounts set up by the Kremlin-backed APT28 hacking team, also known as Guccifer 2.0, 
the Post
 says.
However, it found no solid proof of Russian disinformation and turned over everything it found to the US government. Reportedly, neither US law enforcement nor national security personnel met with Facebook to share or discuss the information.
After Obama pulled Zuckerberg aside, Facebook starting taking the problem more seriously, but again failed to find clear links to Russian operatives, the 
WaPo
 says. On July 20th this year, Facebook actually told CNN that "we have seen no evidence that Russian actors bought ads on Facebook in connection with theh election."
It finally uncovered proof of suspicious activity after tracking a firm called the Internet Research Agency, a known Russian hacking operation. By working backwards, it discovered over 3,000 ads around social and political issues it had posted between 2015 and 2017.
Right now they are operating in an arena where they have some, but very few, legal responsibilities. We are going to keep seeing examples of this kind, and at some point the jig is going to be up and the regulators are going to act.
Putin-backed Russian groups paid up to $100,000 to buy the ads, and boosted anti-immigrant rallies in Idaho, among other activities. Facebook recently turned over the ads to the US Intelligence Committee and congressional investigators, who say the findings are likely just "the tip of the iceberg." Facebook executives will also testify before a Senate Intelligence committee.
While it appears that Facebook turned over any evidence to US law enforcement as soon as it found it, ads and fake news are filtered mostly by algorithms. Facebook's human content gatekeepers, often contractors, are mostly on the watch for violent or sexually explicit materials, not foreign propaganda.
In response the latest report, a company spokesman says that "we believe in the power of democracy, which is why we're taking this work on elections integrity so seriously, and have come forward at every opportunity to share what we've found."
However, many observers think that Facebook can't be trusted on the problem. "It's rooted in their overconfidence that they know best, their naivete about how the world works, their extensive effort to avoid oversight and their business model of having very few employees so that no one is minding the store," Professor Zeynep Tufekci from UNC Chapel Hill told the Post.
Other critics believe that Facebook is going to need much more oversight. "Right now they are operating in an arena where they have some, but very few, legal responsibilities," Stanford Law School scholar Morgan Weiland told The Atlantic earlier this month. "We are going to keep seeing examples of this kind, and at some point the jig is going to be up and the regulators are going to act."
Here's Another Man Who'd Like to Tell You Why Hillary Lost – Esquire.com
---
Anthony Weiner scandals: From politics to sexting cases – Fox News
---
Facebook knew about Russian meddling well before the US election – Engadget
---
US murder rate rose in 2016 but this year's numbers suggest decline ahead – The Guardian
---
The Only Way to Defend Against Russias Information War
---
According to the Pew Research Center, only 
20 percent of Americans trust their government
. The same low percentage has 
"a lot" of trust in the national news media
. It's impossible to say definitively what causes this mistrust, but its growth has coincided with the rise of both the adrenaline-driven internet news cycle and the dying of local journalism over the past two decades. Without news that connects people to their town councils or county fair, or stories that analyze how federal policies affect local businesses, people are left with news about big banks in New York and dirty politics in Washington.
Readers compare this coverage with their dwindling bank balances and crumbling infrastructure and feel disconnected and disenfranchised, and latch onto something — anything — that speaks to them. That might be President Trump's tweets. Or dubious "news" from an extreme right- or left-wing site might ring true. Or they might turn to Russian disinformation, which exploits this trust gap.
All is not lost. Disinformation can be defeated without the establishment of a shiny new initiative cased in the language of Cold War 2.0. Instead of "rapid information operations," the United States should work to systematically rebuild analytical skills across the American population and invest in the media to ensure that it is driven by truth, not clicks.
The fight starts in people's minds, and the molding of them. In K-12 curriculums, states should encourage a widespread refocusing on critical reading and analysis skills for the digital age. Introductory seminars at universities should include a crash course in sourcing and emotional manipulation in the media. Similar courses could be created as professional development for adults, beginning with state employees. Large corporations could be offered government incentives to participate, too.
Training like this has a proven track record. In Ukraine, IREX, a nongovernmental organization, trained 15,000 people in critical thinking, source evaluation and emotional manipulation. As a result, IREX measured a 29 percent increase in participants who double check the news they consume. Another neighbor of Russia, Finland, has been 
resistant to Russian influence
 in part because of its media education program, which begins in childhood.
The American government should also work to level the information playing field, increasing its investment in public broadcasters and demanding a hefty financial commitment from companies like Facebook and Twitter — the unwitting agents of Russia's information war — to support the proliferation of local, citizen-focused journalism. If social networks are unwilling to be the arbiters of truth (despite 
45 percent of American adults' getting news from Facebook
), they should at the very least provide grants to reporters who cover the local issues that most immediately affect people's lives and donate advertising to small outlets that cannot compete with national media giants.
Finally, under no circumstances should the United States attempt to restrict freedom of the media. The United States might label RT or Sputnik a foreign agent, but it should never ban them. It also need not reinvent the wheel by creating an American version of RT. These would be grave mistakes that would erode America's position as a beacon of free speech. They would contribute to the crisis of trust that makes Russian disinformation successful in the first place.
Russia has very deftly exploited America's weaknesses — but these are weaknesses of our own making. Until policy makers start putting people at the heart of their fight against disinformation, they will continue to be easy targets for Russian lies.
Continue reading the main story
In Germany, a Victory for Angela Merkel and Populism
---
<a href="http://NYTimes.com" rel="nofollow">NYTimes.com</a> no longer supports Internet Explorer 9 or earlier. Please upgrade your browser. 
LEARN MORE »
Verified Commenters 
can leave comments on <a href="http://NYTimes.com" rel="nofollow">NYTimes.com</a> without initial moderation. Verified status is earned based on a history of quality comments.
Signed in as 
mikenova
Share this story on NewsBlur
Shared stories are on their way…
Merkel tries to build coalition after vote that puts far right in parliament
---
BERLIN (Reuters) – Germany's Angela Merkel began the tough task of trying to build a government on Monday after securing a fourth term as chancellor, urging the center-left Social Democrats not the shut the door on a re-run of their "grand coalition".
Damaged by her decision two years ago to allow more than one million migrants into Germany, Merkel's conservative bloc secured 33 percent of the vote, losing 8.5 points — its lowest level since 1949. Her coalition partners, the center-left Social Democrats, also slumped and said they would go into opposition.
Voters flocked to the anti-immigration Alternative for Germany (AfD), the first far-right party to enter the German parliament in more than half a century. However, the AfD hardly had time to savor its third-place showing before it fell into internal bickering.
Many Germans see the rise of the AfD as a similar rejection of the status quo as votes for Brexit and Donald Trump last year. But Germany's political center held up better than in Britain and the United States as more voters have benefited from globalization and most shun the country's extremist past.
Merkel's party remained the biggest parliamentary bloc and Europe's most powerful leader sought to keep her coalition options open on Monday, saying she would start talks with the Free Democrats (FDP) and the Greens as well as the SPD.
SPD leader Martin Schulz said earlier his party had no choice but to go into opposition "to defend democracy against those who question it and attack it," after dropping to a post-war low of 20.5 percent.
"I heard the SPD's words, nevertheless we should remain in contact," Merkel told a news conference. "I think all parties have a responsibility to ensure that there will be a stable government."
Merkel made clear she still intended to serve a full four years as chancellor. But her next coalition could be her toughest yet with her only remaining potential partners, the business-friendly FDP and the pro-regulation Greens, at odds on issues from migrants to tax, the environment and Europe.
The FDP's leader Christian Lindner set the stage for tricky talks, saying his party would not agree to a coalition with the conservatives and the Greens, dubbed "Jamaica" because the parties' colors mirror the country's flag, at any price.
He said changes were needed in Germany's energy policy and its stance on euro zone fiscal policy. But he struck a more conciliatory tone on Europe, saying Germany had an interest in a strong France. [B4N1JX00B]
The Greens set out climate change, Europe and social justice as their priorities in any coalition talks.
The emergence of the Greens as powerbrokers in any coalition weighed on markets. Shares in carmaker BMW (
BMWG.DE
) were down 0.2 percent, while those in automotive supplier Continental (
CONG.DE
) dropped 0.4 percent. RWE (
RWEG.DE
) — which operates 15.25 gigawatts (GW) of coal-fired plants in Germany, 38 percent of its total European capacity — fell 4.6 percent to a six-week low.
The party campaigned to ban the sale of new combustion-engine cars from 2030 and are calling for a quick phase-out of coal power plants.
DIVISIONS
Many Germans were alarmed by the rise of AfD who the foreign minister likened to Nazis. Protesters threw stones and bottles at police outside its campaign party in Berlin on Sunday.
But just a day after the election, the AfD showed signs of fracturing as co-leader Frauke Petry, one of its most prominent faces, said she would not sit in parliament with AfD members. It was not immediately clear why she was making such a move.
The election also exposed rifts in Merkel's conservatives, with her allies the Bavarian Christian Social Union (CSU), who face a regional election next year, demanding a shift to the right to win back voters lost to the AfD.
"They will try their best to recover lost ground on the right side of the political spectrum. Going into a coalition in Berlin with the Greens and the FDP will make this more difficult," said Janis Emmanouilidis from the European Policy Centre.
Investors were unsettled by the prospect of a weaker Merkel at the head of a potentially unstable "Jamaica" coalition and also worried that months of coalition talks could distract from talks with Britain over its divorce from the European Union.
The euro EUR=D4 and European stocks slipped, while concerns about the emergence of a more hardline stance toward the euro zone in the bloc's largest economy weighed on Southern European government bonds.
"The weak result could make Angela Merkel a lame duck much faster than international observers and financial markets think," ING economist Carsten Brzeski said.
Klaus Wohlrabe, economist at the Munich-based Ifo economic institute, said new elections could not be excluded and the result could stoke uncertainty as German business confidence deteriorated unexpectedly in the weeks before the election.
German business also expressed concern.
Matthias Mueller, chief executive of Volkswagen, said he was "shocked" by the AfD's double-digit showing and said the success of Europe's largest economy hinged on its tolerance and openness to the world.
"For Germany's biggest industrial company I say: In the globalized economy, national egoism and protectionism lead to a dead – and in the end a loss of jobs."
Additional reporting by Madeline Chambers, Michael Nienaber and Maria Sheahan; Editing by Angus MacSwan
Week ahead in tech: Social media giants under scrutiny over Russian interference – The Hill
---
Monday's Morning Email: The NFL Takes A Knee
---
Dozens of NFL players took part in the protests.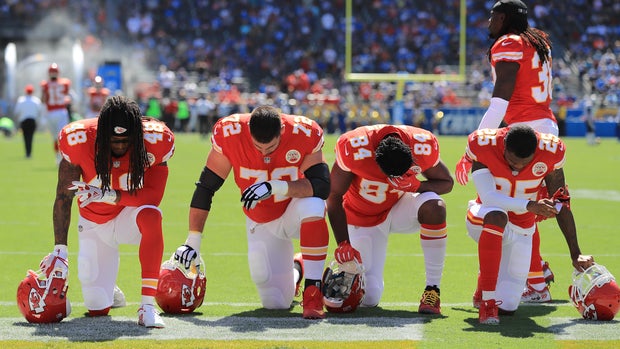 –